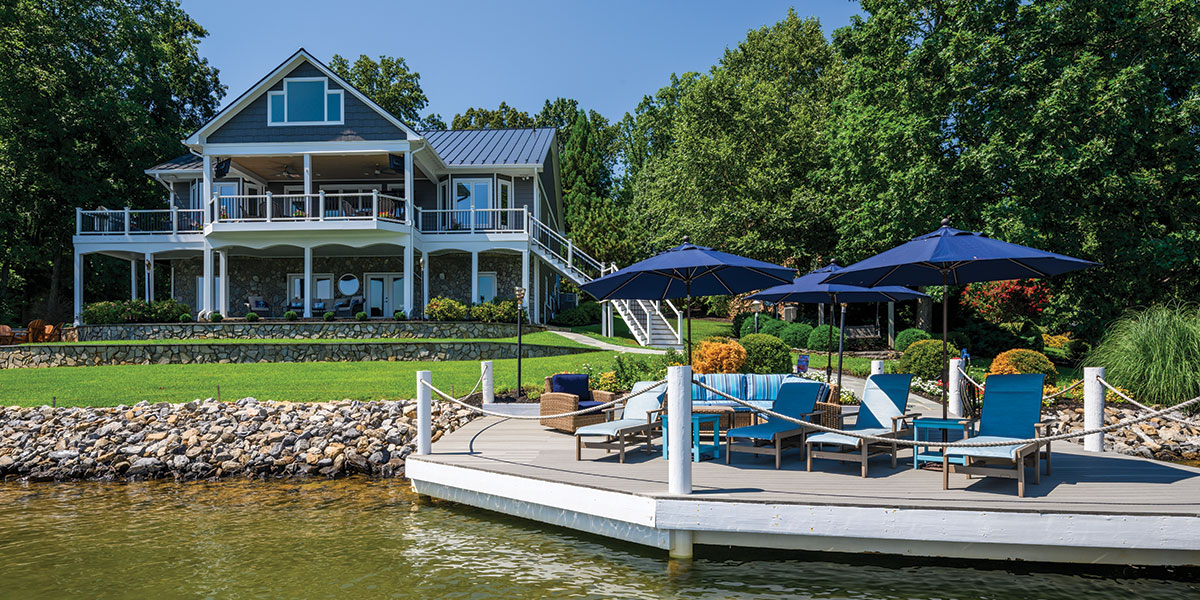 Photography by Michael Patch
Updated Nantucket-style home is a 'happy place' for family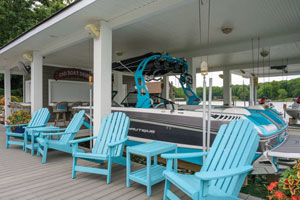 Situated in a large cove off Craddock Creek, the Mabry home opens to a spectacular view of water and mountains — the perfect spot for relaxing or entertaining at Smith Mountain Lake. A variety of evergreens embellish Smith Mountain's slopes year-round, and nothing obscures this view, as a huge ridge of land, owned by American Electric Power, near the home is protected by a conservation easement. Even the home's situation on the lake's shoreline, with mature trees to screen it from neighbors, helps create a marvelous sense of uninterrupted beauty and serenity.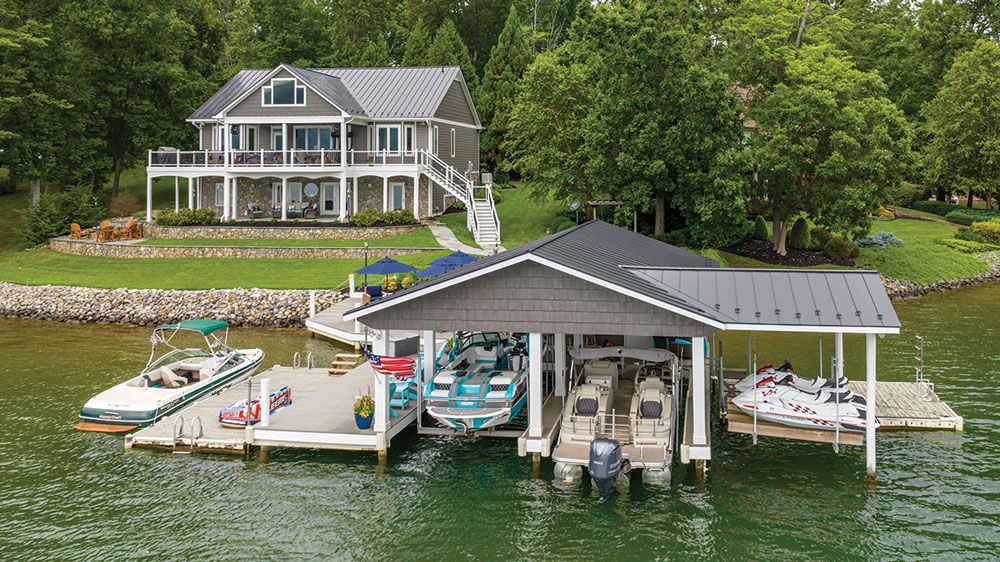 The home's huge lakeside windows take full advantage of its setting. Looking out from several rooms and from its spacious lounging and dining deck, the house seems as if it is perched over the water.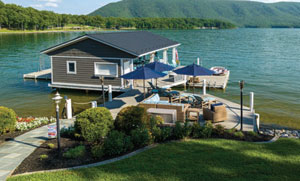 Indeed, the walk to the dock is short and gradual, just a flight of lighted steps and a gently sloping stone path that lands at a large shoreline deck with sun lounges and umbrella tables. The dock, built before Shoreline Management's restrictions on dock square footage, comfortably shelters four watercraft: a pontoon boat, two Yamaha jet skis and a wake sports towboat, all arrayed in front of an airy six-stool waterfront bar, announced as "Chris' Margaritaville" by a sign overhead. Two large floaters, one to each side of the fixed dock, are perfect for swimming and guest tie-ups.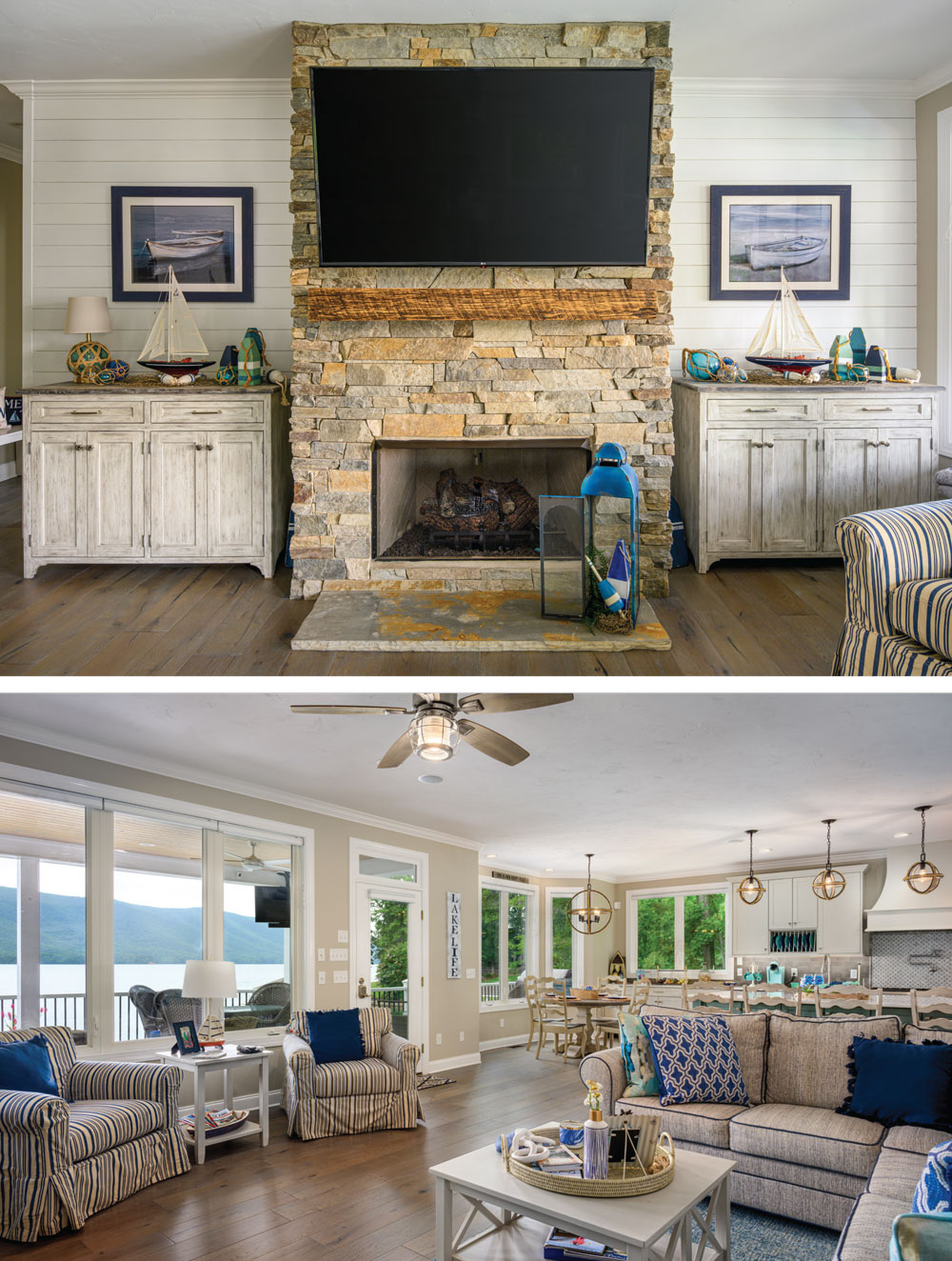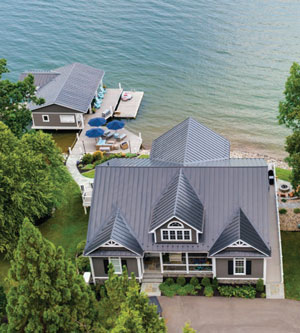 Lake life reimagined
Who could imagine that this Nantucket-style home with a modern twist of oversized windows started out as an old yellow A-frame house situated much higher up on the lot. Chris Mabry bought the A-frame in 2002 but replaced it in 2004 with a house planned by lake designer Eric Buck. During this time, the Mabry family made the most of their new accommodations. Chris speaks fondly of years spent at the lake house with his daughters and their friends during the girls' high school and college years.
The house underwent another huge change in 2019 when Mabry hired contractor Bob Bauer to do a very extensive renovation of the main floor, top floor and dock. No walls were moved in any part of the house, but most everything on the main and top levels was renovated and redecorated. The remodel included all new appliances, bathroom fixtures, tubs and showers, new wood laminate flooring that cares not about water from drippy swimsuits, a totally new kitchen, new outside siding and a metal roof. Chris' fiancée, Debbie Keatts, led the shopping for upgraded furniture and the adornments that give the house a dose of lake-life pizazz.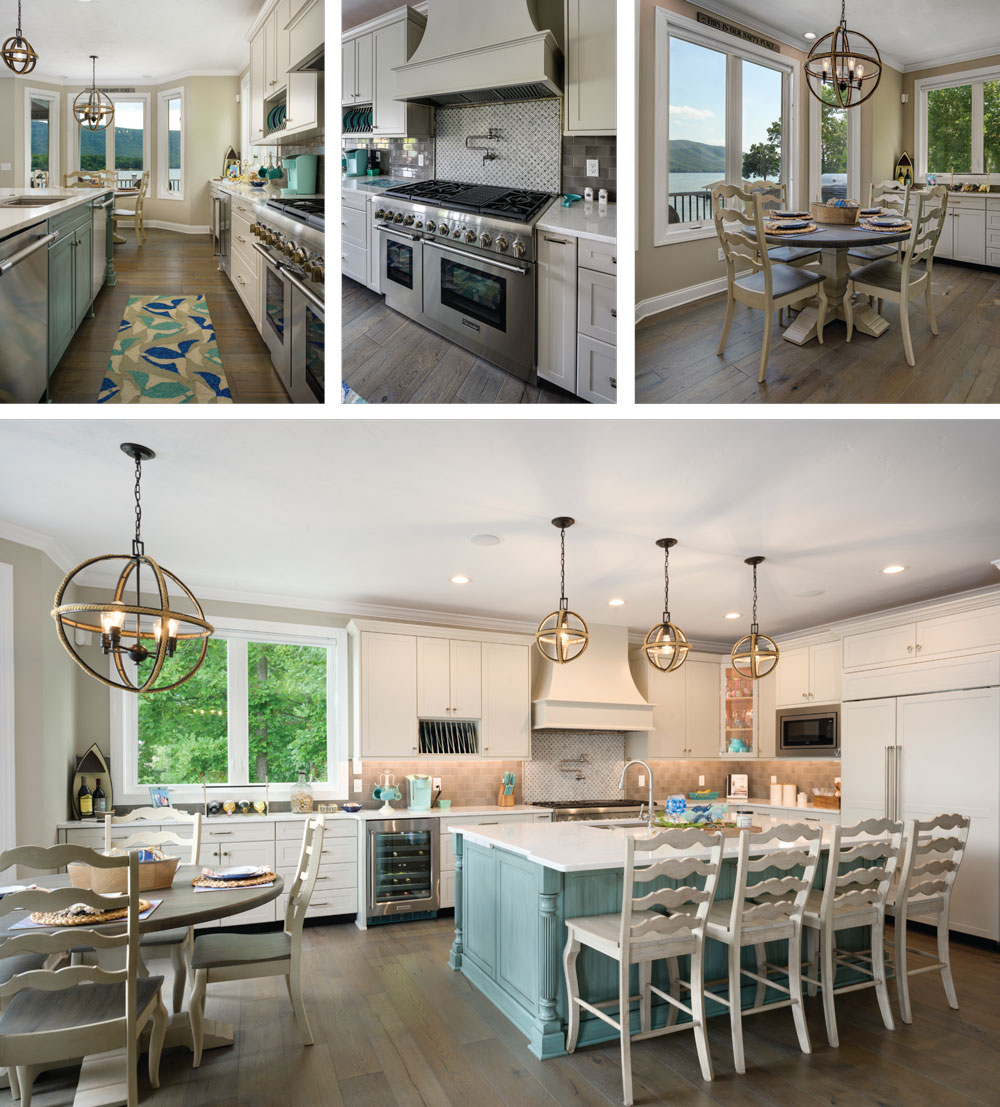 Relax and raise a glass
A tour of the home reveals many features that make it unique. The re-done kitchen has cabinets by Peters' Cabinets in Salem, complemented by quartz countertops that are white with flecks of gray, which is carried through to the wall and floor colors. The commercial-style chef's Thermador range has six gas burners and a built-in grill/griddle, and it sits below a pot-filler spigot. For lake entertaining, the kitchen stands at the ready with two ovens and two dishwashers. The built-in refrigerator/freezer provides ample cooling storage and is backed up by a smaller one in the nearby walk-in pantry. The kitchen's wine chiller beckons guests to pour a glass and relax at the kitchen bar or out on the deck. A large island creates a natural separation between the kitchen and main living area.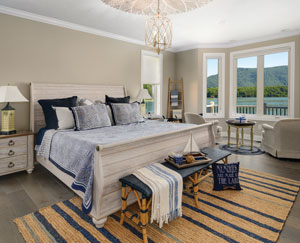 The primary suite exudes relaxation with its own wine chiller and a large TV. In the bathroom there's an additional screen visible from the soaker tub. A large glass-walled shower and separate "his" and "hers" closets complete the suite.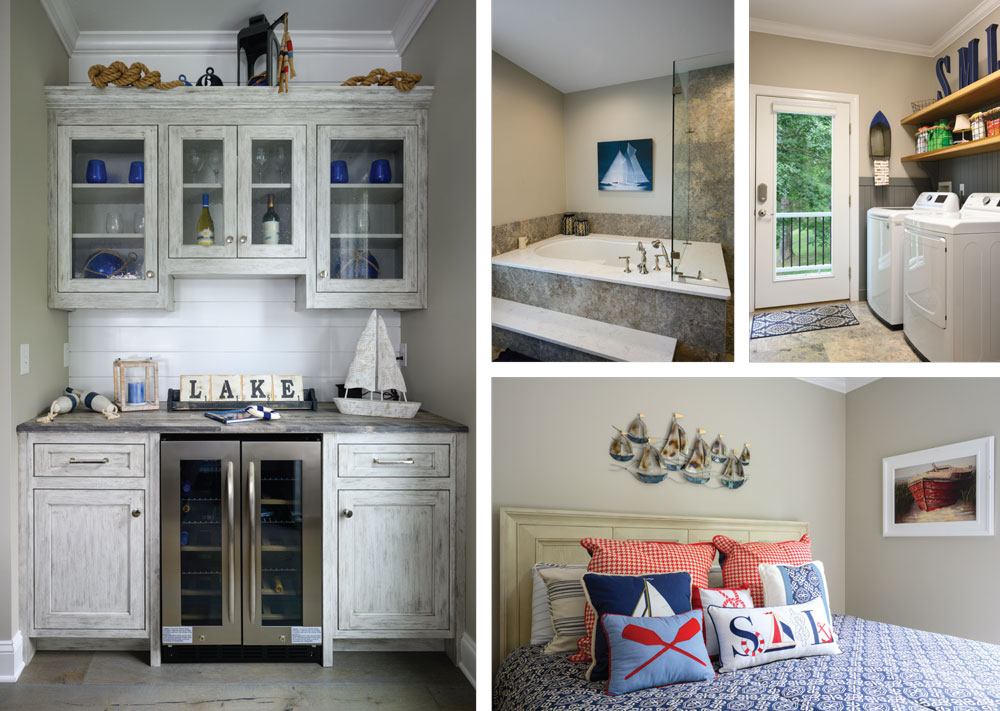 Off the kitchen in the opposite direction, a guest suite dubbed "The Sailboat Room," provides a guest couple with an inviting private spacethat doesn't require stairs. Decorative pillows and wall hangings are among the many cute things Debbie found at the Cottage Gate in Westlake to reinforce the sailing theme.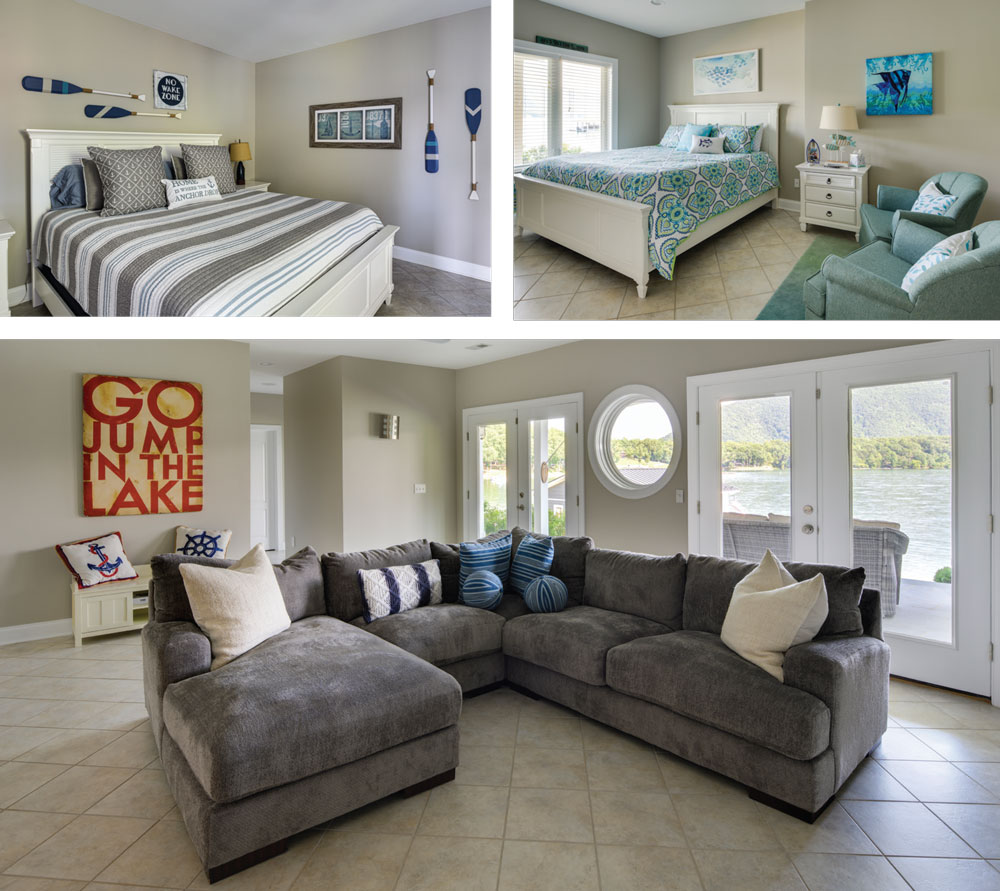 The top floor has an open play area, a full bath and five built-in grandchild beds that look remarkably like wider versions of bunks you'd find below decks on a sailing schooner. Each bed has its own light and charging station (a great way to keep guests' devices and charging cords off the island counter in the kitchen!) and is covered by a colorful patchwork quilt.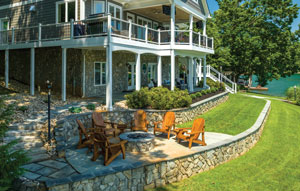 Lake level
Down on the lake level of this 5,500-square-foot home are the last two of the five bedrooms. One guest suite, "The Fish Room," has its own bath, and the other bedroom, "The Paddle Room," has a powder room plus a shower room off the foyer just outside the bedroom. A door in this hallway opens to the lake to give swimmers quick access to a bathroom.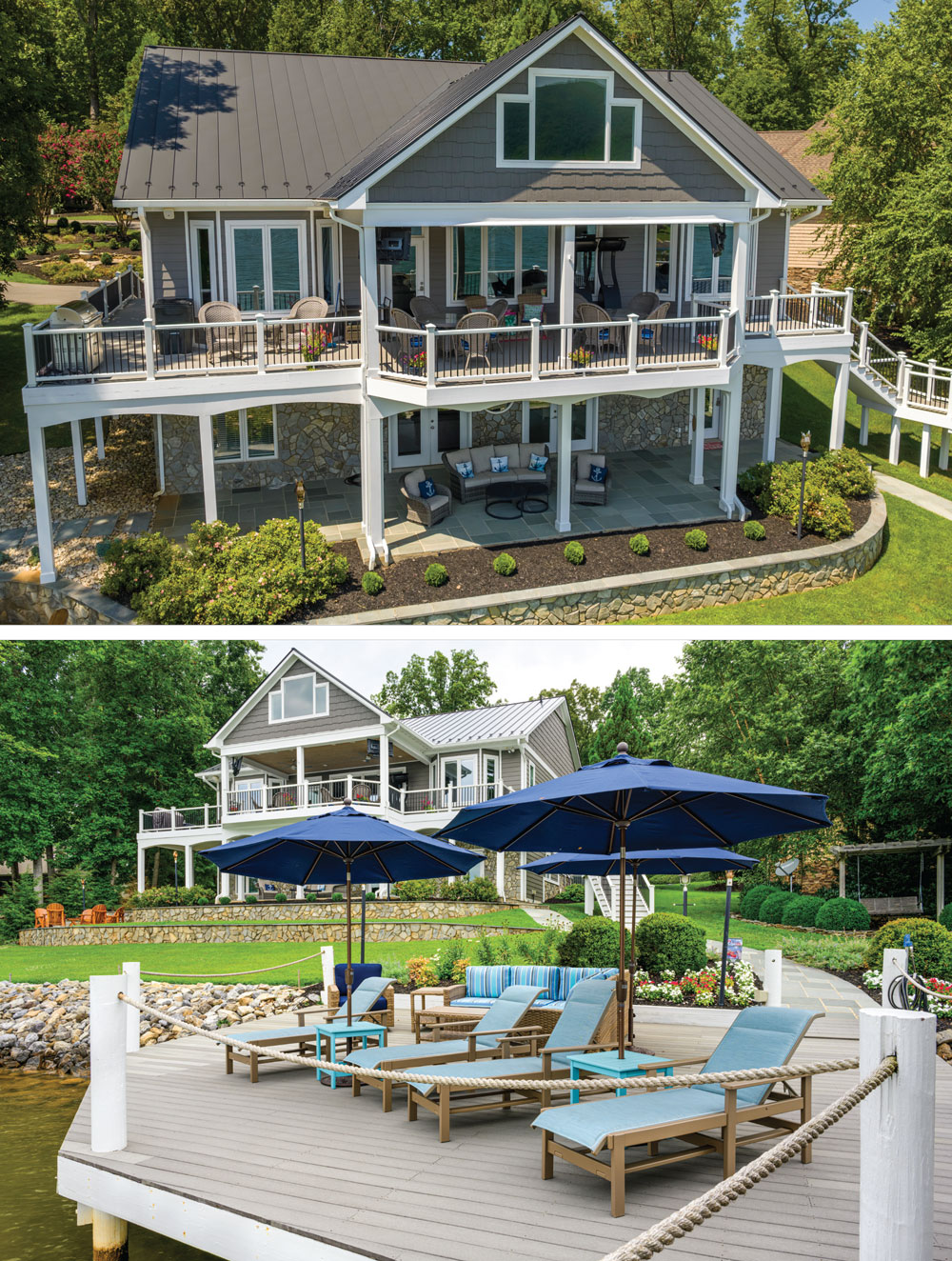 An expansive lake level living area with a large sofa, TV and bar provides, as Mabry says, "… another area where folks can watch golf and sip wine." This level has a large storage/mechanical area where there is a second washer and dryer and a third large fridge, which provides yet more cold storage to make sure guests are well fed and refreshed.
Outside, on the lake side of the home, an inviting gas torch-lit patio leads to a lovely gas fire pit. Southern Landscape Group installed the hardscape here as well as out front, where a stacked stone feature acts as the visual center for an inviting circular driveway.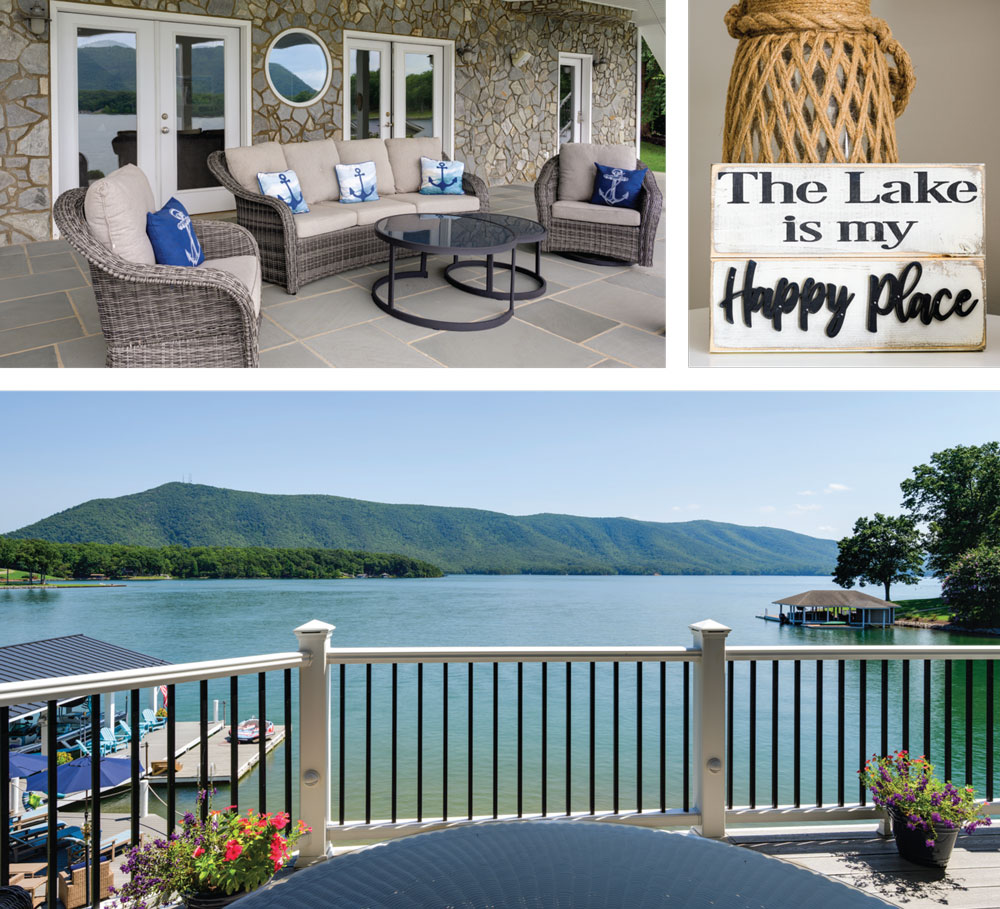 Personal favorites
Chris, understandably, pauses for thought when asked to name his favorite aspect of this home. Then he looks out the big windows to confirm his choice: "Probably the deck. Look at that view! You can't beat it. We eat out there, relax there, watch TV." A couple of heavy duty Bromic propane heaters keep it comfortable well through the shoulder seasons. "I've had a lot of outdoor space heaters, but none compared to these," Chris notes.
"When I see that view," Chris adds, "I know I'm in my 'happy place'…where all the stresses of the day get left behind."
Debbie's family has enjoyed time at the lake house, too, and her sons spent much of their youth growing up here. Chris reflects, "My kids and their friends spent a lot of time here, and for them to come back with the grandkids, it's great. I try to get at least one bunch here once a week — often on a Tuesday. They say, 'Tuesdays are Popi day.'" ✦