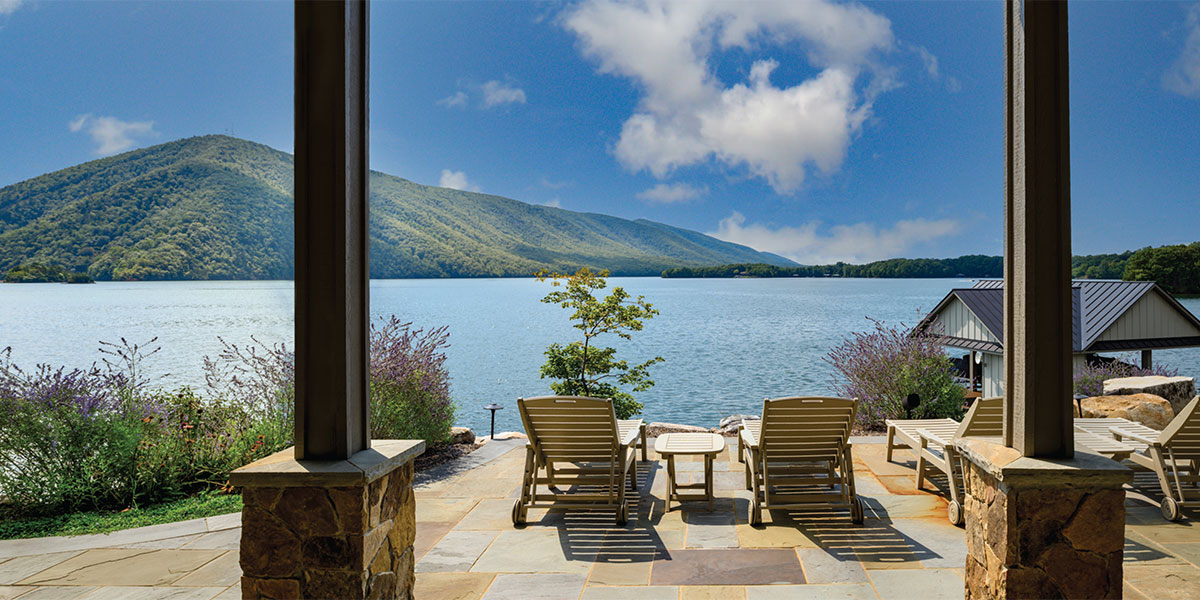 Photography by Michael Patch
Fitzgerald Family Home Makes the Most of Water & Mountain Views
When you hear about Smith Mountain Lake, what comes to mind: mountain views or boating scenes? Some folks might answer a hearty "both!" since one of the truly wonderful aspects of visiting or living at the lake is how the landscape juxtaposes mountain vistas and leafy, wooded acreage with stunning waterfront views. And this is exactly the scene you'd find on your way to see Kappie and Jim Fitzgerald.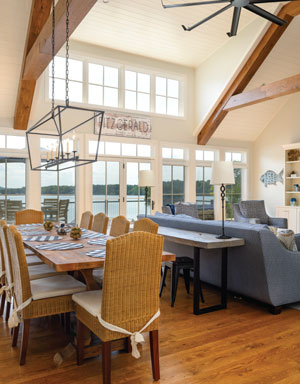 A family place
To get to the Fitzgeralds, you'll first need to drive along a country lane filled with farmland, with the Blue Ridge Mountains blanketing the background. Next, you'll wind down a shaded path, the sun dappling throughout the leafy canopy of oak and maple trees. You nearly forget you're looking for a lake with views this lush and green! Finally, a clearing gives way to a brand-new home seemingly perched at the water's edge, as if the lake itself serves as the home's backyard.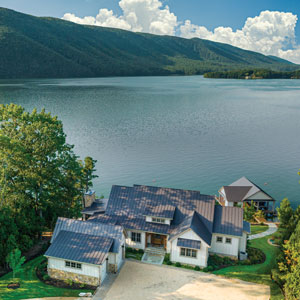 It's a peaceful drive, and as Kappie says, "I love that there's no traffic here!" She and her husband Jim reside in Midlothian, Va., which is where Jim (a University of Lynchburg alum) built his insurance and financial services business and where they raised their family.
Early on, the couple dreamed of owning their own summer or vacation home, but life was busy with raising four daughters and running a business. As the girls grew up and went away to college, Kappie and Jim resumed that long-ago conversation about purchasing a second home.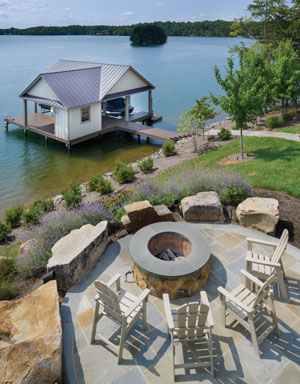 "The first thing we did was talk to our girls — we really wanted the second home to be a true family place where our daughters and their families would actually come, and we could spend time together," Kappie explains, adding that she and Jim didn't want the home to be considered "just Mom and Dad's place." With that in mind, they asked their daughters what their preference would be: a vacation home situated on a river, at a lake, or near a beach. They chose the lake unanimously.
Around that same time, Kappie and Jim rented a lake house at Smith Mountain Lake, a convenient location for a quick weekend getaway and close enough for one of their daughters (then a student at Virginia Tech) to visit. "It was September, it was the perfect fall weekend," Kappie recalls, "and it felt magical."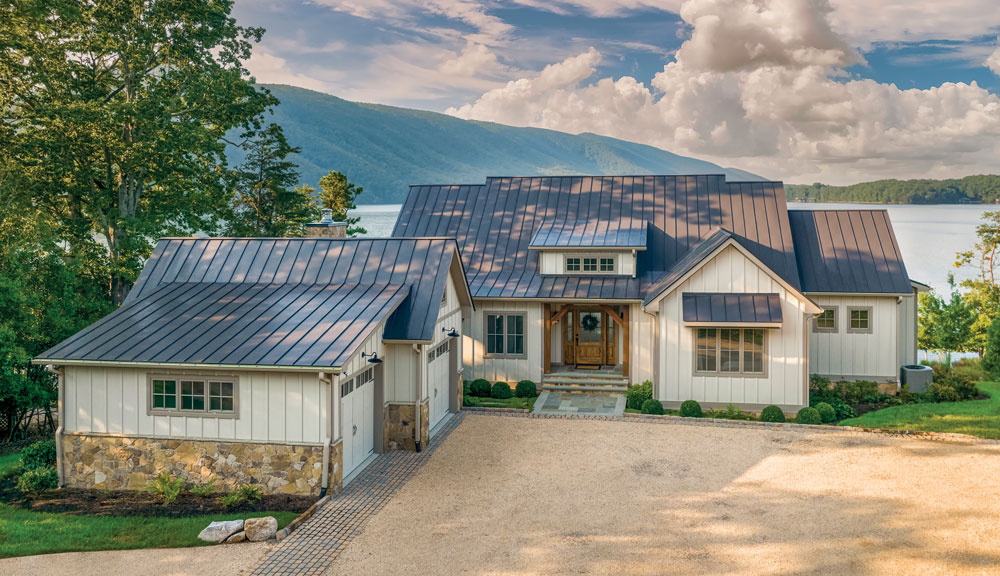 Meant to be
All it took was that one fabulous weekend at the lake for the Fitzgeralds to fall in love with the place, and they soon set their sights on locating the just-right home for them at Smith Mountain Lake. They spent several months touring property after property, but they couldn't find anything close to what they were looking for. The idea of building their own lake house came to mind, so the couple began scouting out land and possible building sites. After nearly a year of searching, they found the spot they'd been looking for. "We drove back to the Airbnb we'd stayed in during our first visit to the lake, and wouldn't you know that a nearby lot happened to be for sale? It was meant to be," says Kappie.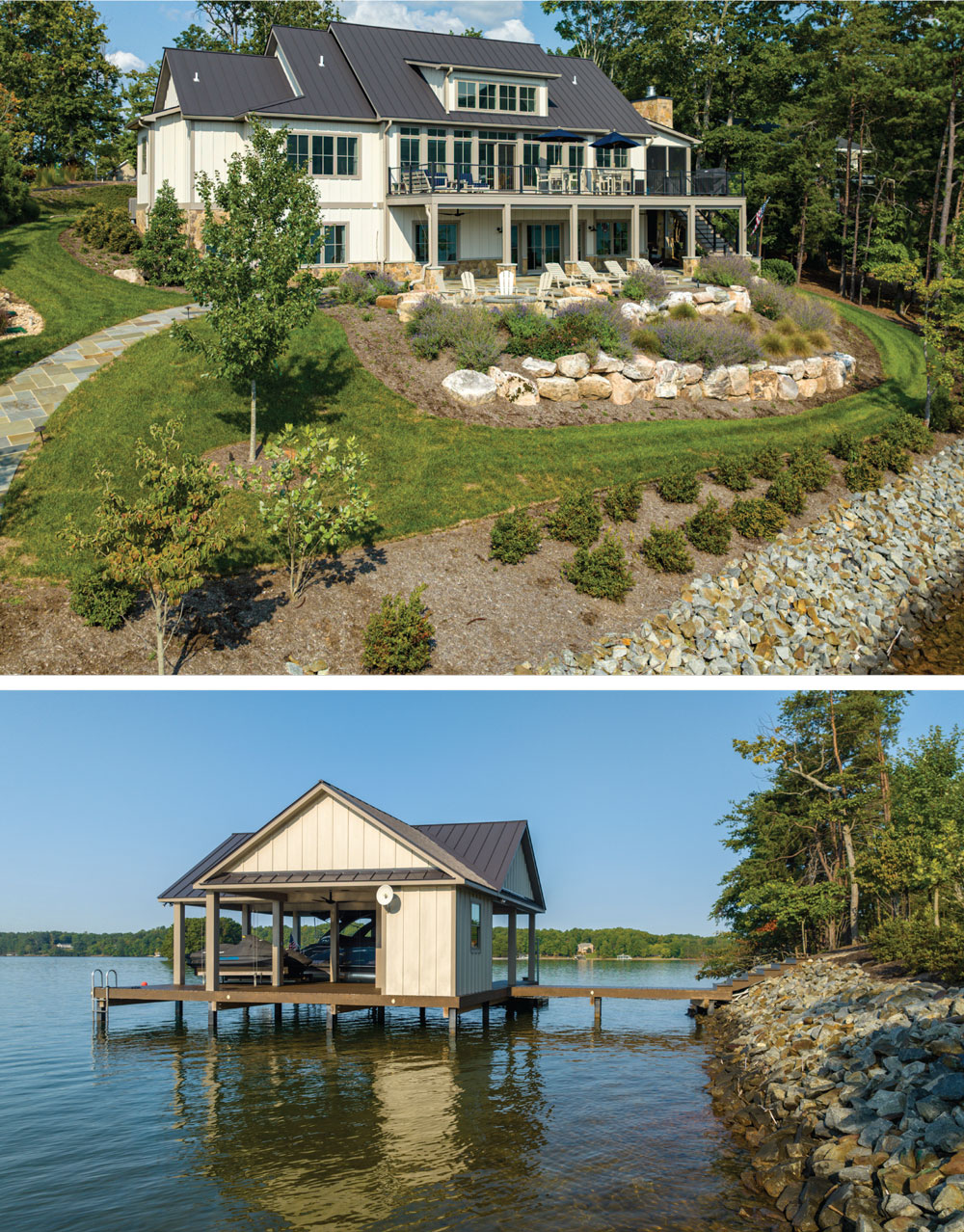 The lot offered a whopping 145 square feet of frontage along with a picture-perfect view of Smith Mountain itself — something Kappie and Jim wanted to highlight in their home design. The couple engaged the services of Comprehensive Home Design and worked with Eric Buck to bring their vision to life. The Fitzgeralds shared several "inspiration pictures" with Buck to give him a general idea of what they wanted the home to look like.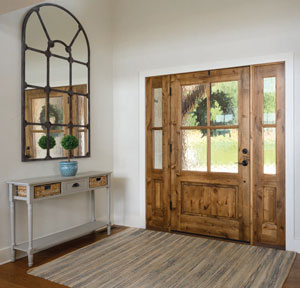 "We also had in-depth discussions going room to room through the house," Buck says. They began with the main floor before moving onto the lower level and exterior. "The exterior ties the looks of a mountain retreat with the amenities of a lake home," Buck explains. He provided 3-D renderings of the exterior as well as 3-D "walk-through" videos of the interior, too. "The layout is very comfortable and family friendly…all with a beautiful view of Smith Mountain Lake," Buck adds. Construction drawings came once the Fitzgeralds approved the designs.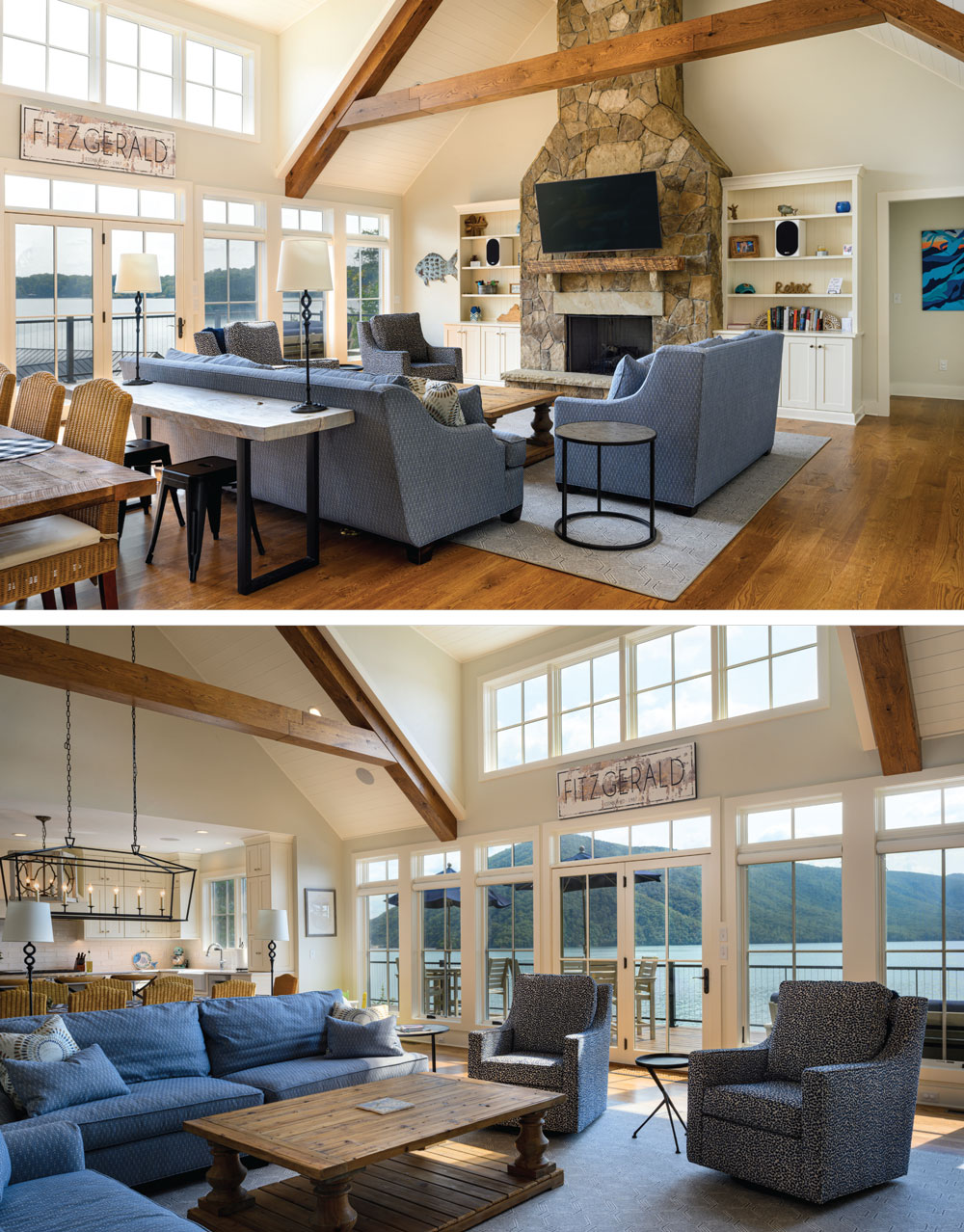 After interviewing several reputable builders from the area and ultimately selecting Bob Bauer for their project, the Fitzgeralds began the process of building their 5-bedroom, 4 ½ bath family vacation home.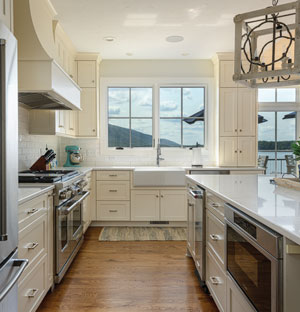 Take a tour
Step into the space, and you feel as if you've entered the quintessential coastal home. The main floor boasts an entire wall of windows that take advantage of the home's waterfront location, affording a 180-degree view of the lake and Smith Mountain itself. The open-concept great room, bathed in natural light, echoes the palette seen outside the windows and is dressed in soft shades of blue, beige, and white, a classic nautical palette. Natural materials and textures are on prominent display in this room and throughout the home: hardwood floors, wooden ceiling beams, seagrass, and wicker all nod to the home's beautiful setting.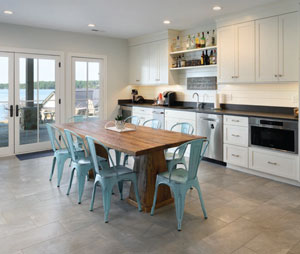 "Our number one goal was for the house to feel comfortable, not formal," says Kappie. She enlisted the help of Alex Wood Designs to help her achieve her desired aesthetic. With touches of shiplap here and there and an occasional barn door, there's an air of casual elegance throughout the space. Here, modern farmhouse style meets elegant coastal design. The custom stonework fireplace features a rustic wooden mantel flanked by built-in shelving. The room flows easily into the dining area, with a stunning wrought iron candelabra suspended above a table set for 10.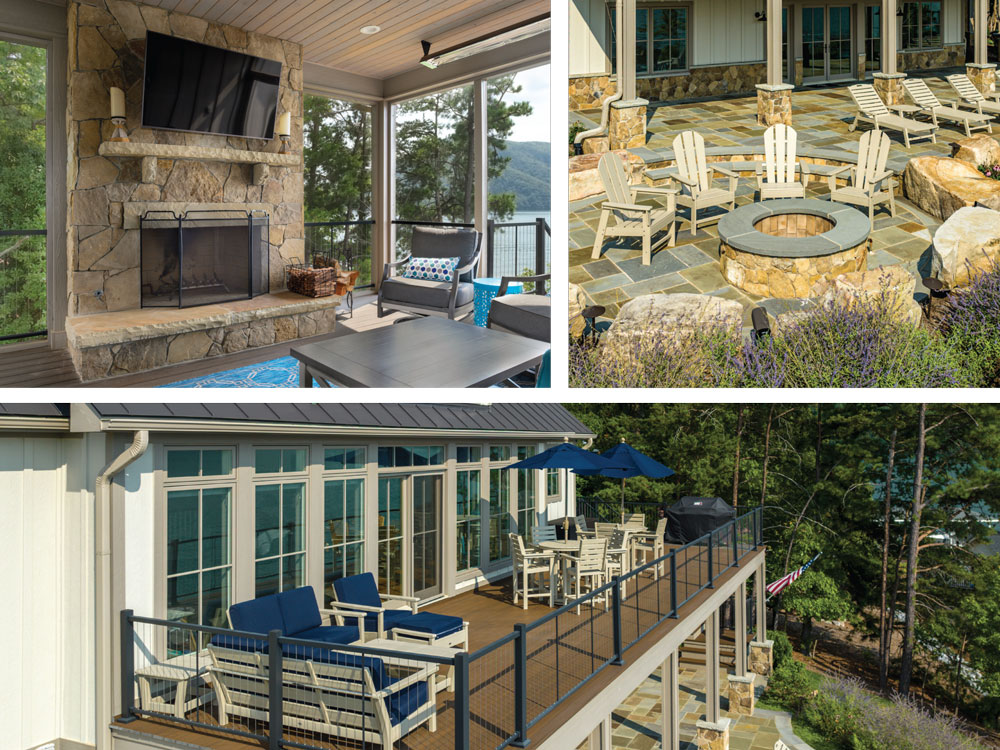 Just off the kitchen lies one of Kappie and Jim's favorite rooms: the screened-in porch. The family especially enjoys this space thanks to an outdoor stone-faced fireplace and two infrared heaters installed in the ceiling "that makes the room completely comfortable 10 months out of the year," says Kappie. "It's the perfect spot for a morning cup of coffee!"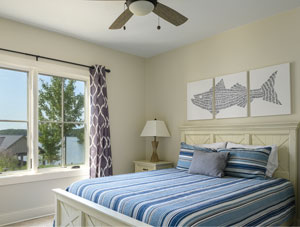 The porch also allows for access to the huge deck filled with cocktail tables and loungers. Below the deck, you'll find a pretty flagstone patio that leads to a fire pit, corn hole, and a boat house. On rainy days, though, the family steps inside to the home's lower level where they enjoy playing ping pong, watching TV and playing games together. There's even a second kitchen-turned-wet bar down here for added convenience, as well as more bedrooms. "The bedroom with the bunk bed can really be used by anyone," Kappie explains, "but the grandchildren really love it!"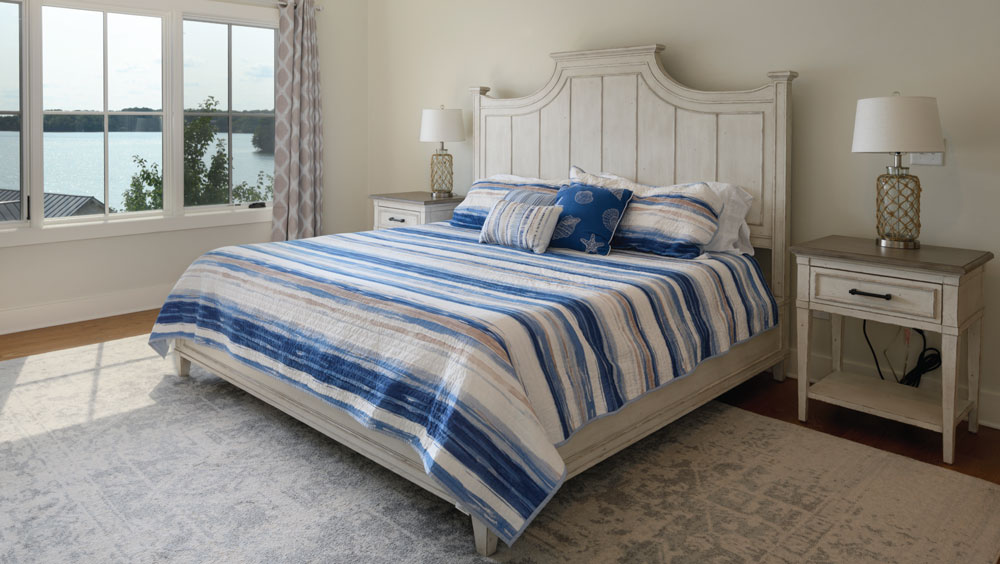 The home is designed with family in mind, as the Fitzgerald's family continues to grow. Kappie adores being a grandma to five grandchildren, and you'll find playpens, toys and cribs throughout the house. In fact, she says that having grandchildren is just one of the reasons she couldn't live at the lake full-time. "I can't imagine being away from my grandkids!" she says with a smile.
Between Kappie, Jim and their daughters, someone from the Fitzgerald family is often at the lake house — just as Kappie and Jim intended. A Google Calendar makes scheduling simple.
"It's a total family lake house, Kappie says. "And although we never gave it an official name, my husband and I liked 'The Four Reasons' as an homage to our four grown daughters. This home wasn't built as a retirement home, but as a retreat for family and friends." ✦