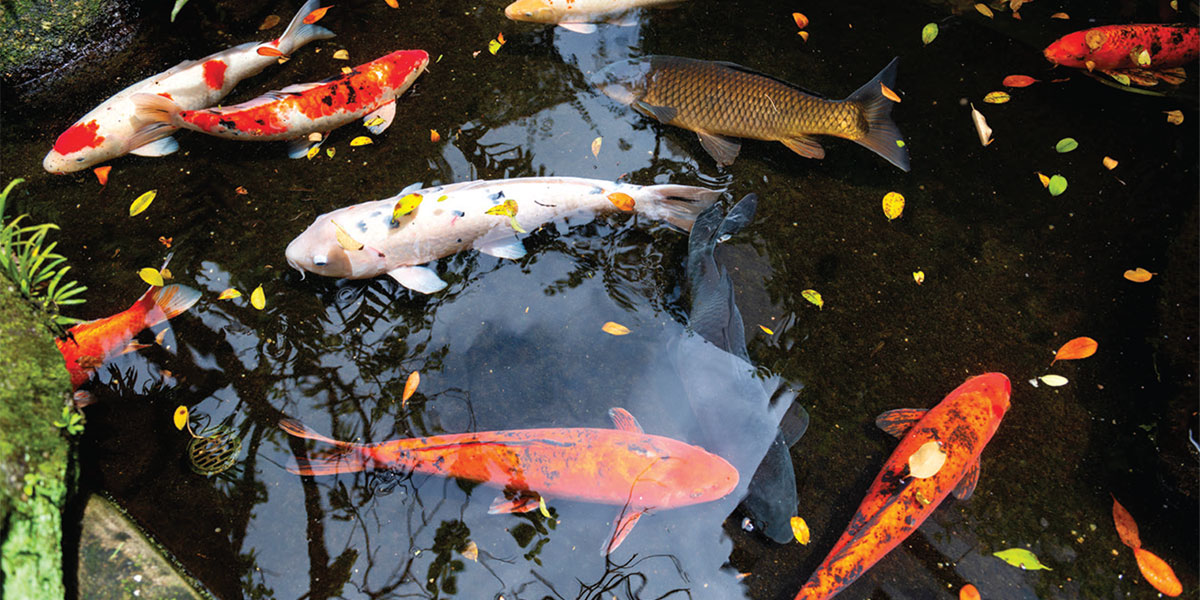 Whether or not you have a lake view, you can enjoy the delightful repose of being close to the water. By adding thoughtful water features to your garden or lawn, you can create a serene atmosphere for your home just as if you were close to the water's edge.
There are many options when it comes to choosing the right water feature: water fountains, ponds, and waterfalls add character and charm to your home and can increase the value of your property. The water feature you choose will depend on the size of your outdoor space, upkeep and maintenance, and whether or not you want the focus to be on charming looks or tranquil sounds.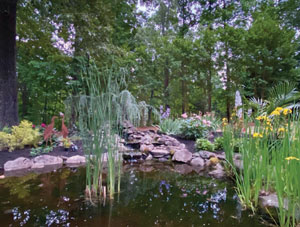 Ponds
Ponds evoke feelings of deep introspection and calm. There are a few different styles of ponds that you can choose from to suit the overall style of your home. Some ponds produce more noise, while others are still and quiet and allow for more plants and wildlife. Thinking about which features are most important to you will help you narrow your search.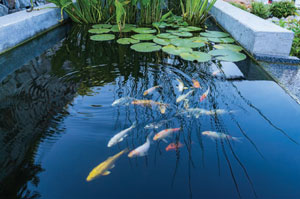 Generally created and designed to bring peaceful energy to homes, koi ponds can be a lovely addition to your outdoor garden space. A tradition that was started in Japan in the 17th century, koi ponds have been around for hundreds of years. The brightly colored fish add a lively pop to the water and can be a joy to watch swim through the waters. Some people prefer their ponds to be free of rocks, gravel and aquatic plants so that their view of the koi fish remains unobstructed.
If you do not wish to have plants in your pond, consider surrounding your pond with lush landscaping, making it a tranquil focal point in your yard that can be used for quiet repose or a gathering space for entertaining. Koi ponds are beneficial in that they help decrease your stress levels, and they are even believed to bring good luck to your home.
Another mesmerizing option to add to your outdoor space is a reflecting pool. Reflecting pools mirror the sky above and can be a wonderful choice for smaller garden spaces as the pool helps to open up the space. Set a few outdoor chairs around, and you have a charming space to retreat to.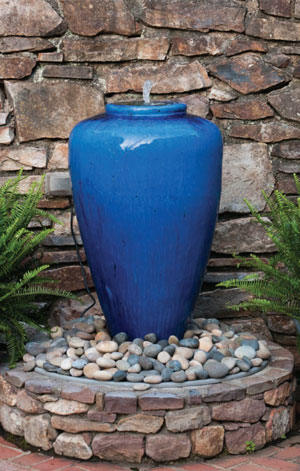 Fountains
A water fountain is a timeless feature that adds beauty and elegance to any outdoor space. There are several different types of fountains, each one with its own unique features. Shop around and find the one that best matches your aesthetic.
Fountains have the ability to command attention as the grand center of your outdoor space, or they can add a quiet whimsical charm when tucked into a quaint garden. A tiered water fountain serves as an elegant focal point, or choose a smaller stone fountain that blends effortlessly into a garden wall.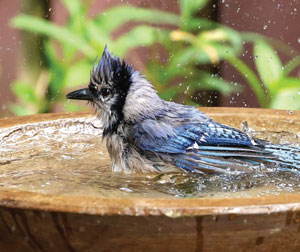 Whether big or small, consider choosing a fountain that makes enough sound for the relaxing, trickling water effect. Keep in mind that water fountains may attract more wildlife, such as birds and frogs, to your garden.
Waterfalls
Another feature you can add to your home is a waterfall. Waterfalls have long been celebrated for their grandeur and natural wonder. A backyard waterfall can have that same beauty, but on a more intimate level.
Your backyard waterfall doesn't necessarily have to be a colossal structure that carries lots of water. It can carry a small amount of water and still be a delight for your eyes and ears. You can make it as simple as a homemade waterfall constructed from a PVC pipe with a few holes drilled in it and some wooden supports. Let water spill through the pipe and trickle down to the ground. Or you can go grand and hire some landscaping assistance to create a larger waterfall.
A pondless waterfall is a popular choice for those looking to attract more wildlife to their backyard. Pondless waterfalls accomplish this because they provide a consistent water source, but without the standing water that can attract mosquitoes.
As we've seen, you don't have to live a stone's throw away from the water's edge to have all of the peaceful benefits of living right on the lake front. Whether your home is close to the water's edge, or nestled further in on land, these water features can be a unique addition to any lake home. ✦