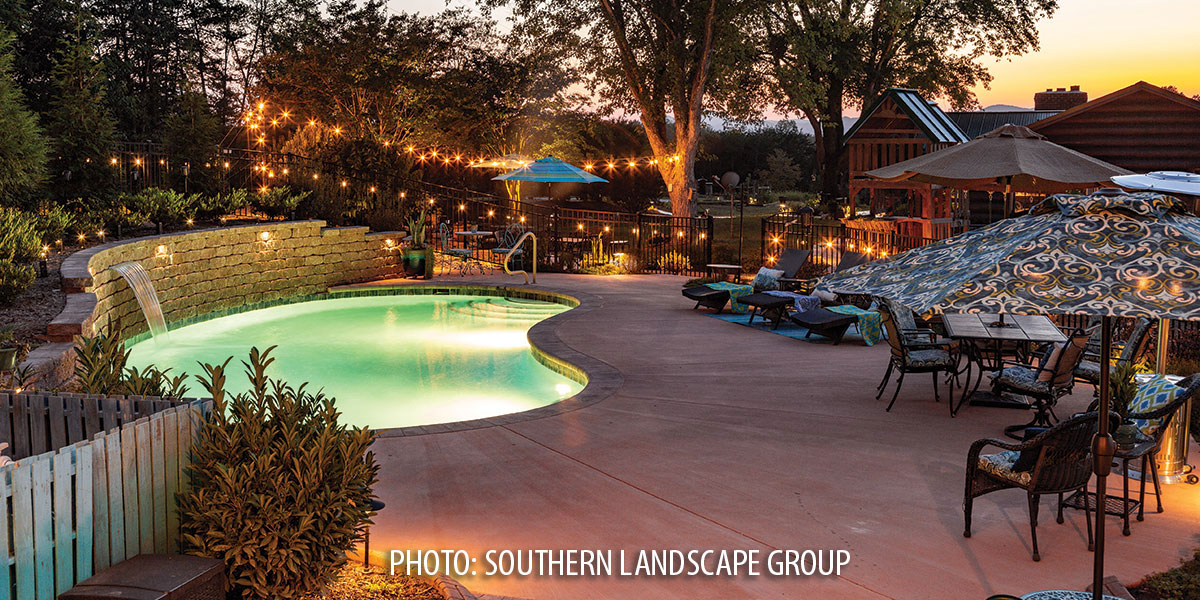 One of the many pleasures of living at Smith Mountain Lake is spending time outdoors, whether it be relaxing on a dock, dining al fresco or hosting picnics and barbecues on the deck or in the backyard. There's something magical about late nights at the lake quietly watching a sunset, conversing around the table or playing outdoor games into the evening. Landscape lighting can help extend the time in your outdoor living areas while adding ambiance, safety and security.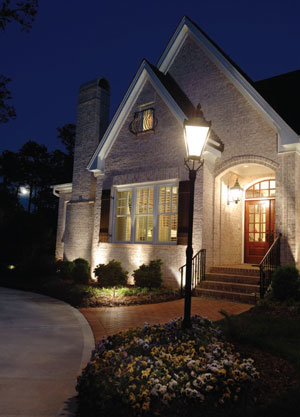 Where to start
When thinking about exterior lighting, take a moment to stroll around your property and note the features you would like to illuminate. Do you have a beautiful garden bed? A gazebo? A favorite bench underneath a stately tree? Uplights or spotlights can cast a glow on these special places. Consider first lighting areas like winding pathways or potential hazards in your yard. Lighting walking spaces and areas that may be problematic will provide a welcoming warm glow and ensure safety and comfort.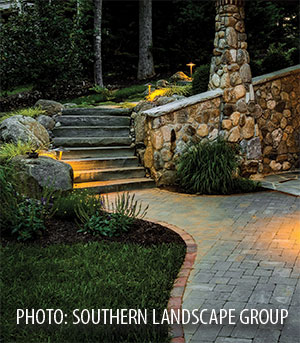 Secondly, it's crucial to research your light sources when planning for exterior lighting. Note the voltage frequency necessary to power the lights you are considering. There are three types of lighting choices: Low-voltage lights powered with 12 volts, line-voltage lights powered by 120 volts (typically used for floodlights and wired light sources) and solar-powered lights. Low-voltage lights and solar lights are the easiest to install, and are perfect for DIYers. Low-voltage lights run off an outdoor receptacle that transforms your home's electricity to a safe 12 volts. They will require a cable or extension cord to reach the lights. Lights powered by 120 volts need electrical conduits and should be installed by a professional electrician.
Solar lights are powered by the sun and need proper positioning. There are, of course, less durable lights and light strands that are battery-operated. When choosing between LED bulbs (light-emitting diode) and other bulbs such as incandescent, halogen or fluorescent for low voltage lighting, it is wise to invest in LED bulbs. With no filament to break or burn out, LEDs can last 40,000 hours, approximately 20 years of regular use, compared with just two years for halogen bulbs. LEDs are also extremely energy efficient. LEDs use about 8-20 watts while halogens use 29-72 watts.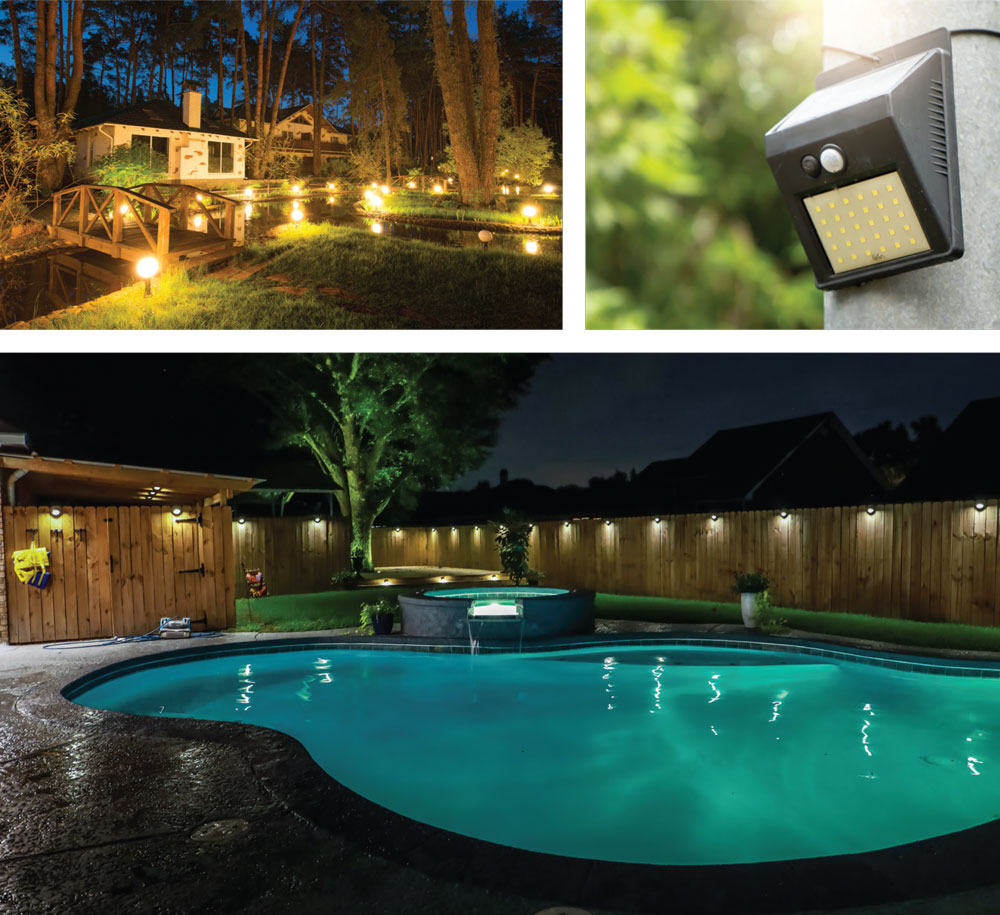 As well as fixtures, make sure you purchase bulbs for outdoor use. We all know that water and electricity don't mix. Therefore, outdoor lights need to meet certain safety guidelines. Wet and damp ratings are given by Underwriters Laboratories (UL rating) to make sure these safety standards are met, and packaging will indicate whether it is suitable for outdoor use. LEDs exposed to the weather should be UL damp or wet location listed, depending on the level of exposure. Covered lighting on a porch or under an eave needs at least a damp location rating, while completely uncovered LEDs need a wet location rating.
Once these two steps are taken, you are ready to think of executing your landscape lighting. Consider lighting as serving two purposes: task or ambient oriented.
Task lighting
Task lighting serves a practical purpose. If you simply want a safer yard, it may be enough to install basic high-voltage lights along your driveway or any pathways leading to your garage or exterior doors.
Motion-sensing lights or timers are good choices for part-time lake residents. However, no one wants to relax in the evening under the glare of a bright floodlight. That's where the nuances of landscape lighting come into play.
One of the most common task lighting effects is to illuminate potential safety hazards in common pathways. Low-voltage path lights are small posts that have a light built in and are capped with a diffuser. They can be used to frame out a space or feature in a yard, or spread out down a walkway. In-ground recessed lights or puck lights are another option. Ballard lights are taller than pathway lights and work better in larger spaces. Fence post cap lights also cast a glow on paths and walkways.
Solar stakes work well in pathways and are easy to install. Benefits of solar lighting include the absence of both wires and electricity usage. When using solar stakes, make sure they are positioned in such a way that the photovoltaic cell receives enough sunlight during the day to allow it to shine throughout the night.
Lighting steps or rails on your deck or walkways and paths will brighten your outdoor space. You may also want to highlight masonry or other borders in your yard. Hardscape lighting options include slim LED or solar lights that can be retrofitted into retaining walls, staircases, kitchens and fireplaces, if they are not already hard wired into the structures.
Advances in technology and demand have resulted in more options for lighting, such as portable LED wireless lamps. Wireless lamps are perfect for grilling, cooking and eating once the sun goes down. LED wireless lamps now come in a variety of sizes and shapes like cubes and globes. Many run on smart technology and are Bluetooth compatible.
Ambient lighting
Unlike task lighting, ambient lighting involves low levels of lighting placed throughout your entertaining spaces and yard to create mood and atmosphere. The key here is low. You do not need the same level of light outside that you have indoors. A lot of lighting can actually be detrimental to the enjoyment of your outdoor space.
Ambient lighting can range from a simple candle in a hurricane lamp to the more elegant addition of an outdoor chandelier. Areas that are perfect for ambient lighting are patios, patio umbrellas, gazebos, pergolas, balconies and pools.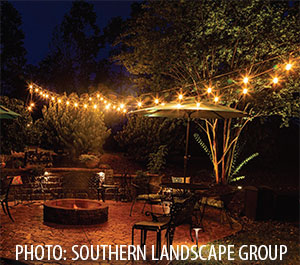 String lights and Edison lights will beautifully enhance any of these spaces. Use string lights between the edge of the house and other high-mounted spots around the patio, such as awning supports or decorative posts. There are many ways to use outdoor string light ideas, such as to line the fence with a string of lights to add a decorative element to an otherwise boring fence, or crisscrossed at angles to make a small yard appear bigger. A good, sturdy string light zig-zagged over a dining or entertaining space lays down a soft, overall light and creates an atmosphere like a French café or Italian piazza.
Other ambient lighting ideas include solar powered lanterns, pendant lights and fairy lights tucked into mason jars. For larger patio spaces, multiple outdoor large-sized lanterns and other wall lights will enable you to set a consistent style. For patio spaces with a sturdy roof or awning, consider outdoor chandeliers or ceiling fans that have lights.
If you have a dock, there are a variety of light choices available — from lights that drop to the bottom of the lake floor and illuminate upwards to mounted styles on the dock itself. Many lights offer multiple LED color options.
Outdoor lighting allows you to accentuate your home and the outdoor elements that you take pride in most. Shine on what you love, and enjoy all that lake life has to offer. ✦