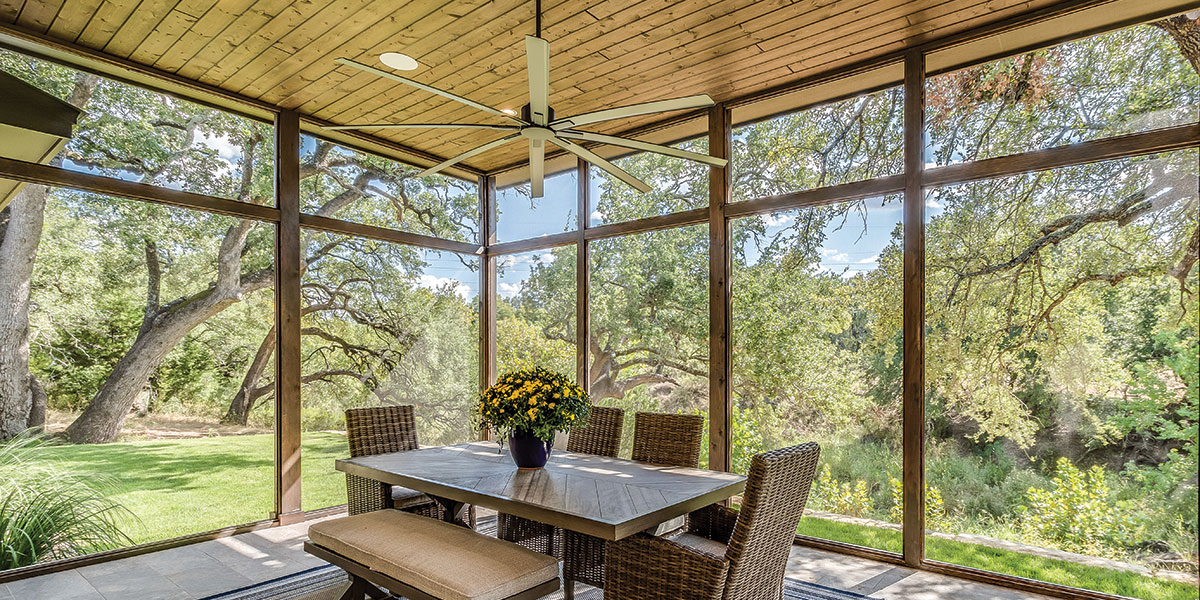 UNDER-DECK DESIGNS THAT ENHANCE OUTDOOR LIVING
For both lifestyle visionaries and lovers of the outdoors, an initial fantasy probably prompted you to choose Smith Mountain Lake. Maybe you pictured yourself overlooking the lake horizon as you drank your morning coffee or dining on the fresh catch of the day with your loved ones as the sunset glinted off the water. Maybe you caught a whiff of an imagined aroma of marshmallows toasted over a fire pit with your lake crew.

"When you live on the lake, what you pay for is that view. You want to be as close to it as you can, and that means outside," says Mike Bryant, owner of Construction Marketing, LLC.
Decks exist as a bridge from home to nature. In his 20 years in the construction business, Bryant has noticed a gradual transition in the way that under-deck spaces are used by homeowners.
In the beginning, the under-deck area was typically treated similarly to a shed or garage that harbored boats, garden supplies and outdoorsy knickknacks — out of sight, out of mind.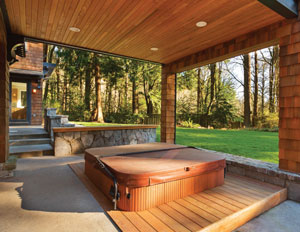 "It used to be just more like a storage space," Bryant says, explaining how the lawnmower traditionally lived under the deck. From there, he saw a transition to a hybrid storage/lifestyle space that featured outdoor seating. The final iteration led to homeowners using the space as a full outdoor living area complete with all the bells and whistles for climate control, comfort and beauty.
---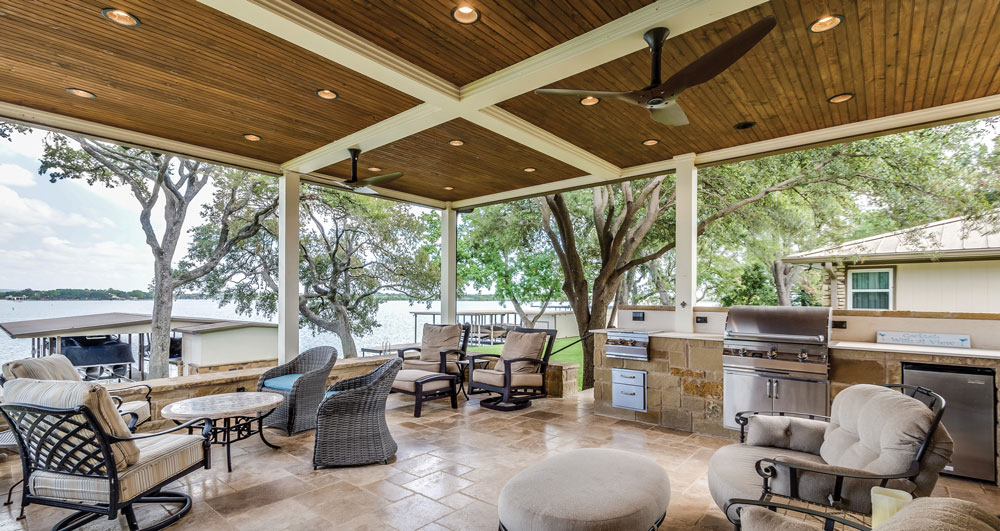 UNDER-DECK TRENDS
Low-maintenance under-deck gutter and drainage systems.

Temperature control strategies like ceiling fans and infrared heating systems that run off of propane or regular gas.

Screening to elevate any indoor-outdoor space and create a bug barrier.

Electric installation to power up fans, outlets, lighting, cooking and media setup.
---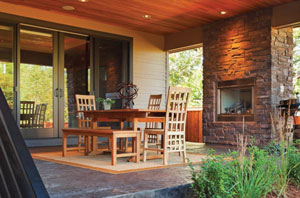 Ambiance
The most detailed under-deck areas have now become an extension of the home and as decked out (pun intended) as any living room, media center, kitchen or other highly functional room. These nooks can be screened in, grounded in stone and furnished. They can host high tech TVs and sound systems and be furnished with fireplaces, wet bars, hot tubs, low voltage lighting and the works.
It becomes tremendously elaborate," Bryant explains, adding that novel ideas that continue to inspire him, come from architects and the average homeowners alike.
It all starts, though, with a solid foundation. Focusing on sound structure and natural materials can make an under-deck space both inviting and practical. Focusing first on ceilings and floors can help define the parameters.
President of Lynchburg Landscapes Inc. Scott MacLeod shares a few ideas to make an under-deck area functional, protective against the elements and hospitable.
"You can use a rubber membrane and install a wooden tongue and groove ceiling. This will keep the area under the deck dry and allow you to use the space year-round," MacLeod says. "After installing some sort of ceiling system, you can install patio space using natural stone, pavers, concrete or decorative gravel," he notes.
Yet, breathtaking beauty doesn't have to come in the form of expensive materials, large-scale construction projects or high-tech doodads.
For those who prefer an aesthetic that is a simple nod to nature, a container garden with a variety of potted plants can be a lovely option. Creeping jenny, petunias, pansies, impatiens, coral bells and begonias are examples of plant varieties that thrive in shady spots. For eye-catching options, "boxwoods, ferns, astilbe, leucothoe, illicium, mahonias, Lenten rose and hosta are just some of the plants that will bring rich colors and textures to the space," MacLeod says.
---

DOS AND DON'TS FOR OPTIMIZING WEATHER-PROOF STORAGE:
DO ensure proper deck flashing and drainage as a top priority when considering the budget, even over aesthetics. "If it drips, it doesn't matter how it looks," says Bryant.
DON'T skimp on high-quality decking and railing materials.
DO get clever with the existing structure. Staircase=Storage. "These spaces can be walled offand you can install a door. You can install shelving and pull drawers," MacLeod suggests.
---
Climate Control
As an outdoor space for all intents and purposes, the under-deck area is vulnerable to the elements of nature and seasonal ebbs and flows. When it comes to protecting fragile items, either for storage or entertainment purposes, the area must be kept dry. Bryant points out that a severe thunderstorm could easily bring about one inch of rain per hour. Hardiness against storms and weather damage is a must at the lake.
A few of Bryant's recommended materials for dryness include rough rib metal decking, inside out composite and aluminum under decking, which features a wood grain look. This option, he points out, is more costly, but comes with wider offerings in design and color.
Installing an over-joist flashing system as a barrier to prevent wood rot is a must. Additionally, it's vital for homeowners to ensure the installation of an under-deck drainage system to finish off the space.
Aside from rain, lake living can come with high highs and low lows in terms of temperature. For ambiance and coziness to come together, consider add-ons like light fixtures, fireplaces or pits, fans and gas heat sources. Air flow in the warmer months and heating in the cooler months ensure a space that is comfy all year round.
Under-deck design can make a previously overlooked area hospitable, entertaining, utilitarian in terms of storage, and/or functionally protective against storms. Enjoy every square foot of your lake house, and you'll bridge that gap between your personal abode and the great outdoors that inspired you to choose lake living in the first place. ✦