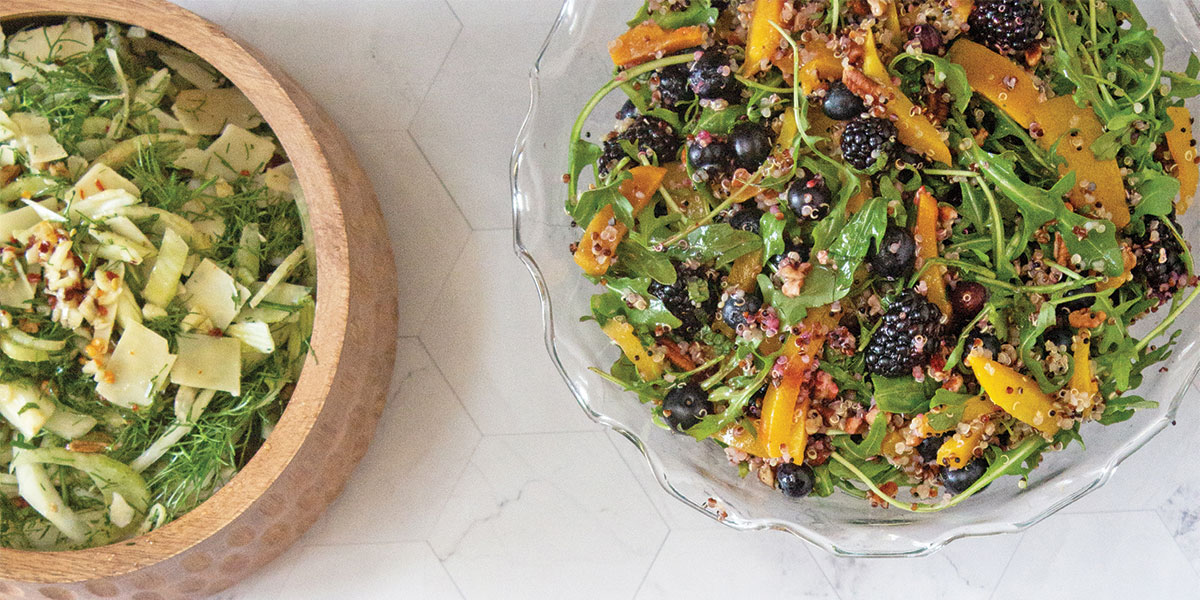 I am a huge fan of salad. I know, how boring, right?! Quite the opposite, it is one of the most versatile terms in your kitchen repertoire. Salad can mean many things and has endless combinations of possibilities. Salad does not have to equal lettuce! There are so many incredible vegetables that need to be enjoyed. Making a salad into a meal or side dish or to amp up the "salad bar" is the perfect way to "veg" (see what I did there?) lakeside! The recipes featured here aren't just salads — they are creative, colorful, healthy and fun creations that need to be shared. Throw out the conventional ideas of salad and embracesalad's adventurous side!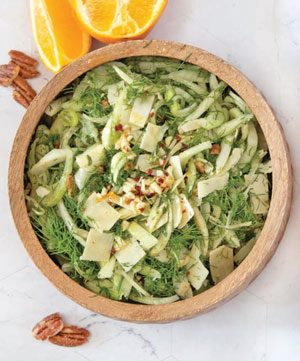 SHAVED FENNEL SALAD WITH PECANS & PARMESAN
Fennel screams springtime and is one of my all-time favorite things. The licorice taste might not be for everyone, but if you are a fan like me, try this recipe. It is light, yet hearty. It's tangy, sweet and savory too. I love this salad paired with pork as well!
Dressing:
6 tablespoons extra virgin olive oil
2 teaspoons kosher salt
1 tablespoon sherry vinegar
2 teaspoon honey
Juice of 1 orange
1 garlic clove, finely grated
¼ teaspoon red pepper flakes
Salad:
2 fennel bulbs with fronds
¾ cup mint leaves, chopped
2 ounces Parmesan cheese
½ cup pecans, chopped
Freshly cracked pepper
In a bowl, combine olive oil, salt, vinegar, honey, orange juice, garlic and red pepper flakes. Allow this to sit 10 minutes for flavors to "marry together." Remove fronds from fennel stalks and coarsely chop (set aside). Cut the fennel bulbs in half and thinly slice on a mandoline. Add the slices to a large bowl. Toss in mint and Parmesan. Toss with dressing and sprinkle with pecans, fronds and cracked pepper.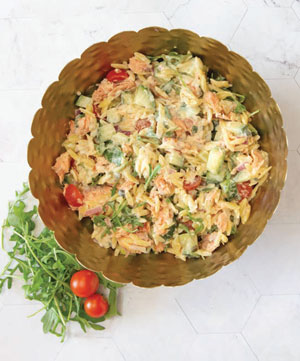 SALMON ORZO SALAD
This salad appears to have a lot of ingredients, but it comes together so quickly and is the best pasta salad! The addition of smoked salmon makes it a meal in itself, and I love the capers with the peppery arugula.
Salad:
1 ½ cups orzo, cooked
½ cucumber, chopped
1 shallot, minced
2 tablespoons red onion, chopped
1 tablespoon capers, drained
½ cup cherry tomatoes, halved
Handful of fresh arugula
8 ounces smoked salmon, chopped
Dressing:
½ cup sour cream
1 tablespoon Dijon mustard
2 tablespoons honey
½ teaspoons olive oil
1 tablespoon lemon juice
1 teaspoon garlic powder
⅛ teaspoon cayenne
1 tablespoon chives, minced
Salt & pepper to taste
In a large bowl, add orzo, cucumber, shallot, red onion, capers, tomatoes, arugula and salmon. Set aside. In another bowl, combine sour cream, Dijon mustard, honey, olive oil, lemon juice, garlic powder, cayenne and chives. Whisk together vigorously. Season to taste. Toss everything together. Salad is best cold!

FRESH ARUGULA, MINT & FRUIT SALAD WITH LEMON POPPY SEED DRESSING
Elevated fruit salad right here! This one is a beloved staple for my kiddos, too. You can mix this one with whatever is looking good at the market: strawberries, raspberries etc.! The dressing is a fun spin on poppyseed dressing with the unexpected addition of maple syrup.
Salad:
4 cups arugula
1 cup cooked quinoa, cooled
1 cup peaches, cut in thin slices
1 cup blackberries
1 cup blueberries
½ cup pecans, roughly chopped
2 tablespoons mint leaves, roughly chopped
Dressing:
4 tablespoons fresh lemon juice
1 ½ teaspoons poppy seeds
1 tsp. maple syrup
Pinch of salt
In a large bowl, add arugula, quinoa, peaches, blackberries, blueberries, pecans and mint leaves. Toss gently. Set aside. In a small bowl, whisk together lemon juice, poppy seeds, maple syrup and salt. Pour about half the dressing over the salad, tossing until well coated. Then taste and add additional dressing. Serve immediately.
SHAVED ASPARAGUS AND RADISH SALAD
Asparagus in the raw is a fabulous addition to a salad. This salad is super clean, easy and will delight those who are keen to experience asparagus in a new way! The bite of the seasonal radish and nutty pistachios make this salad sing!
Dressing:
¼ cup olive oil
2 spoons lemon juice
1 tablespoon champagne vinegar
1 teaspoon honey
1 clove garlic, minced
Salt and black pepper, to taste
Salad:
1 pound large asparagus, woody ends trimmed
3 ounces fresh mâche*
4 radishes, washed and thinly sliced
½ cup shaved Parmesan cheese or Burrata
⅓ cup chopped pistachios
Salt and freshly ground black pepper, to taste
In a small bowl or jar, whisk together oil, lemon juice, vinegar, honey, and garlic. Season to taste. Set aside.Shave asparagus: Look for thicker spears. First, trim off the ends or snap off with your hands. To shave, use a vegetable peeler and hold the spear with one hand and use the peeler to gently slice in ribbons. Don't worry about uniformity! Place in a large bowl. Add mâche and radishes and toss. Add the cheese and pistachios. Drizzle dressing on top and gently toss. Season with salt and pepper, to taste. Serve the salad immediately.
* If you can't find mâche, you might substitute watercress orfresh parsley. ✦