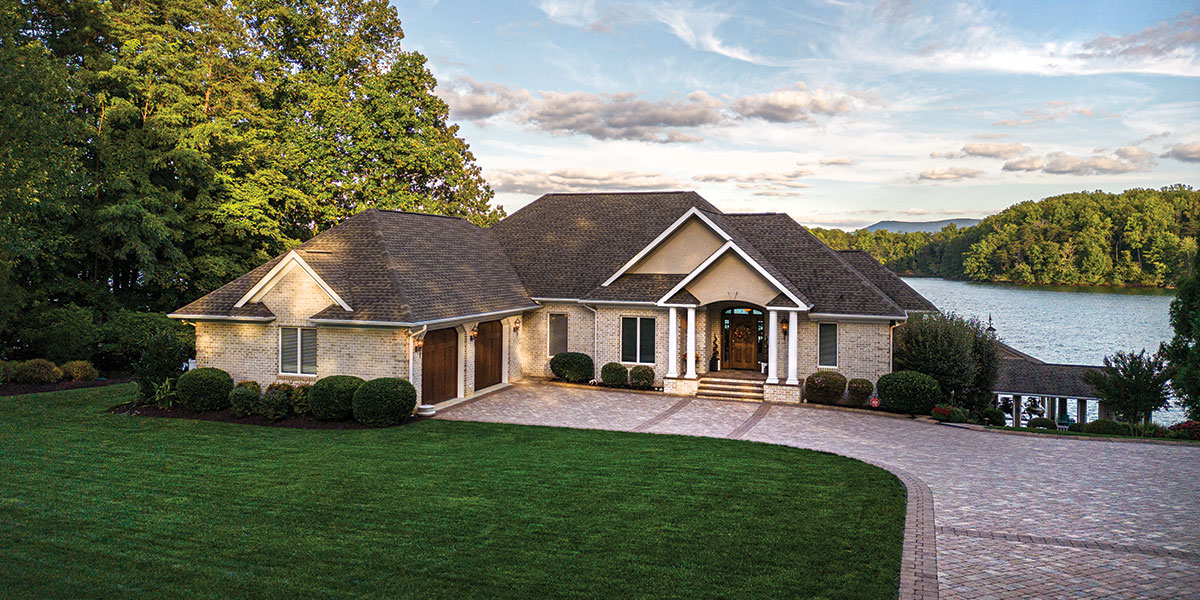 Photography by Jared Hall
COUPLE CREATES PERFECT RETIREMENT SPOT ON SML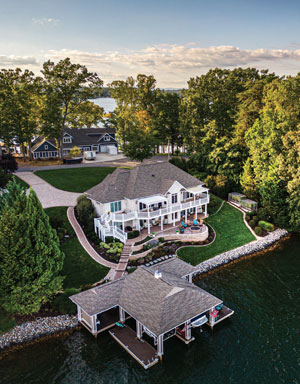 Bryan and Debra Stockdale are experienced at choosing houses. They first met as 12-year-olds living near Cleveland, Ohio, were middle school sweethearts, and later married while still finishing their college educations. Busy careers — his initially with Reynolds American and hers as a nurse and, later, instructor to Medical Assistants at Davidson Community College in North Carolina, required many relocations and some time living apart. All of that led to the purchase of, count 'em, 17 homes.
But the one they like best of all is the last: their retirement paradise along the shores of Smith Mountain Lake in Franklin County's Windmere Point community.

A drone view of the property could easily be the cover image for an SML resort brochure. The recently refurbished dock, which stretches 50 feet along the shoreline, is a functional mix of bar/kitchenette, boat and personal watercraft slips, plenty of sheltered seating area and a lounging deck with swivel/glider/rocker chairs from Wood Grains in Rocky Mount. These have the look of stiff Adirondacks but serve up comfort and movement through a clever system of hinges, springs and rollers. "We started with just four of them," Debra relates, "but that led to chair-snatching episodes among guests when someone got up to swim or get a beverage. So we got four more for the dock and six for the fire-pit patio — enough for everyone to enjoy."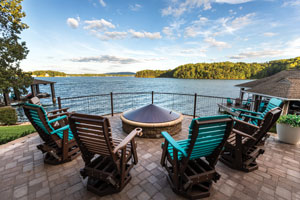 That fire pit, built in honor of a dear friend who was lost to COVID, is the most recent addition of hardscape artistry by Seven Oaks' designers and installers that has transformed the home's lake-side yard into an inviting, three-tiered garden walkway between house and dock. A recently-added paver pathway along the side of the home makes it easy for guests to get to the lake directly from the spacious front driveway courtyard when waterfront fun is first on the day's agenda. Here again, Seven Oaks worked its magic with design and installation.
Said Bryan, who is a self-professed stickler for things being done just so, "I can confidently let them do their thing and know we'll be delighted with the result."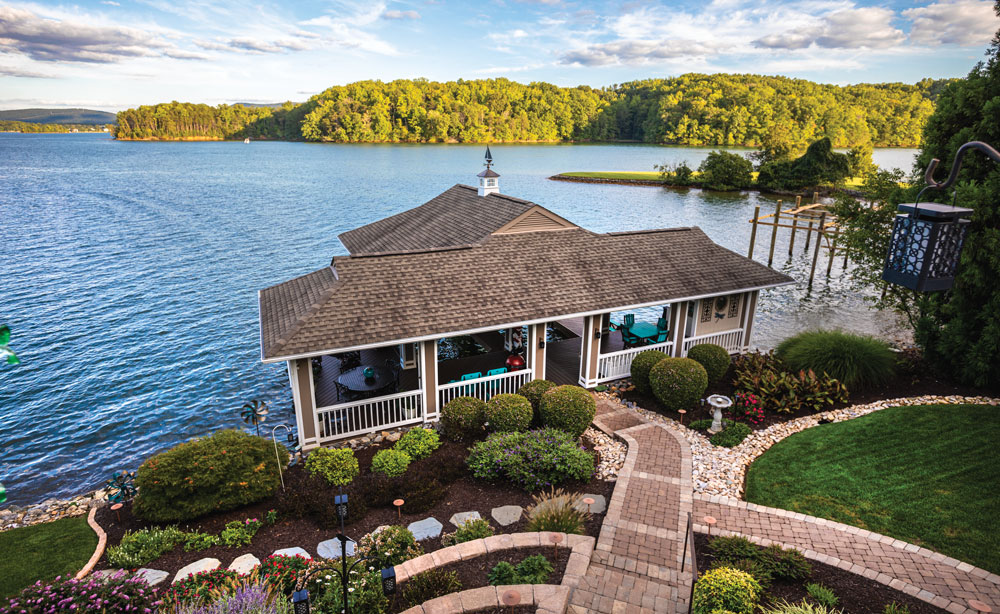 The journey to SML
With roots in Ohio, the Stockdales are self-proclaimed "lake lovers" who pretend no attraction to the sea shore. Debra grew up on a lake near Cleveland and always hoped lake views and activity would figure into her family's future as well. In 1997, they bought property on Lake Norman, but a few stays with friends who had moved to SML soon had them looking for property here. A cottage at The Boardwalk served as their lake getaway from 2005 to 2011. Looking ahead, however, they realized something larger would better serve their retirement living needs.
They are the second owners of their current home, which was built in 2005. "We bought it knowing there were things we would want to change. Between those and necessary repairs, by now…well, we've changed most everything," Bryan said.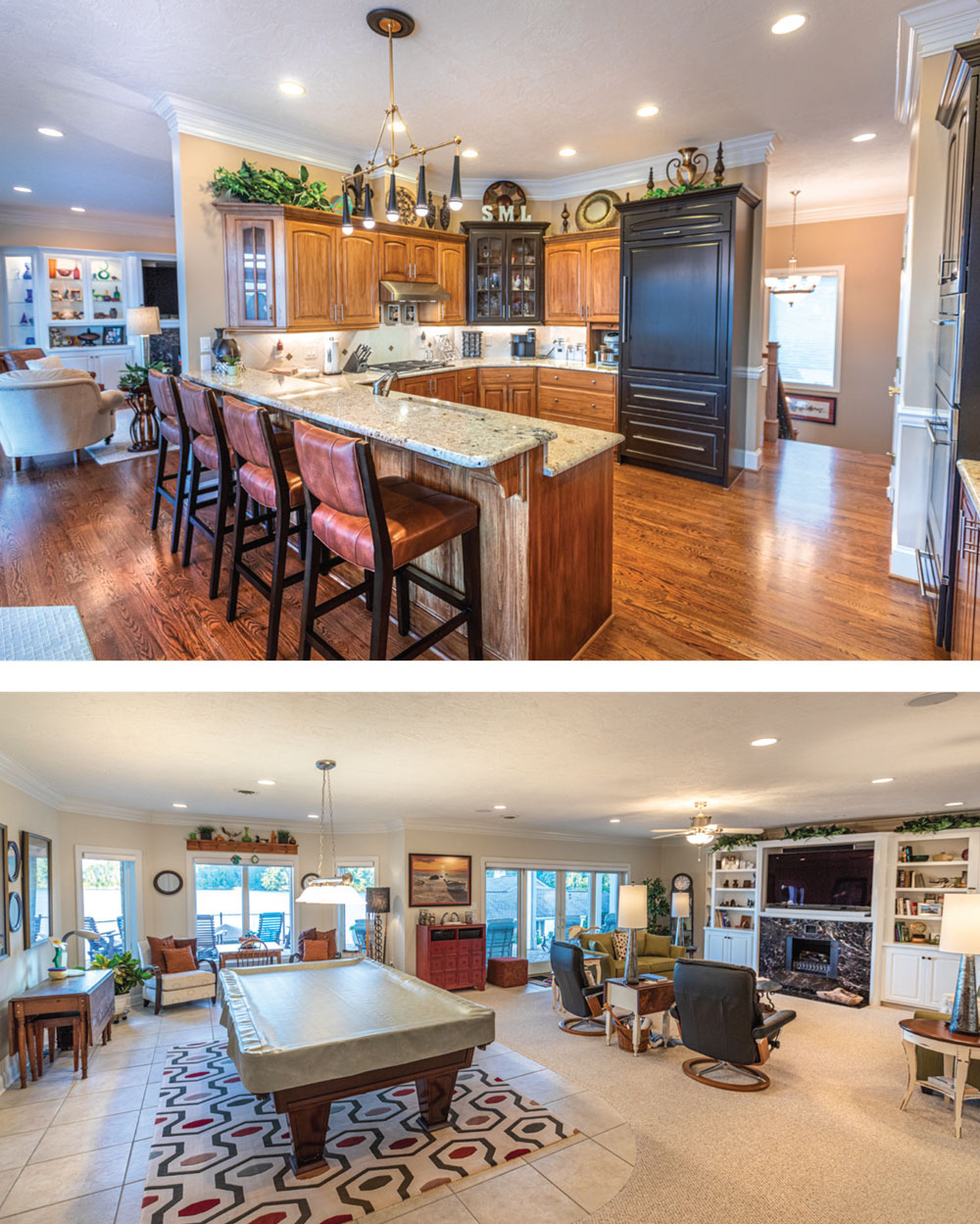 A string of renovations
The couple's passion for quality has also led to engaging Dale Angle as their contractor of choice for a 10-year-plus sequence of renovations: one or two projects a year sandwiched between Angle's full plate of new-home builds.
"He's had to fit us in as time allowed," Bryan said, "but for us, how Dale does things is well worth the wait."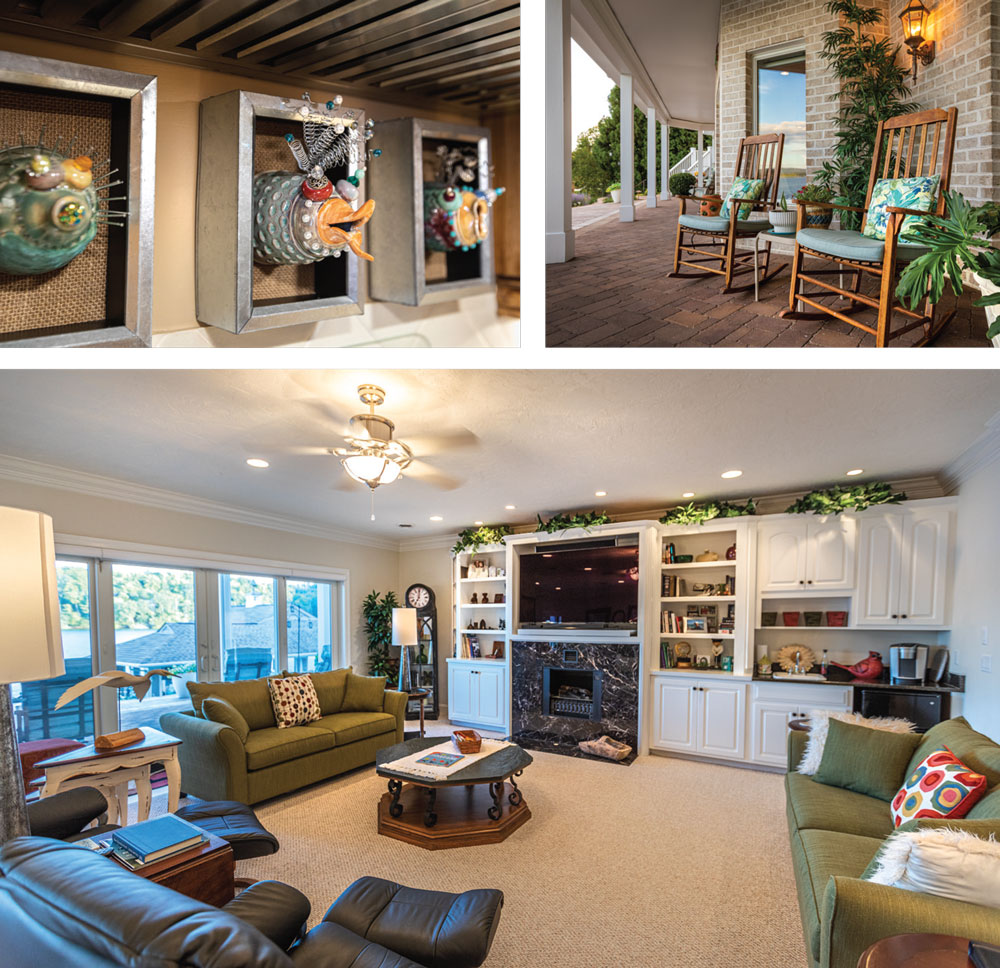 Guided by a determination to make the home as maintenance free as possible, the Stockdales have replaced wooden decking on both the house and boathouse with Trex composite boards. Inside, a full kitchen redo began with red oak hardwood flooring, lovely new beige granite counter tops and cabinet refacings. "It was the painter's suggestion to raise the cabinets that were being done in iron-ore glaze to give the uppers a staggered look," Debra noted.
New appliances were added in 2021 — Sub Zero and Wolf for guaranteed longevity. "I just love my propane stove, convection/steam ovens and warming drawer," she added. When she's rinsing dishes at the sink, Debra looks past a five-stool breakfast-bar-level countertop to a killer view of the Roanoke River channel with the long ridge of Smith Mountain visible above the trees on undeveloped shoreline across the cove. Due to the home's proximity to the lake on a sloping lot, the view from the main level gives the illusion that the house is cantilevered over the water.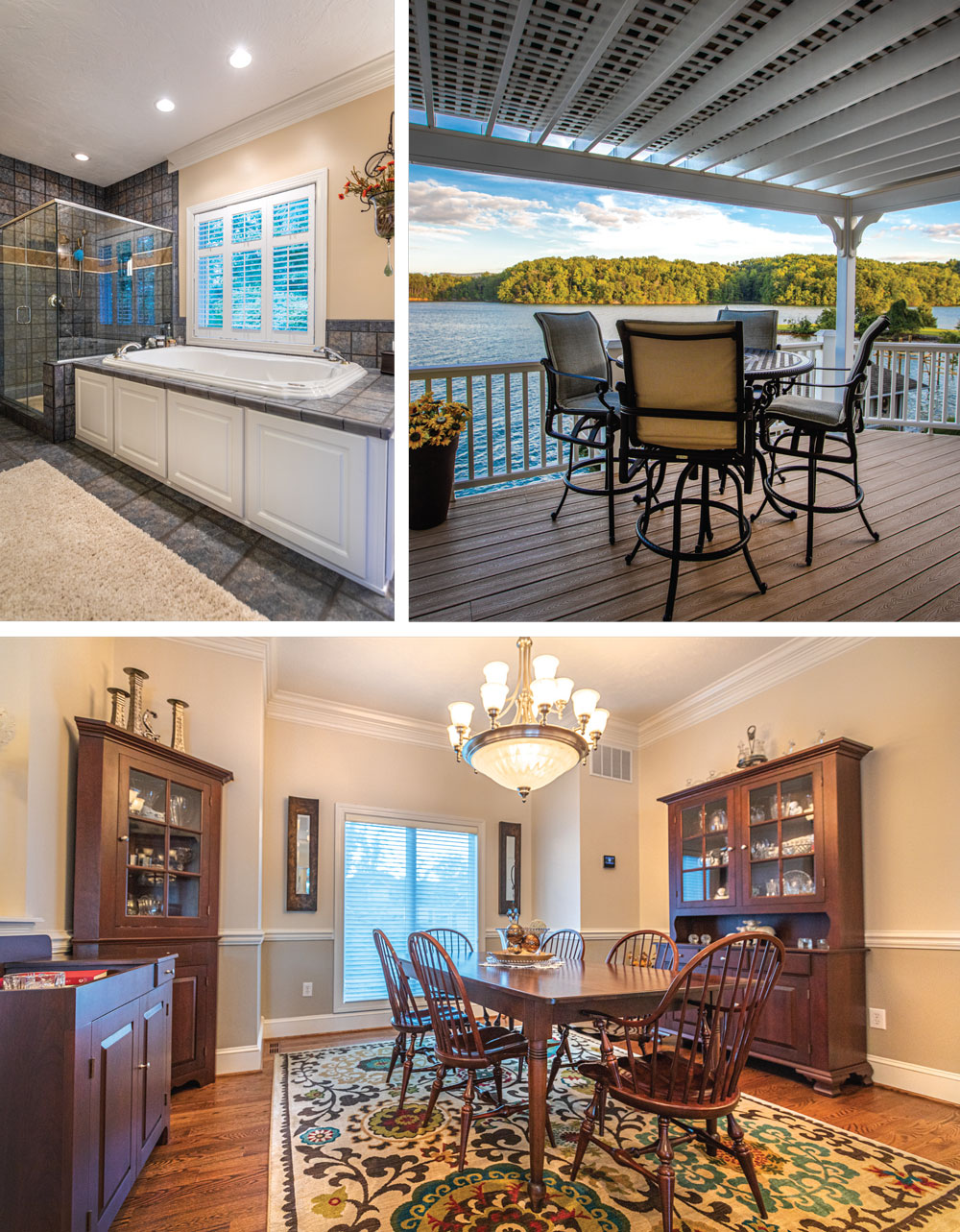 Fireplaces, both main and lake levels, have been converted to electric displays — no wood mess to deal with here. Marble-look porcelain surrounds make them eye-catching even when the burn switches are turned off.
The stairway to the lake level, which turned out not to comply with building code specs, got the Angle treatment in red oak to match the main level floors. Downstairs, a large game room and TV room combination, together with the guest suites to its left and right, have been fully redecorated. And to more comfortably accommodate their kids' families for an all-together SML family vacation, they've civilized the utility room into comfortable guest quarters by putting all the mechanical items behind cabinet facings and installing a clever trundle-style bed that converts between sofa, twins or king. A built-in washer and dryer stand unobtrusively ready to handle lower level laundry duty.
Throughout, the home's décor has evolved to a "… meaningful to us" theme, Bryan noted. "We've realized that we prefer looking at objects of art that trigger memories of where we've been and what we've done," he explained, Thus, there are pieces discovered during recent trips to Australia, Alaska and South Africa, often reflecting Debra's penchant for rocks and glass. On the dining table stands a stately blue heron, testifying to their fondness for Charleston Harbor and to memories of visiting the Amazon, both places where blue herons predominate. "There are also a pair that visit our dock here most every day," he adds.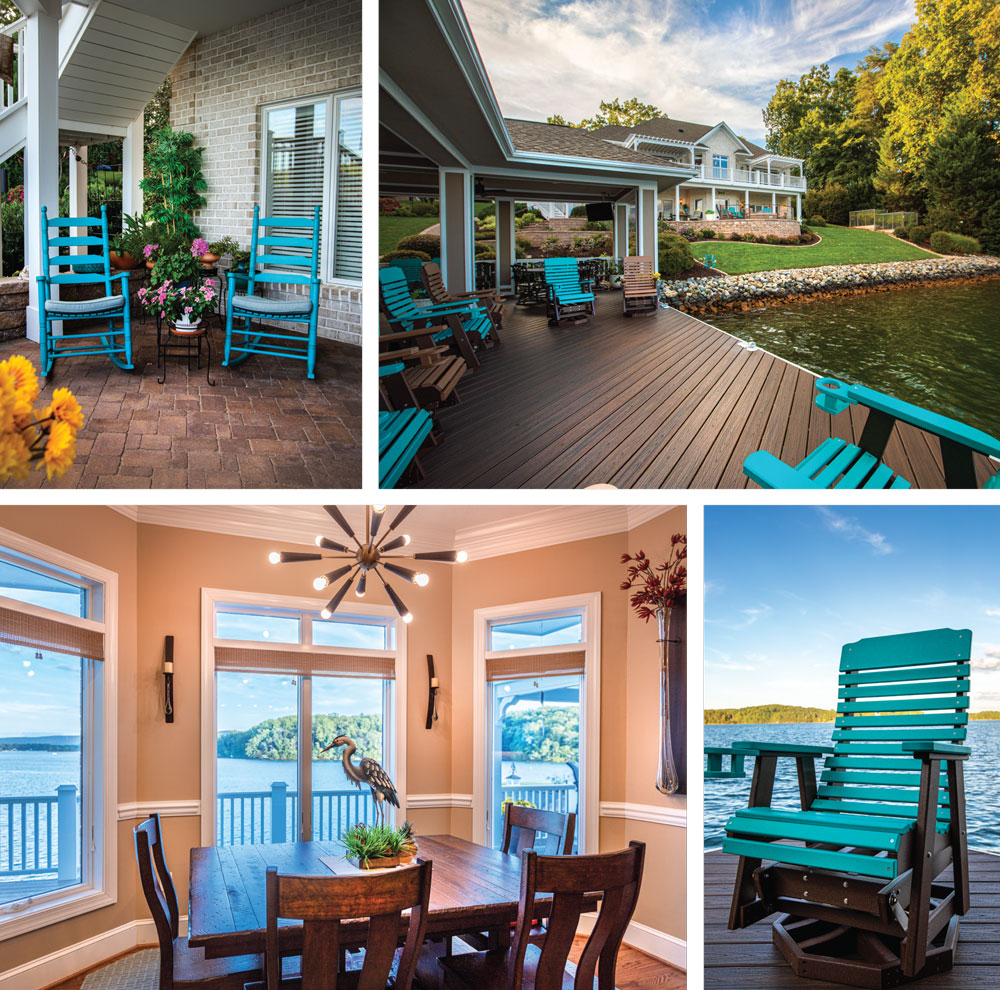 Fresh air fever
Despite the appeal of all that is inside the Stockdale home, it's life outside that most captivates its owners. "This is just a fantastic neighborhood," say Debra, who ends most weather-suitable days with a sit-a-spell on her "bird perch" at the back deck's high-boy table. There, feeling like a bird on a wire, she can watch evening engulf their peaceful cove.
Bryan calls the 1,500-square-foot dock his favorite "room." "It's just a very inviting place to spend time," he says, "and between the full-size 'fridge, air fryer and Kamado grill, I can cook for the entire family down there."
Fresh vegetables from Debra's well-protected garden are often on their summer menus. They're using hardware cloth to screen top, sides and even underneath to deter hungry wildlife. This solution is working, allowing her to harvest a bumper crop of salsa ingredients.
The couple loves exploring the lake by Sea-Doo on weekdays and, on weekends when it's busy, just watching the goings on from their deck, dock and fire-pit patio. Their passion for life at SML is contagious and seemingly exudes from the very walls of their lovely retirement home. For Bryan and Debra Stockdale, the 17th time is, indeed, the charm. ✦