Sometimes you only need to make one update to a room to change its tune. If you're looking for a way to bring a new look to one of the most-used rooms in your home, but you're not ready for a full-blown renovation, turn the spotlight on your counters.
With many surface varieties available today, all with different qualities, changing out your countertops can be both an aesthetic and practical move. It is certainly a wise choice for owners of vacation rentals or summer homes, or for those preparing to put their house on the market.
"It is always a good investment to replace countertops," says Kevin Fields, an AKBD-certified designer with The Cabinet Gallery in Westlake Towne Center in Hardy. "If your cabinets are in good shape, replacing a countertop can really increase property value. Some houses in high-end neighborhoods are almost expected to have some type of updated stone countertop."
People choose countertops equally for their durability—whether they can resist stains and scratches—and their beauty. Here, we provide a rundown of surface types and important considerations for planning this project.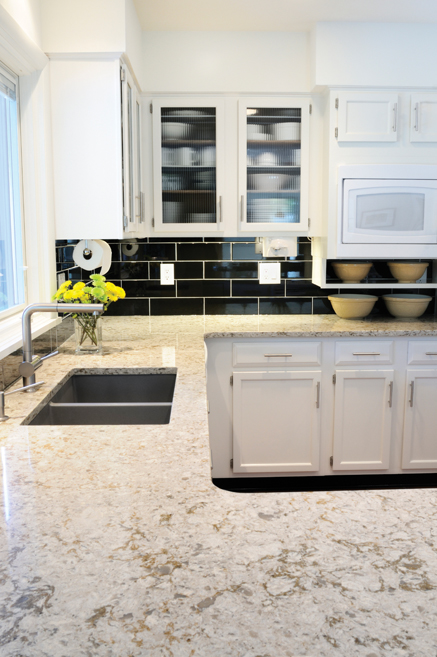 Rockin' It
The natural beauty of the Virginia countryside, the Blue Ridge Mountains, and Smith Mountain Lake is what draws people to this area—and often keeps them here. Local homeowners show this appreciation for nature by bringing the beauty, or at least a semblance of it, inside. Countertops made of natural or partial rock or stone, with their random, one-of-a-kind patterns, are the most popular. Experts agree that granite and quartz top the list. "They are durable materials that give you a nice, high-end look," Fields says. "The different patterns and finishes give you plenty of options to select that can fit any home's décor."
Dan DeNeal, owner of DeNeal's Cabinets in Moneta, says the cabinet and countertop industry is now offering more than ever. "Fabrication techniques are always improving; seams nowadays are better than they used to be 20 years ago, and the selections have increased dramatically for natural stone and quartz," he says.
Granite, which is quarried all over the world, comes in many different colors. It is very hard and will resist scratches with proper care. It is also stain resistant, if sealed periodically. "The beauty of granite is the main reason it is so popular today," Fields says. "With the many patterns and veins, it is truly a beautiful natural product."
According to DeNeal, granite is quickly becoming the top choice for his customers. "It's durable; it's hard to beat it," he says. "Buy it once, and it will last a lifetime."
Countertops made of quartz may be even better if you are worried about stains, since quartz is considered to be non-porous. Quartz countertops are generally made up of engineered material composed of 85 to 95 percent crushed quartz and resin binders. It is scratch resistant and will also tolerate heat. Many people choose quartz because it does not need regular sealing like other natural stones, so it is virtually maintenance free. The patterns and colors are consistent, making it a great choice for larger and wider countertops in the kitchen.
Marble is the stone most chosen for its attractiveness, with pronounced veins and often-bold colors that say "upscale" and "luxurious." But sometimes the finer things require more TLC. Marble is a softer material that can be scratched by common kitchen utensils. You should always use cutting boards when cooking. Fields says marble can be sealed to reduce the vulnerability to acidic attack and stains, but it's not a guarantee. "Marble is a beautiful material that requires protective measures to ensure it will last and look great," he says.
DeNeal said this is an area "where quartz is taking over," because it can give you the higher-end look of marble, and
with durability.
While natural may be the way to go, there are less pricey alternatives that still do well in simulating that great natural look.
La La Laminate and More
Usually half the price of stone countertops, laminate countertops (made of particle board or plywood with a printed image laminated on the top) have still come a long way, Fields says. The material, such as the brand name Formica, can now be ordered in large sections with convincing patterns of natural granite and marble, and in many different colors. Laminate can also be ordered with profiled edges on all sides, instead of a traditional flat edge. Laminate does not resist scratches or heat, so using cutting boards and hotpads is imperative to preserve the surface.
Solid surface countertops, made generally of cast plastics or acrylics, are also a lower-budget choice for the kitchen and bath. Although it can scratch and is not heat resistant, solid surface is the only option that allows a seamless design. A sink can be made of the same material so an entire counter space can be integrated. Color options run the spectrum, from deep red to bright blue or black, and this type is also available in many stone patterns. One of the popular brand names is Corian. Solid surface countertops are slightly more expensive than laminate, ranging from $40-$70 per square foot to install.
A new surface material has come on the scene in recent years and is growing in popularity. Dekton, made by Cosentino, a leader in architectural and design surfaces, is a mixture of inorganic materials manufactured by a high-tech process that recreates the metamorphic change (high temperatures and pressure for thousands of years) that natural stone undergoes. It can be used indoors or outdoors, and is durable enough that it can be used for flooring.
Fields has begun introducing Dekton in area homes. "It is an ultra-compact surface with superior technical characteristics and performance better than any surfacing product in the market today," he says. "It is very scratch- and stain-resistant and can tolerate temperature changes." Its durability is its hallmark, as it can also be used as a cutting surface. (Ads for the product feature tennis star Rafa Nadal cracking nuts on a Dekton counter by batting them down with a frying pan.) This new material comes in a variety of colors and won't fade. According to Fields, installation will cost you up to $100 per square foot.
The Design Beat
Kitchen and bathroom designers will help you choose the best countertop to match the style of your room. "When it comes to matching countertops with décor, it is primarily based on color of the countertop. You want to choose a material that gives you contrast or will tie into the rest of the room," Fields says.
It is not uncommon to use multiple cabinet and countertop colors in many designs within the same room. Fields says he especially sees this in kitchens with islands, where the island may be a different color or a different material altogether. Popular island materials are butcher block (natural hardwood with a varnish finish that is great for a chopping surface), granite and marble. Using a material with a lot of color and pattern for the island can contrast well with solid countertops in the rest of the room. DeNeal suggests, "It warms things up, especially in kitchens where you may have white cabinets and white quartz countertops, it gives the room visual interest to do dark wood on top of the island." Some people also use stainless steel, as it is waterproof and very easy to clean.
"In the end it is up to your personal style," Fields says. "It is very important to pick a material and color that you love and can see enjoying in the future."
So now that you have some options to consider from these area experts, be your kitchen or bathroom's best fan by bringing a new countertop on stage to make its debut.
PRACTICAL CONSIDERATIONS, INSTALLATION TIPS
Consider these factors, especially if you choose a different material for your new countertops:
Thickness: Traditionally most people are replacing the less expensive laminate countertops with new materials. Laminate is normally 1 ½ inches thick, but new stone materials can vary from 1 ⅛ inch to 1 ¼ inch, so the height of your backsplash will come into play. A designer can help you determine how to extend your backsplash to cover up old paint or caulk lines on the wall. And if you have cabinetry that rests on the countertop, you may need to use molding to cover the gap between your cabinets and your new countertops.
Support: If switching to a stone countertop from the lighter laminate, you will need to choose an under-the-counter support, especially if you are switching out a bartop or island that overhangs your cabinetry. A designer will help you find supports that match your current countertop (there are many brackets, ranging from plain to more ornate) or utilize steel supports, which can be installed horizontally, hidden directly underneath the countertop.
Source: Kevin Fields, The Cabinet Gallery