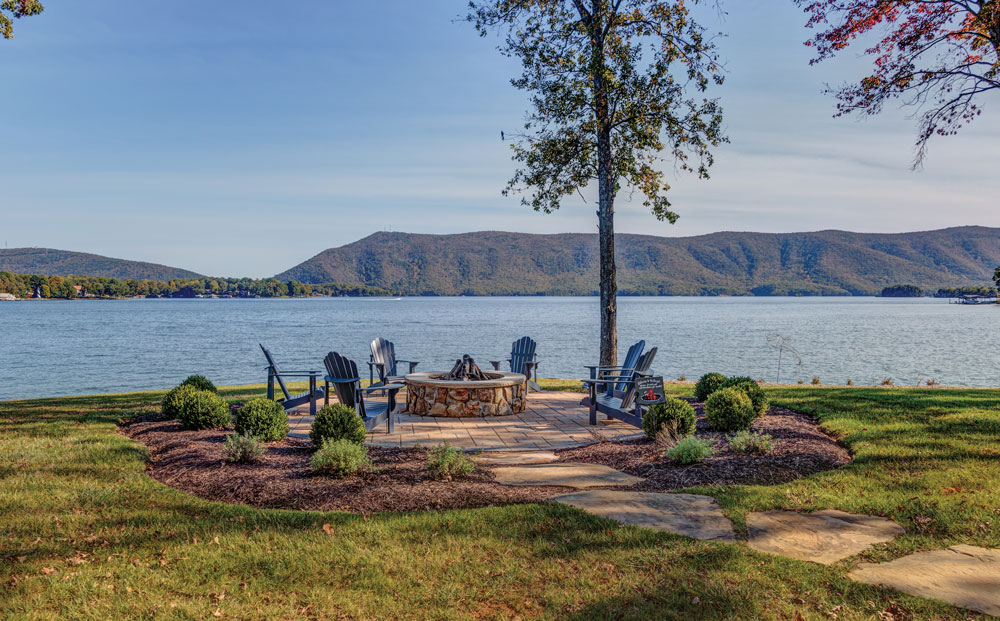 Marianne and Bill Pecoraro have enjoyed Smith Mountain Lake for as long as they can remember. As a young couple, they spent weekends and vacations at a small lake cottage belonging to Marianne's parents. Space was tight with just two bedrooms and one bath available for the family, which included Marianne's seven siblings. "We would put up tents, camp out, everything," Bill recalls. "We slept in the garage in sleeping bags one night when Marianne was four months pregnant, and we could smell fumes from the lawn mower," he laughs.
It wasn't long before they decided they wanted to have a lake cottage of their own. They wanted more space for their family of five and sought respite from their busy lives in Richmond, where Bill maintains his veterinary practice and Marianne works as an occupational therapist. Eventually, the Pecoraros purchased a place on Anthony Home Road, which is where they'd spend countless weekends over the next twenty years. Still, the hunt for their dream lake property never really ended.
Building a dream home
When Bill and Marianne were out on the water one day in 2017, they caught sight of a red A-frame house situated on a prime location on the water. Since the house appeared dilapidated and surrounded by bushes and overgrowth, it occurred to Bill that the owner might be willing to part with the unkempt property. Bill asked his Realtor, Wil Childress of Lake Retreat Properties, to get in touch with the property owner to see if he or she was interested in selling—and the response was a resounding no. Yet just a few weeks later, Bill heard from Childress that the owner had changed his mind and was indeed interested in selling.
Since the property had been neglected for some time, the Pecoraros had their work cut out for them; Childress wasn't even comfortable walking through the doors of the mold-and-mildew-filled house. "We wore masks before it was cool!" jokes Bill about entering the space to assess the scope of the project. As suspected, nothing from the original home was salvageable, so Bill and Marianne set about their plans to create the lake house of their dreams.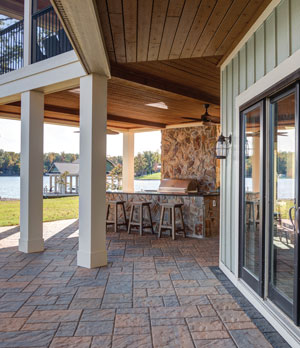 Over the course of the next year, the Pecoraros met with architect Eric Buck of Comprehensive Home Design and builder Phil Floyd of Floyd Enterprises to design and carry out the building plan for their 4 bedroom, 4.5 bath dream home.
Almost a panorama
Bill and Marianne's home commands over 600 feet of frontage at the end of a winding gravel road. The slow drive down the wooded road stirs feelings of anticipation that quickly give way to remarkable, unrestricted views of Smith Mountain and the lake that bears its name. "The view gets me every time—even when the house was being built," says Marianne.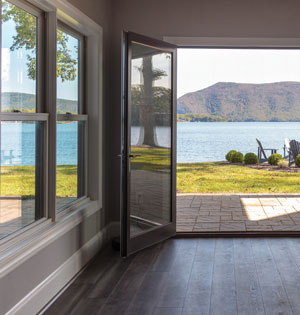 Architect Eric Buck instantly saw the potential of maximizing this view and encouraged the Pecoraros to take advantage of it in their home design. He says, "The lot is a point lot, which is more or less a circle, so the challenge from a design perspective was to capture as many water views as possible from every room possible." Another challenge was finding a way to add a screened porch, back covered porch, and outdoor kitchen to the design without blocking the views from those interior spaces. "The goal was to see the lake from every room if possible, and between the builder [Phil Floyd], the Pecoraros, and myself, we just about pulled it off," Buck says.
With the lake a focal point in nearly every room, you won't find billowing window treatments or patterned area rugs vying for the spotlight; nothing interferes with the spectacular sights of Smith Mountain Lake.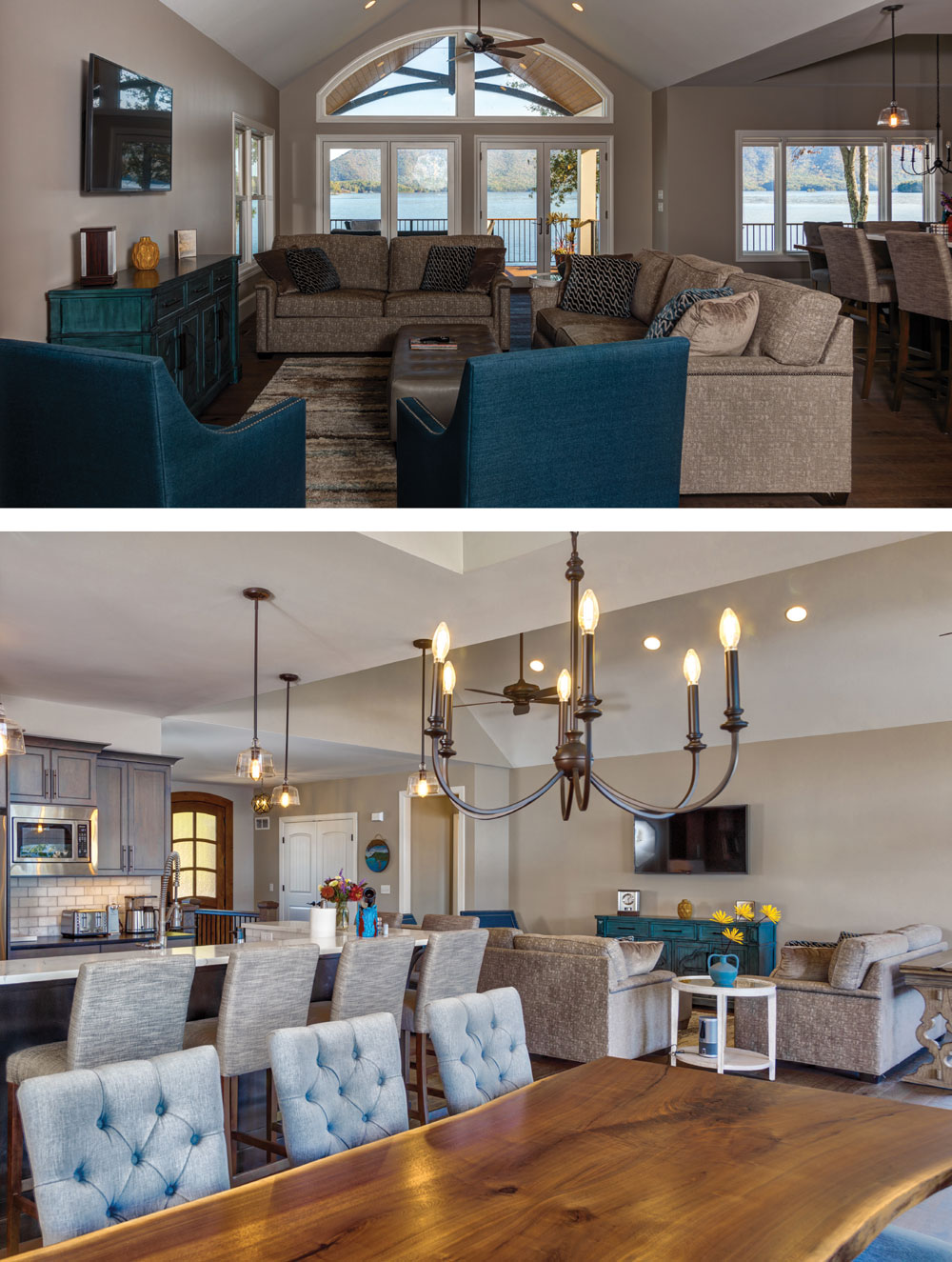 Mixing instead of matching
With abundant windows comes the abundant natural light that bathes the open concept living, dining and kitchen spaces. An trifecta of design styles—industrial, coastal and farmhouse— work harmoniously in everything from light fixtures to furnishings. In the dining area, a candelabra-style chandelier hangs above a custom live-edge wooden table made by Bill St. Pierre, a Floyd-based woodworker. Bill jokes, "Each time we come back, it gets bigger—it's like suddenly there's space for 20 with this live edge!"

Even the simple task of washing dishes feels less like drudgery since the sink faces out toward the spectacular waterfront and mountain views. The white quartz marble backsplash ties in with the marble quartz countertops of the sink and counter bar. The countertops by the stove and coffee bar aren't quartz but rather leatherized granite, which Marianne loves "because it doesn't show water spots or lint." A quirky, colorful sculpture of a parrot rests on the kitchen bar, and both Marianne and Bill admit to their love of Jimmy Buffet. "We're kind of Parrotheads," Bill says, quick to quip that "at the lake, it's always five o'clock!"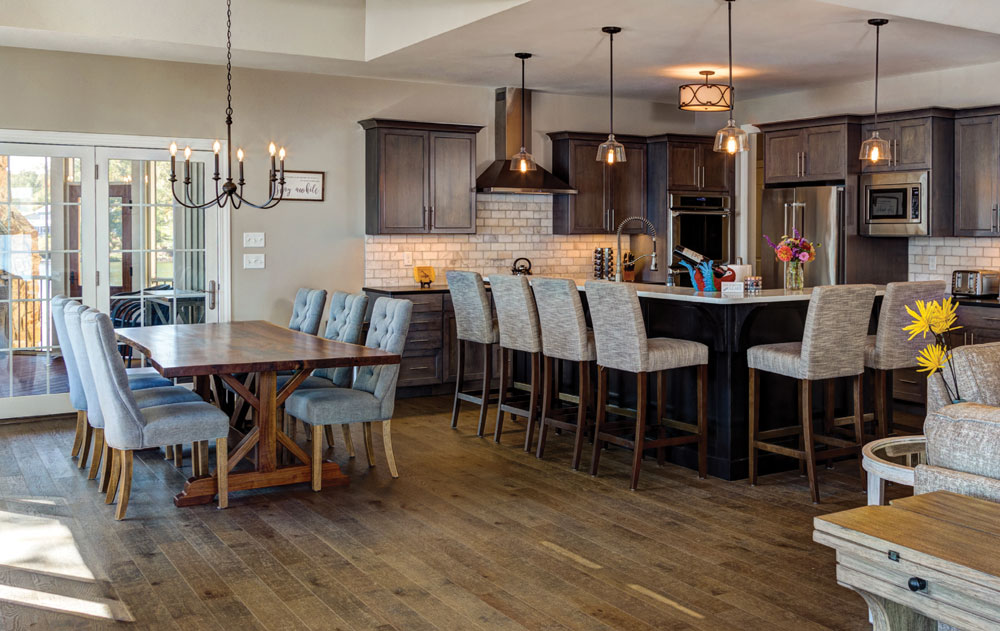 A true lake house,
For the Pecoraros, a screened-in porch was a must. "Normally, when we're at the lake, we're outside all day," Marianne says, adding that they wanted "covered areas so we could still be outside and enjoy everything, even in the fall." By including a stone-faced, remote-controlled gas log fireplace in the screened porch, the space acts as a three-season room, allowing the family to enjoy more time outdoors beyond the summer months. A cedar plank ceiling lends warmth to the blue and gray space while a swinging door evokes the nostalgic feel of afternoons spent visiting on Grandma's back porch. "We wanted it to be a true lake house," Marianne says.
One of the guest rooms even has direct access to the porch. Lovingly referred to as "The Richmond Room" from its collection of Richmond-centric artwork, this is where Marianne's mother likes to stay when she comes to visit. However, unlike their earlier lake house where the three Pecoraro kids each had their own space, the guest rooms here on Lighthouse Lane are up for grabs.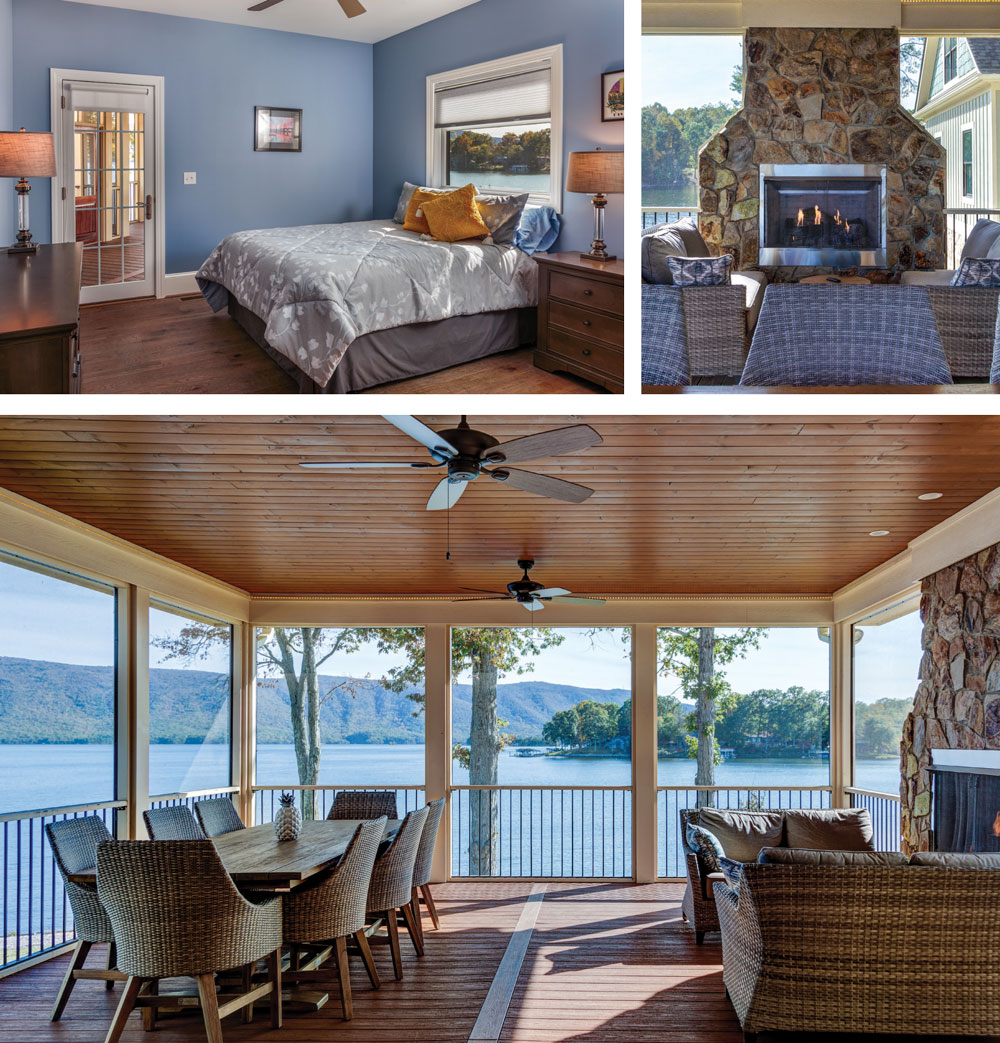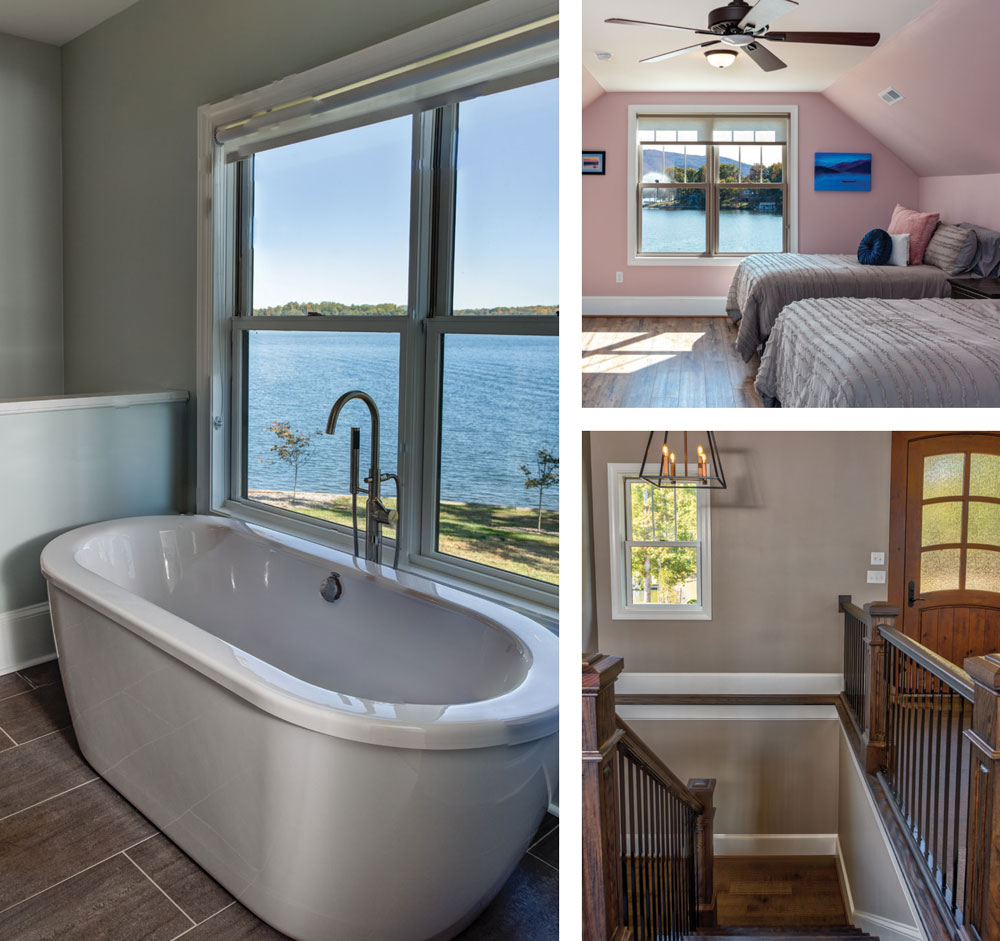 Every room has a view
When Gabby, Jacqui or Alex brings friends in for the weekend, it's likely they'll stay in the upstairs bonus room that Bill and Marianne recently finished. In this home, every room on every level offers a unique—and often stunning—perspective of lake scenery, and Marianne, inspired by the gorgeous sunrise views out the window, used that to inspire the room's decor. While Marianne chose a misty palette of white, gray, and various blues and greens for the rest of the house, this room was treated to a soft shade of lilac. "We really love the way it turned out," she says. Three queen-sized beds occupy the space while framed photos of their old lake house hang on the walls. And while the rest of the home sports engineered hardwood underfoot, the Pecoraros opted for luxury vinyl tiles in this space. "People come in wet, throw their towels on the floor, and then we find them two days later, so this 'luxury vinyl' was a practical choice," Bill explains, adding that "someday we'll have grandkids up here."
Upping the home bar game
Head down a flight of stairs and you'll think you stepped into a lake resort lounge. "You're underground and you would never know it," Bill says, noting that it has main-level features. Taller-than-average ceilings and large doors give the appearance that this could be the home's primary level. Once again, near-panoramic views frame the open concept space that includes a TV lounge, game tables, and a full-fledged bar.
The home bar rivals a restaurant bar in terms of both form and function. "I wanted it to look like a true bar with the glass, the mirrors, everything," Marianne says. "So when the crew kept referring to this space as the 'second kitchen' I had to keep reminding them that I didn't need a second kitchen. What I wanted was a bar!" Six industrial-chic swivel stools sit at the counter and a print of the Staten Island Brewing Company nods to Bill's native New York roots. The Pecoraros, who enjoy visiting local and regional breweries and distilleries, proudly display their colorful collection of taps right beside the bar. "We wanted it to feel like a brewery," Marianne says, pointing to the industrial light fixtures and natural wood tones.
The downstairs is a comfortable space, indeed, and not only by way of amenities but also when it comes to temperature. While most finished basements tend to run on the chilly side, this one doesn't. Bill attributes this to the geothermal heating system. "It really keeps the heating and cooling so effective. It did cost double the amount of a normal heating and cooling system, but it's paying off," Bill says.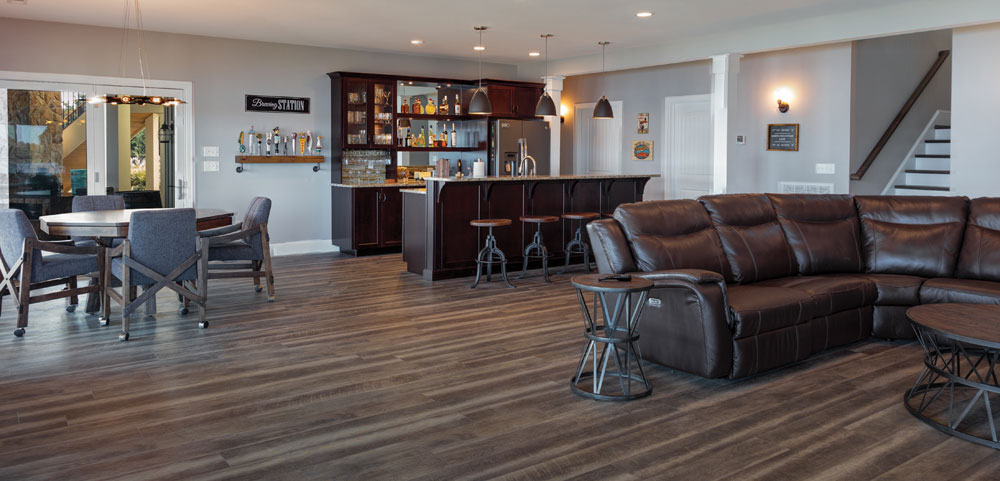 Entertaining family
The rest of this lower level features two additional guest rooms, storage space, and a fully stocked games closet. Marianne explains that they didn't have cable TV at their old places, so the kids grew up playing a lot of board games. "We always played together as a family," she says.
The downstairs doors open to a hot tub, a firepit, and a California kitchen. "We love this!" says Marianne, who thoroughly appreciates the new grilling space. "At the old house, everyone would be down at the dock or inside while I was outside grilling. Now while I'm grilling, I have people to hang out with." And yes, Marianne does the grilling. Bill jokes, in his lighthearted manner, that grilling is "too much pressure."
The Pecoraros enlisted Southern Landscape Group to help create their outdoor oasis, which they enjoy immensely. A verdant space with pristine views of the water, the outdoor area is where they spend much of their lake time. A brick pathway leads out to a 2,400-square-foot dock, another favorite outdoor gathering space come summer as the family comes back and forth from cruising the lake on kayaks or on the boat.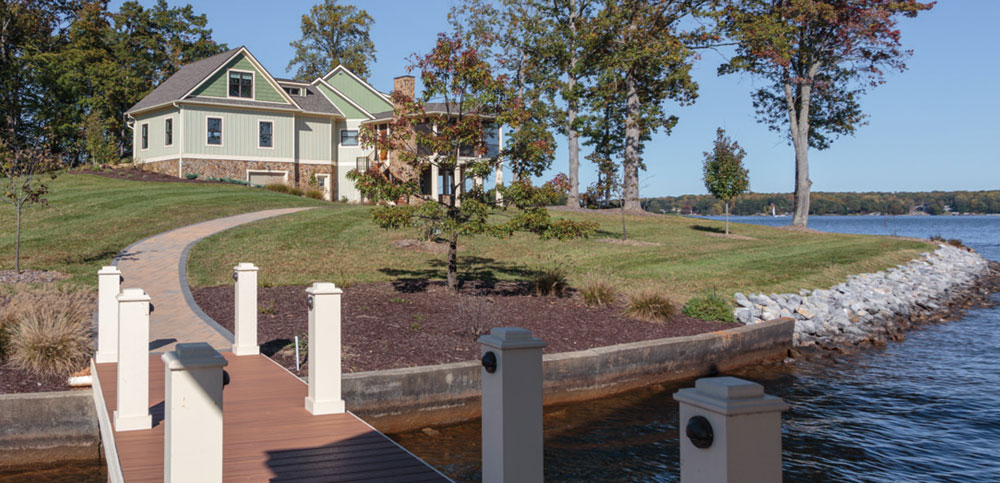 This custom home seems made for entertaining, and while the kids bring friends in for the weekend, Bill and Marianne entertain with family. They've spent each Thanksgiving at the lake ever since they bought their first lake property, and they come every summer weekend at the lake and sometimes for longer stretches. Truly, they come as often as they can, seeing the lake as a haven. "I talk to people all day, so when I'm here, I like to have peace and quiet and unwind," Bill says.
And that's exactly what the entire Pecoraro family loves to do when they're at their second home: relax, spend time on the water, crack open a beer, and relax. As an escape from the stress and monotony of the everyday, the emphasis on family and relaxation makes the Pecoraros' home a welcome retreat. ✦