Like many Americans, the coronavirus pandemic turned Deb and Reade Long's world upside down. And while the past year has been understandably stressful, the silver lining for the couple was the opportunity to fast-track a permanent move to Smith Mountain Lake.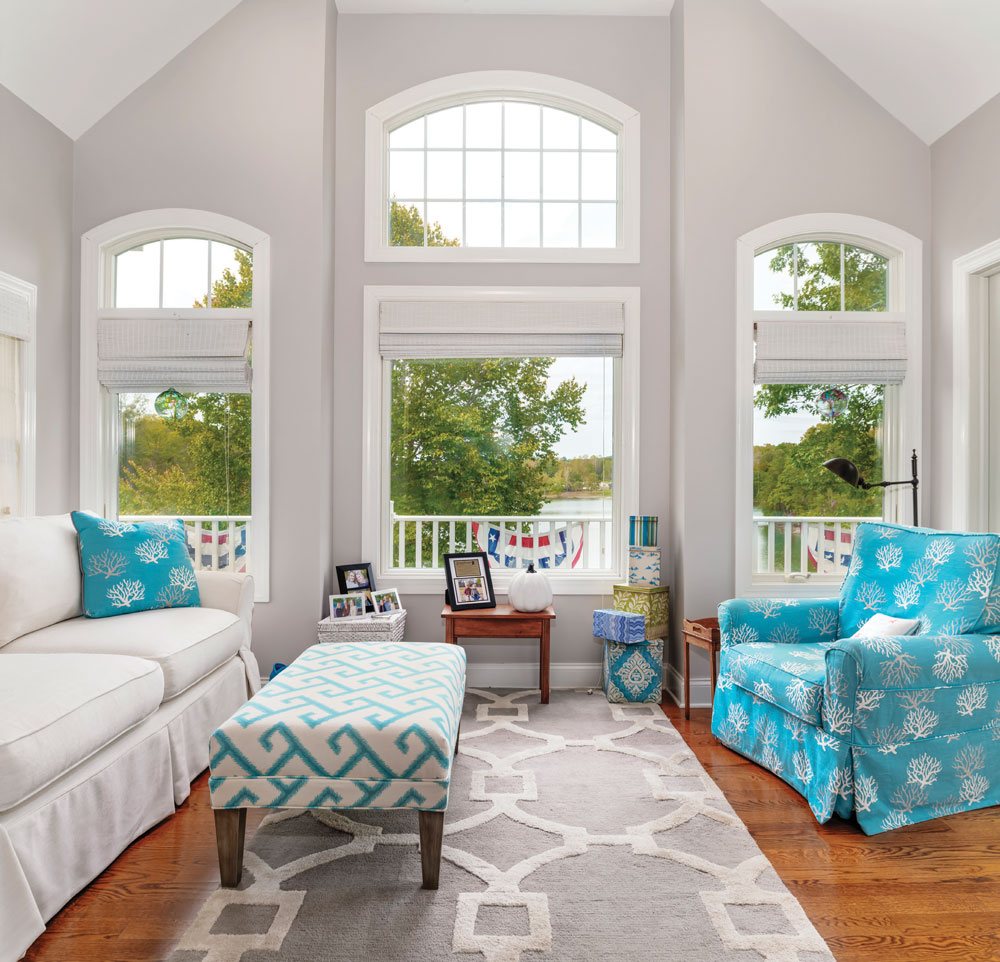 The Longs, who made their home in Wilmington, Delaware, for more than 40 years, are now enjoying retirement from their charming lakefront home, which was scheduled to be showcased on the Smith Mountain Lake Charity Home Tour in 2020 but has been pushed to this October.
"When COVID hit, we came down for the first three months to watch our [young] grandsons, Reade and Blake," Deb says. "We were their primary caregivers and their teachers, which allowed their parents to continue working." It wasn't long before the newly retired couple realized living full-time at the home in Boardview Estates they had used for family vacations and weekend getaways for the past 12 years could become a reality.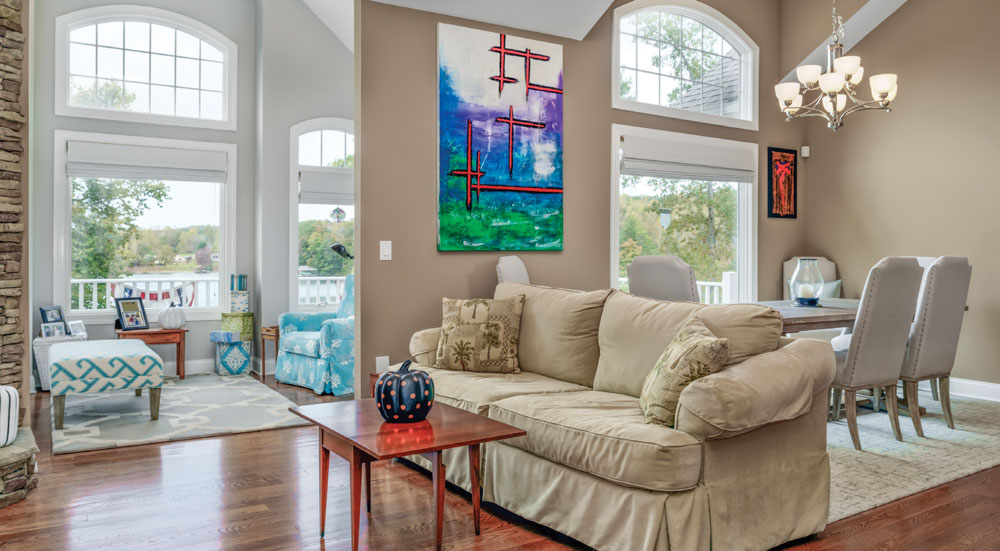 The four-bedroom, three-bath contemporary features a welcoming mix of heirloom furniture and newer pieces, eclectic artwork and distinctive collections throughout.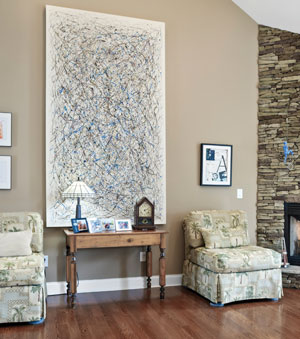 "One of the things that really attracted us to saying yes to the [Charity Home Tour] was the opportunity to show the art we've collected over the years," Reade says, pointing to the soaring 5-by-8-foot contemporary piece in the main living area created by Wilmington artist Bob Palandrani. "I'm a big fan of Jackson Pollock, and this reminded me of his work."
In the entryway is a multimedia creation entitled "Wetlands" by the same artist, which is a nod to Reade's 45-year career as a land surveyor. Deb's profession was in the IT industry, as well as disaster recovery.

Other paintings, sculpture and pottery that add splashes of bright color and whimsy throughout the light-filled home were created by artists across the country, as well as some closer to home such as the bold, black and red geometric piece that hangs in the dining room created by longtime lake resident Barbara Burlingame.
Also sure to catch a visitor's eye is "Climbing Men," a metal sculpture featuring two small, colorful sportsmen scaling the living room's stacked stone fireplace.
"That was just something different we picked up while on vacation in Rehoboth Beach, and we knew we had the perfect place for them," Reade says.
I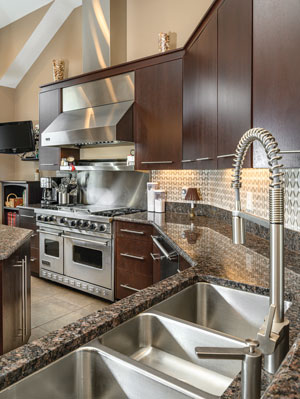 n the kitchen is where you'll find an authentic cuckoo clock the travel-loving couple purchased while on a river boat cruise in Germany. The intricately crafted clock is in contrast to the rest of the space, which features contemporary cabinets designed and installed by DeNeal's Cabinets, upscale stainless steel appliances, dual sinks and a prominent L-shaped island.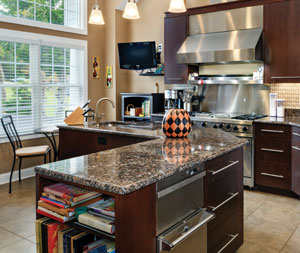 "The island makes it more conducive to having two people in there working at the same time. We love to cook and are able to do that more now that we're retired," says Deb, whose heritage is Italian. "We make lots of homemade spaghetti and ravioli from scratch."
Miranda Dudley, owner of lake-based interior design firm Designer Solutions, assisted the Longs with tile selections in the kitchen and bathrooms, as well as paint colors throughout the home, including the main-floor master suite. The warm, inviting space includes a picture window with built-in bench seating, also created by DeNeal's, perfect for admiring dazzling sunset views of the Longs' cove.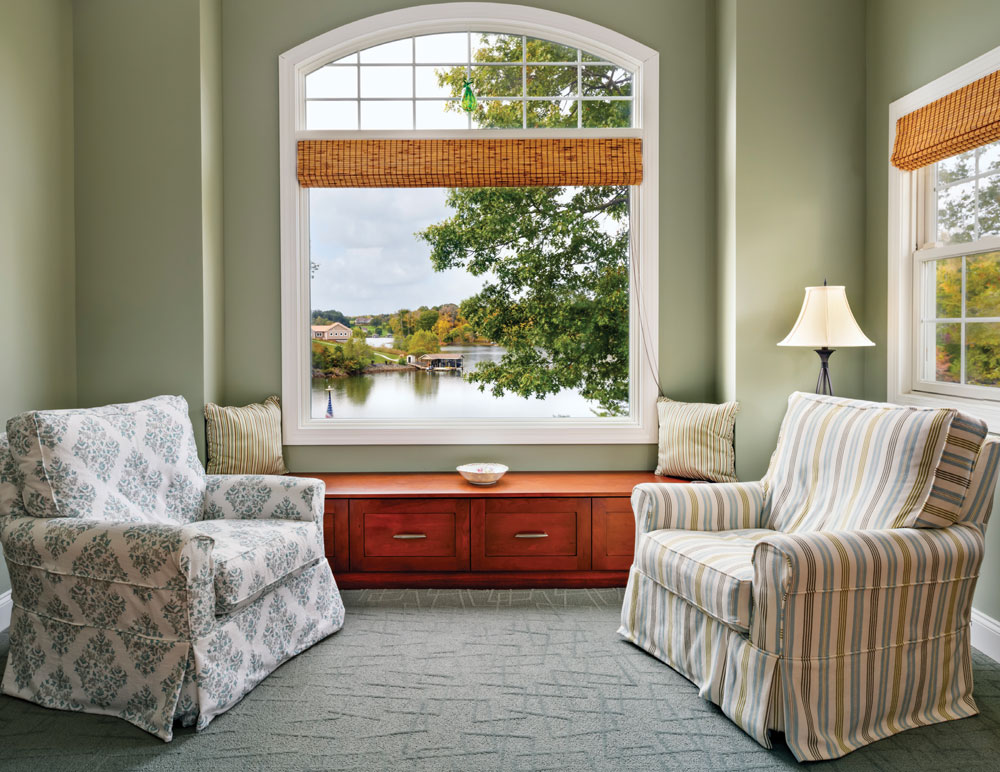 Also on the main floor are two guest rooms and a cozy sunroom that opens up to a deck that spans nearly the entire length of the back of the house.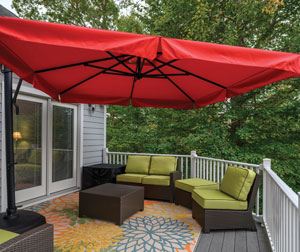 Tucked into one corner of the deck is what Deb refers to as the "adult area" where friends and family members spend much of their time in the warmer months. With comfortable, upholstered seating and a huge awning to provide relief from direct sun, she says the space is perfect for enjoying "wine and charcuterie while reminiscing. We have a lot of great times out there."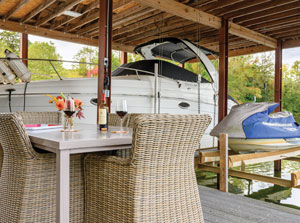 Also a popular gathering area is the dock with two different seating areas—one for lounging that includes an oversized bed swing, and one for dining lakeside.
An enclosed boat house stores all the necessities for fun on the water and includes a roll-up window and bar seating to accommodate extra guests.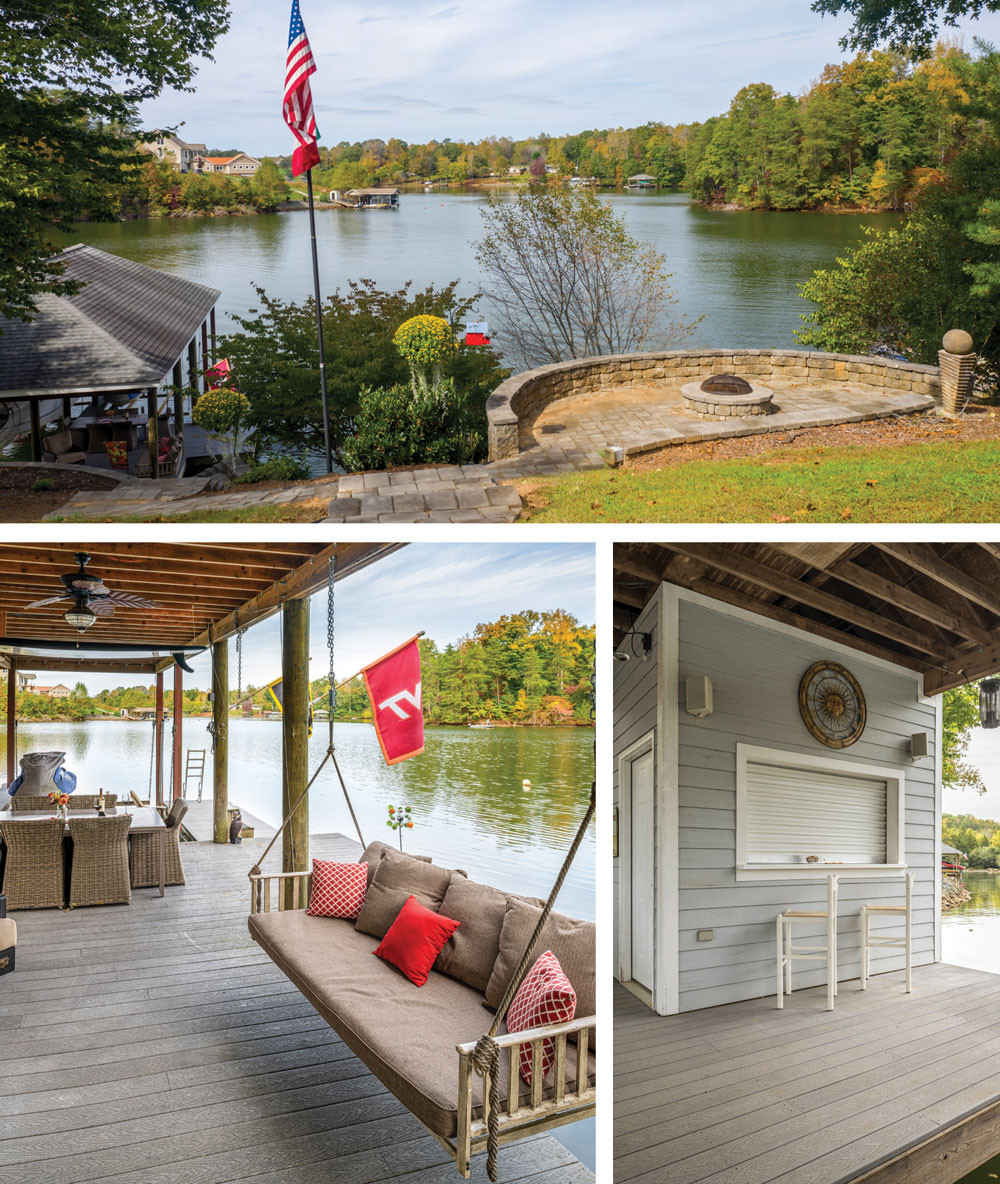 On a terrace in between the dock and the house is a large paver firepit created by Jimmy Perdue of Perdue Landscaping.
"Whenever friends and family come, everyone wants to gather around the firepit and sit and talk," Reade says.
Not to be forgotten, the grandkids have their own space to play in a shaded area below the deck that features a sandbox with bench seating.
On the lower level inside, however, is where kids of all ages love to hang out. That's where you'll find a spacious game room with shuffleboard, air hockey and pool tables, a refurbished vintage pinball machine and a classic arcade game where family and friends can play Pac Man, Ms. Pac Man, Frogger, Centipede and more.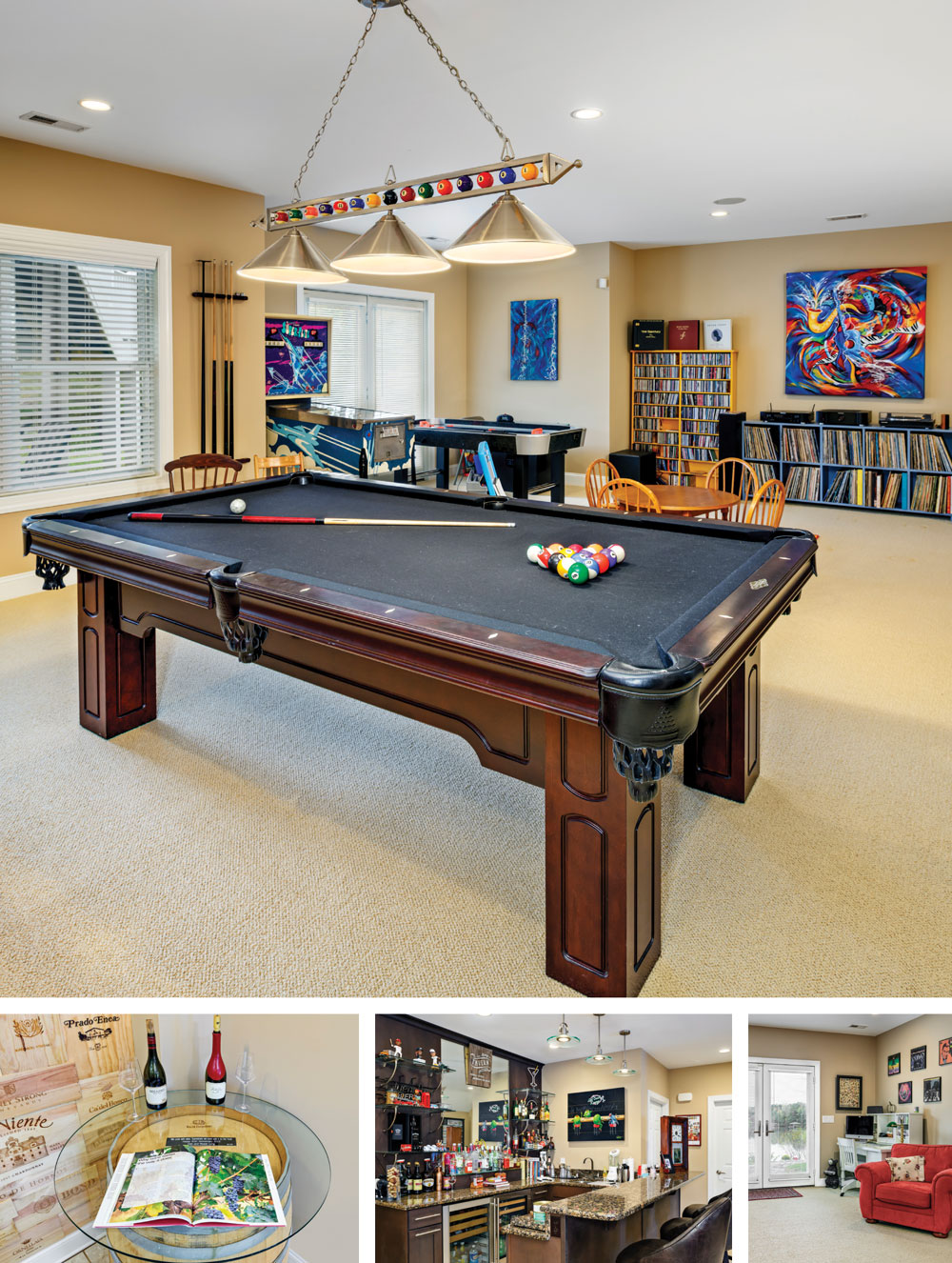 Comfortable furniture surrounds a stone fireplace with a mounted large-screen TV. The adjacent bar features everything one could need for an evening spent indulging in tasty libations.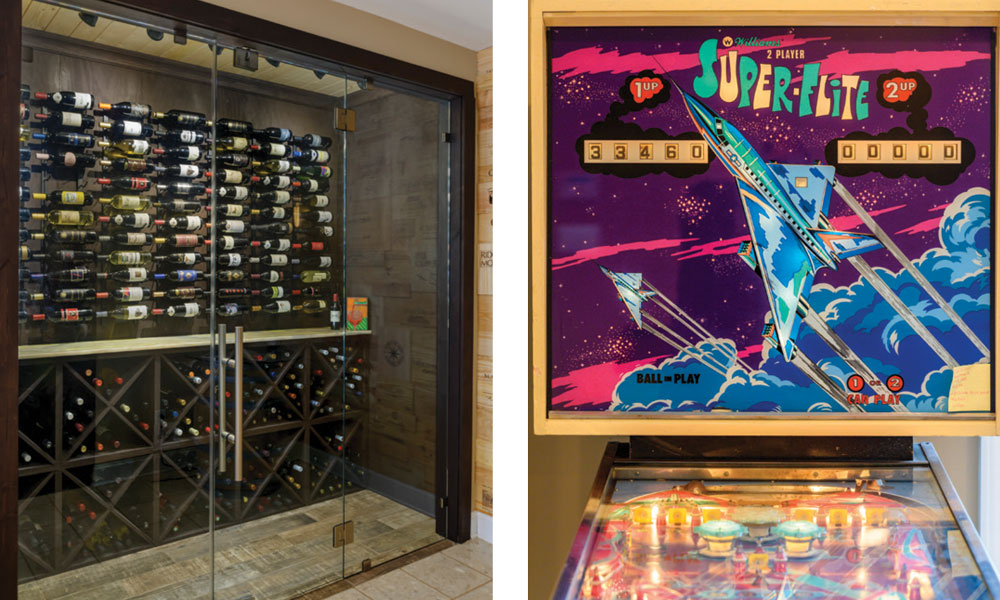 Tucked in one corner is a striking, climate-controlled wine cellar, which was custom built by the home's contractor, Eddie Glod of Glod Construction, and holds 350 bottles. The Longs patterned it after a similar structure they had admired at a restaurant in Maryland.
"It appealed to us because it was small and attractive," Reade says. "We asked the owners if we could take photos and modeled ours after it, about 95 percent."
To the right of the cellar is a custom wall lined with wine planks the Longs described as their "quarantine project." Fashioned from wooden wine boxes, the planks feature the logos of some of the couple's favorite wineries, including Famille Perrin in the southern Rhone Valley of France. That plank made its way to Smith Mountain Lake in Deb's suitcase, Reade explains with a laugh.
A wine barrel table the couple purchased on a whim at Shelton Winery in North Carolina complements the space.
The lower level also is used to showcase a number of distinctive collections, including an assortment of vinyl records that tops out at more than 800. Several album covers are used throughout the casual space as playful wall decor.
Also on display in a glass cabinet is an impressive collection of shot glasses purchased at Hard Rock Cafes around the world, including Amsterdam, Paris, Rome, Budapest, Bucharest, London and Munich. Most were secured by the Longs but several have been gifted by friends and family on their various travels.
"Whenever we'd travel, we would always go to Hard Rock Cafes in the area," Reade says. "Every time I would get a shot glass. It just became a thing. It's fun because it becomes a mission to locate them."
There's a nautical-themed guest bedroom and bathroom incorporated into the lower level, as well as a train room (which doubles as storage space) to accommodate another of Reade's hobbies—model trains. His current setup measures about 12 feet by 15 feet and includes a variety of trains, but primarily Lionel. Not surprisingly, it's a favorite hangout spot for the grandkids.
"That will definitely be one of my retirement projects, to build out the trains for the boys," Reade says.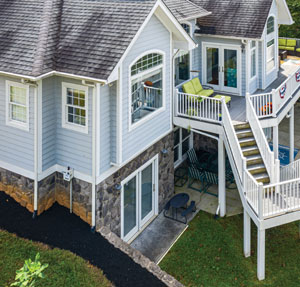 The Longs discovered Smith Mountain Lake in the early 2000s when their oldest daughter, Meredith, was a student at Virginia Tech. They purchased a waterfront townhouse in 2002 before building their current home in 2008. Theirs was the first home built in Boardview Estates, which had recently been subdivided by veteran lake real estate agent Phyllis Johnson.
"It was a little bit of a leap of faith to be the first home in the subdivision," Deb says. "It was beautiful but we wondered 'Would it take off?' But it's worked out great. And we couldn't ask for better neighbors."
Reade adds, "I like it because it's nice and quiet."
Now that they're both retired, the couple says they're looking forward to even more time enjoying the lake and the home, particularly with their kids and grandkids. Meredith now calls Nashville home while younger daughter Ann Marie and her family live just outside of Winston- Salem, NC.
"It's a more centralized location," Deb says. "That's the nice thing about being here permanently now. We're closer to both our girls and their families. Even though the circumstances [COVID-19] that led us to this point weren't planned, it has worked out great. We couldn't be happier." ✦