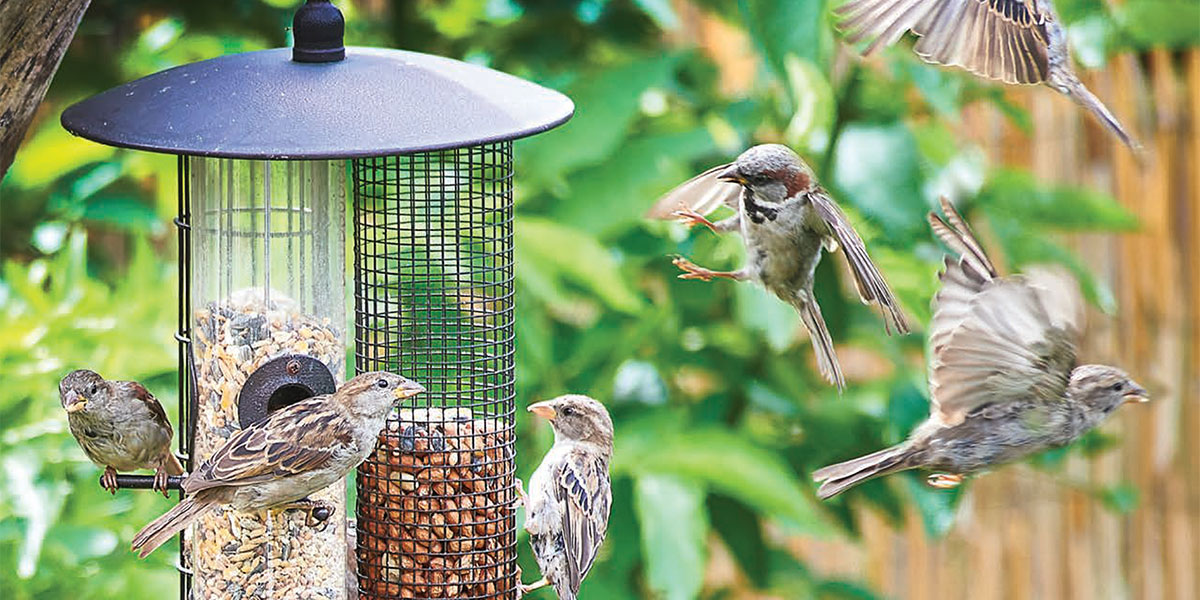 Bird-watching offers a year-long adventure and learning opportunity that changes with the seasons. Benefits range from enhancing personal mindfulness that can lower blood pressure and reduce stress, to improving your outdoor habitat. It's also a hobby for all ages, providing a multigenerational family activity.
Encouraging birds to visit your garden involves a few simple practices that will help sustain these valuable feathered friends.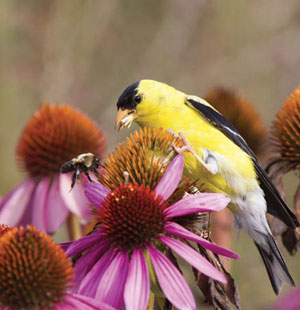 What birds eat
Birds feast on natural offerings as well as birdseed in feeders. Native plants not only produce beautiful blooms, but because different species flower in different months, they provide multiple seasons of food. Birds are attracted to bright colors—red, purple or hot pink—so choose plants that flower in these hues. Bird-friendly native perennials are bee balm, summer phlox and hollyhocks. Certain annuals like cosmos, geraniums, begonias and petunias attract hummingbirds. For vines, consider honeysuckle and flowering currant. Herbs birds like include sage and dill. Hibiscus can be planted in large pots for smaller deck gardens to entice birds to visit.
Natural foods like insects, nuts, berries, seeds and larvae, which are available spring, summer and fall, often cause a decrease in the number of birds at bird feeders. Do not despair. Keep feeders clean and well-stocked throughout the year. Birds will return periodically to balance their diet or when fall temperatures shut down the plants and bugs they fed on during the warm months.
When shopping for birdseed, read labels to decide which birds to invite to the feeder. Millets and tiny grains attract small birds such as sparrows and finches. Robins and blue tits prefer mealworms. Larger birds enjoy black sunflower seeds all year long. For the winter, bird cakes are a nice treat and are easy to make. (Such food sources are not ideal for summer feeding, since the melted fat that melds the seeds and nuts goes rancid quickly in hot weather.)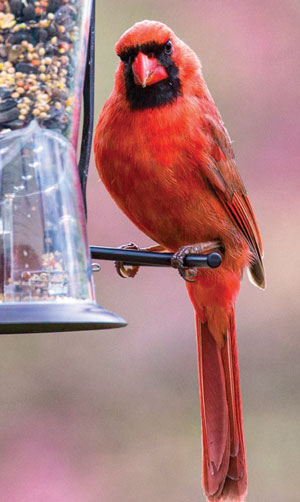 Bird feeder basics
Keep bird feeders clean and do not let old seed accumulate on the ground below them, which encourages predators and can cause disease and mildew. Discard seed hulls and wash your feeders with one part bleach to nine parts water every few weeks. Let them air dry and refill with birdseed.
Garden departments and plant shops sell many bird feeder designs. Often the best feeder is the type that fits the garden. Platform or tube feeders must hang on a long chain from a tree limb or pole to keep birds safe. Window feeders that attach with suction cups provide small birds (chickadees, finches and titmice) a spot of protection and allow easy bird-watching from inside. Hopper or house feeders keep seed dry and hold enough for jays, buntings and cardinals to eat for several days during inclement weather. Bird feeders tend to be an accessory that starts a collection, so consider buying several types and see who shows up for supper.
---
make a birdseed cake
In less than an hour you can make a treat for birds. You need a paper milk carton, a cooking pot, and these ingredients:
1/2 cup rendered fat or lard
1 cup old-fashioned oats (not instant)
1 cup peanut butter
1 cup water
1/2 cup raisins/dried cranberries or any variety of chopped nuts
1 cup wild birdseed
Place ingredients in pot and simmer on stove on medium heat until well-blended. Remove from heat and pour into a clean paper milk carton.
Place in the freezer until cold and firm. Peel off paper milk carton sides, leaving the bottom of the carton on for support.
Place on the shelf of a platform bird feeder or tie the birdseed cake with twine as if you are wrapping a present. Add a loop of twine to the central knot and hang it from a tree or plant hanger.
---
Birds want protection
Keep cats indoors when birds are apt to feed during early morning and late afternoon. Place a collar on your cat with bells that jingle to alert the birds. Trim cats' nails regularly so it's difficult to climb trees quickly. These methods protect the birds and don't harm cats.
Place bird feeders on plastic or metal poles so cats and squirrels can't climb them. Baffles also deter predators from getting to feeders or birdhouses. Some bird feeders are designed to close the feeding door when a heavy weight is placed on the feeding rail. This discourages cats and squirrels from eating the food as well as keeps the birds safe. All bird feeders should be at least 5 feet from shrubbery and optimally 10 to 12 feet from dense woods where predators can hide in waiting.
Birds need a sip
Birds need a water source, preferring shallow water where they can stand and drink. There are a variety of easy ways to maintain water for them. Birdbaths add an attraction to a yard design and can be filled every few days with a hose. A small saucer or dish of water on a deck rail or post provides plenty of water for a few birds. There can be several of these scattered throughout the garden. Place them up off the ground 6 to 8 feet to avoid predators.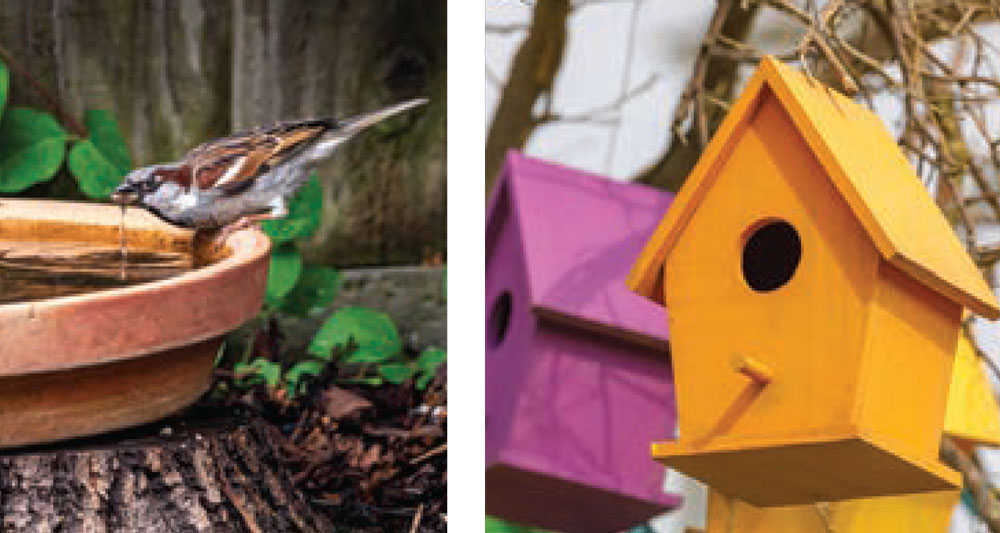 Birds of a feather flock together
Build birds a home so they settle in your yard. Birdhouses offer protection from predators as well as a place of refuge during extreme heat and storms. They also allow birds to nest and raise their young. The best birdhouse designs are built with steep roofs and no perches so predators cannot hang on them to stalk the birds. Keep in mind that different size birds require varying dimensions for the opening entryway. Birdhouses can be attached to pedestals or nailed to tree trunks where there are no close branches. Be sure the birdhouse is at least 8 feet off the ground and in a clearing. Nesting boxes must be cleaned annually to prevent disease. Remove the back or roof and clear out debris. Clean with bleach and water and let dry. Reassemble the birdhouse and place it back where it previously hung. Birds like continuity.
Birds are interesting to observe; each species is unique and has discrete habits. Some fly in flocks; some migrate solo. Some stay together for one nesting cycle; some mate for life. There are endless facts to learn about different avian species, and they make a fascinating conversation subject. Bird-watching offers a quiet form of meditation. Consider taking up the practice of attracting, feeding and enjoying birds this year. Bird-watching can start in your back yard and grow to an interest that becomes part of daily walks, hikes, and trips near and far. ✦