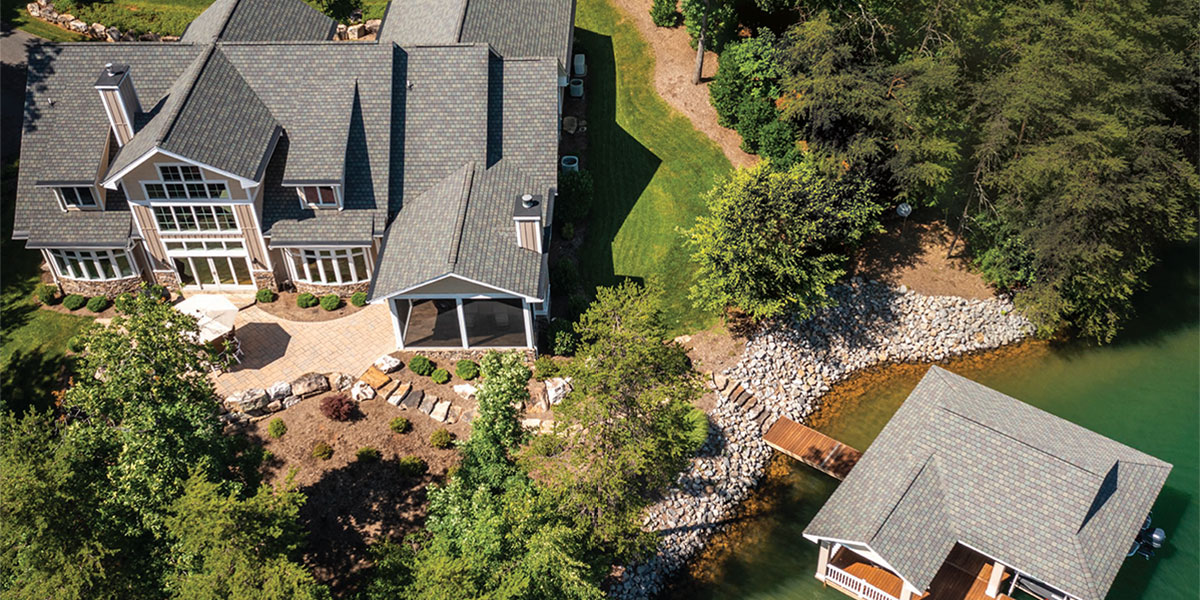 Photography by Michael Patch
It took four—yes, FOUR—retirements to get here, but Neil and Kathy Harrington finally are settled in their dream house on Smith Mountain Lake.
Indeed, all this happened after the Harringtons each had two distinguished careers. First, they both had 20 years of U.S. Army service: Kathy retired as a Colonel in the Adjutant General Corps and Neil as a Chief Warrant Officer in the Signal Corps. While on active duty with the U.S. Army, Neil was stationed in Germany and Kathy was also deployed to Iraq and Saudi Arabia. Following that, both spent another 20 years in the high-tech industry. Stateside, they have lived many places, including Hawaii, California, Texas, Maryland, North Carolina and Northern Virginia.
"I always said, 'When I retire, I'm going to have a little condo in Honolulu and live on a boat in Ala Wai Harbor,'" Neil says. That didn't happen! Along the way, he met Kathy, they married, and they moved often. But they managed to do a lot of boating.
Neil says that when in California, the couple loved boating in San Francisco Bay. When they moved to Northern Virginia, they bought a home in Edgewater, Maryland, near Annapolis, and boated on the Chesapeake Bay. Later, in 2013, when their tech jobs took them to Raleigh, friends invited them to visit at their Smith Mountain Lake home. "Many lakes we had seen were just large round ponds, but this one—it's big enough and varied enough to be interesting. We immediately saw the boating potential here," says Neil.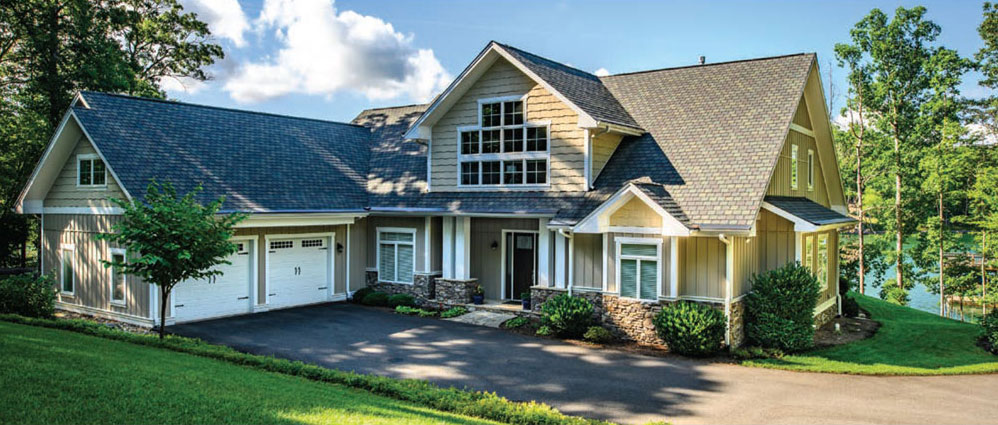 From wish list to floor plan
"At first we thought we'd just buy a place, but after looking at maybe 50 houses, we hadn't found one that suited us," says Kathy. "Also, we got lots of ideas from going on the Charity Home Tour, but the for-sale houses we were seeing hadn't used any of those ideas."
The tour also revealed their solution: Eric Buck, an innovative architect who works extensively at the lake. "We heard about Eric, interviewed him, and we clicked," Kathy says.
When they first met Buck, the couple had no real concept in mind for their new home. "All we had was a list of likes and dislikes," says Neil. "We gave that to Eric and he went to work."
Somehow, Buck managed to convert their wish list into a floor plan that they loved immediately, according to Neil. "The first drawings he showed us addressed most all our wish-list items."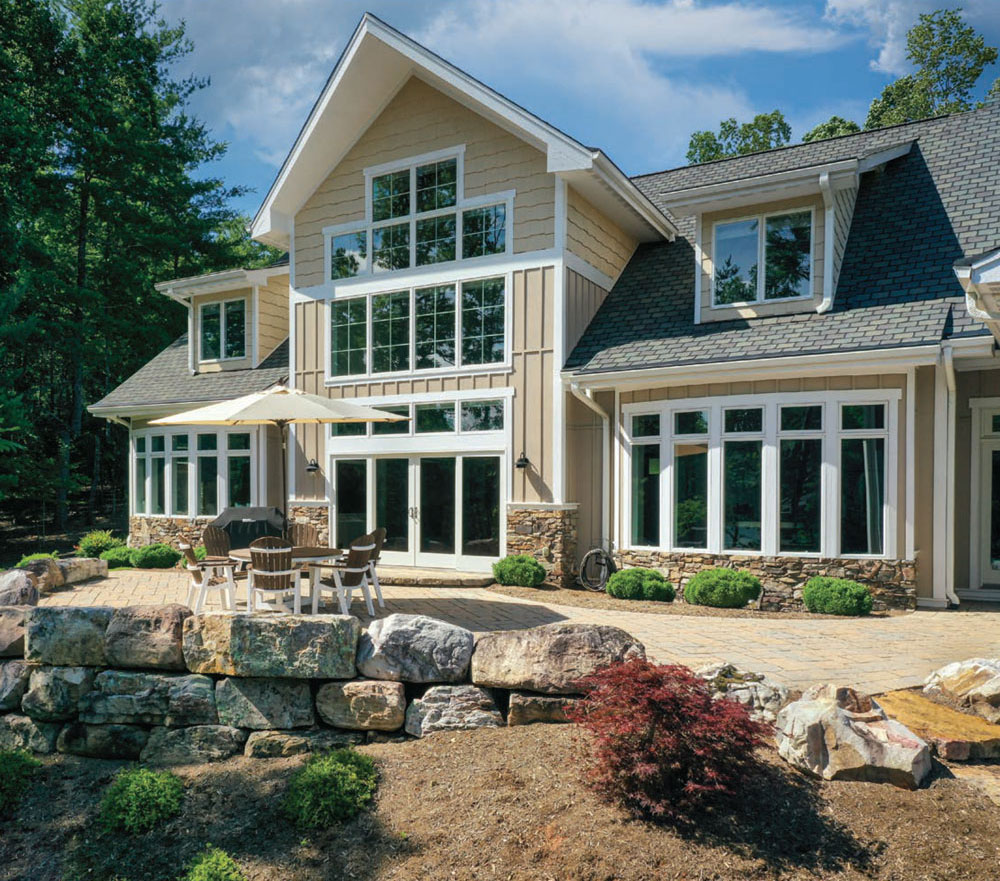 Big windows that feel really open to the outside: Check! A wide-open floor plan with a large chef's kitchen that flows right into the great room and dining areas: Check. No formal dining room: Another check.
The list specified four suite-style bedrooms, with the primary on the main floor, for one-floor living into their "golden years." One guest suite also had to be on the main floor, but at the opposite end of the house: "…So I won't hear my mother-in-law's snoring," says Neil. Also on the list of likes—and Buck's proposed plan—were a screened porch with a wood-burning fireplace and a gas fireplace in the great room.
As Buck fine-tuned the house plans, the Harringtons would go over them, make suggestions and send them back. Buck used 3-D rendering software that enabled them to simulate walking through the house. "That was terrific," Neil says. "It was like seeing the completed home before the first nail had been driven."
Near the end of the planning, a consultation with landscape architect Dan Chitwood pointed out the potential advantage of flipping the design end-to-end in order to take better advantage of the lake view sight lines. Since the plan was essentially locked in, Neil approached Buck with that suggestion somewhat hesitantly. But Buck was in complete agreement. "Just another example of why he was so great to work with," Neil says.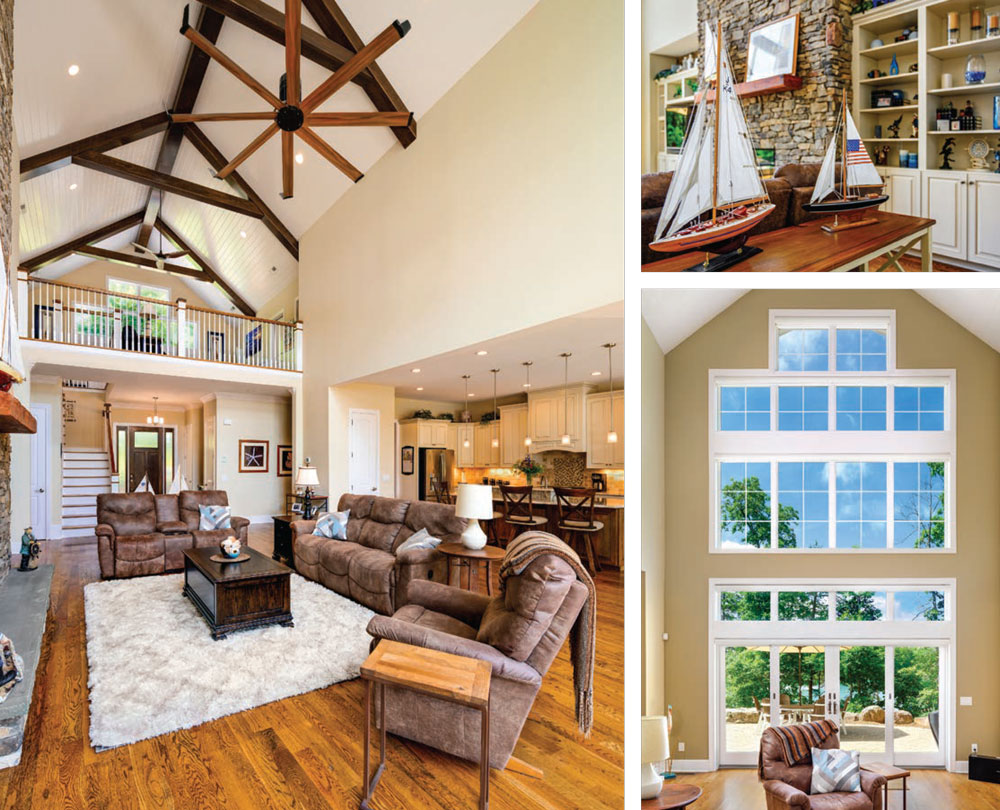 Selecting a builder
The Harringtons also asked their architect for builder recommendations. After interviewing several candidates, they chose Bob Bauer to build their house. "He seemed to take great pride in his work, like he was building it for himself," Neil says. "And he had so many good ideas that helped us. A good builder and a great guy!"
Bauer was helpful during the selection process, too. "We had no idea how to select building materials, so we had to rely on recommendations," Kathy recalls. "We selected the stacked stone for the exterior and the fireplaces at Marshall Stone, and Bob suggested board and batten siding."
After a year of the building process, the couple moved in on Memorial Day weekend in 2015. Their 4,200-square-foot home is spread over a main and upper level—no walk-out lower level for game and guest rooms typical in so many lake homes. The Harringtons great room serves as both the family room and living room. Two additional guest bedrooms and bathrooms are upstairs, separated by a loft lounging area that is nautically decorated with items Kathy picked up at The Cottage Gate plus a photo-like painting on metal that they found in Hawaii. "We said, 'The main floor is for us, and the upper floor is for the grandkids,'" says Kathy.
The huge great room windows (the ceiling there is 43 feet high!) look out toward the beautiful lake view, and although they are devoid of drapes, the flick of a remote magically unfurls shades from what looks to be no more than a strip of white molding. These were installed by Blinds and Beyond. On the lake-facing primary suite windows, there are similar shades that, given the standard room height, Neil installed himself.
The couple had planned to have three overhead fans in the great room, but they settled for two. One of those, from The Big Ass Fan Company, lives up to the manufacturer's name and has winglets like those found on commercial airliners. "It does the job of two normal fans," Neil notes.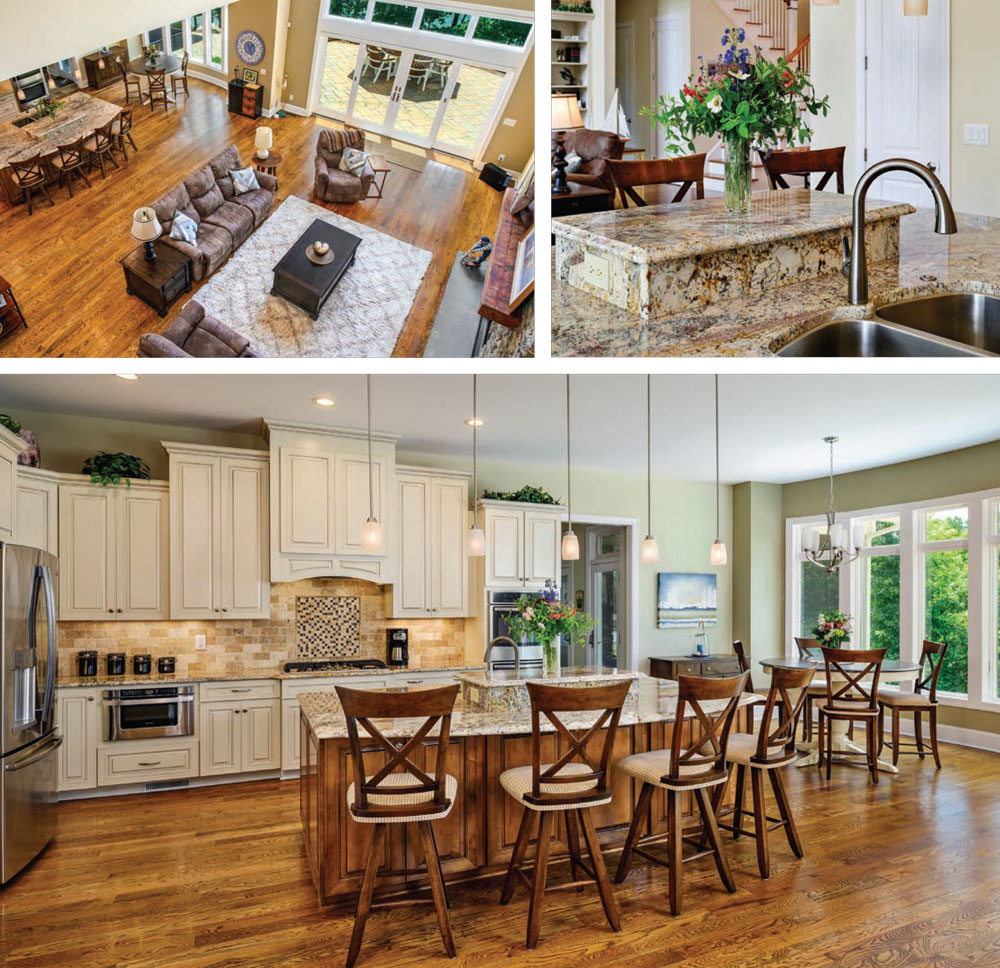 What appears to be custom shelving and cabinetry flanking the fireplace on the great room wall is actually stock cabinetry from Reico of Salem, who also provided the matching kitchen cabinets. The kitchen boasts a large gas stove, a microwave drawer and a unique two-level granite island.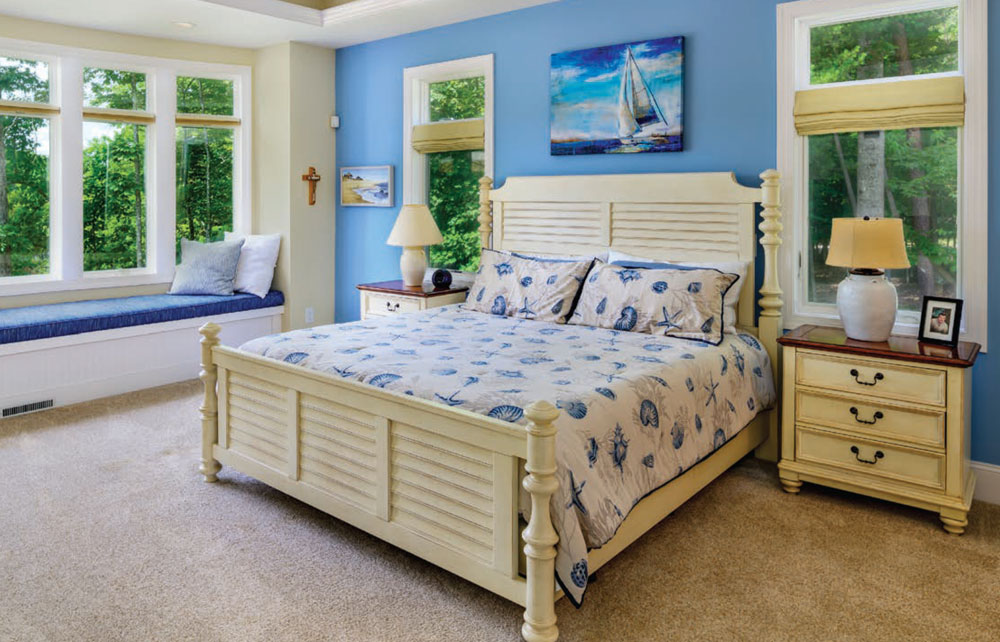 Special features of the homeowners' primary suite include a built-in bench at the lake window, lighting in the cove ceiling, a bathroom with sleek glass shower walls that extend to the ceiling without a door, and a large walk-in closet with a central island. The suite is painted one of the four shades of blue found throughout the house—this one being Sherwin Williams "Respite." Kathy says that Janice Thurman of Envisions helped with paint, tile and backsplash selections.
On this level is Neil's office where Kathy's electric keyboard is also located (she's teaching herself to play piano; yes, there's an app for that), and there's a serious exercise room with a treadmill, TV, and weights arrayed on a rubberized floor.
Upstairs the two guest suites feature two more shades of blue: the queen-bed guest suite is painted Sherwin Williams "Rain," and the bunk room, featuring a queen-size bed under two custom-built upper bunks, has Sherwin Williams "Leisure Blue."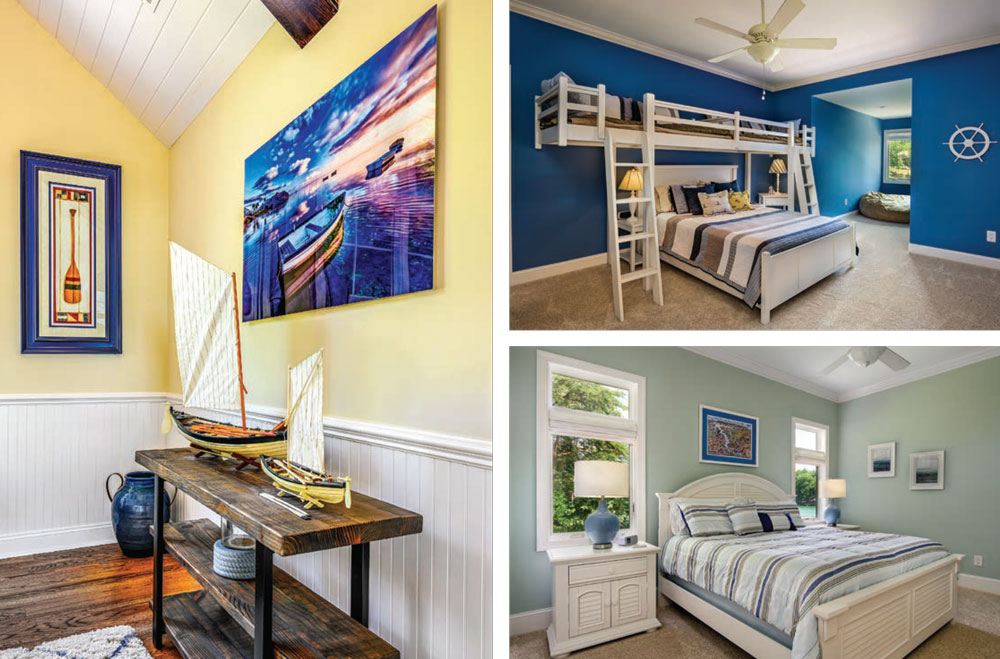 For landscaping needs, landscape architect Chitwood created plans while Seven Oaks did the hardscape and plantings. "We wanted to keep the lot as natural as possible," says Neil. Looking out the front of the home, boulders act as a retaining wall, and, in the distance, the trees of this wooded lot were left untouched, providing privacy from the road. On the lake side of the home, a stone path winds to the dock, featuring boulders fortifying the hill here, too. According to the Harringtons, the boulders were Bauer's idea. Several large trees were left between the house and lake to provide privacy and shade from the afternoon sun.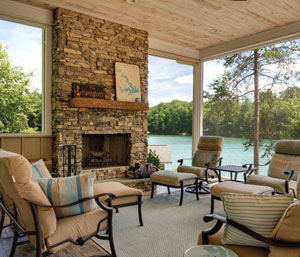 What are the couple's favorite parts of the house? One is the screened porch with a stone, wood-burning fireplace, TV, bar, and nature all around. The floor-to-ceiling screens are extra sturdy and have no supporting wood or metal frames for a completely uninterrupted view. Their other favorite place is the dock, built by Lynn Swain. It is situated on part of their 262 feet of shoreline, nestled into quiet Hatcher Creek which flows into the larger Craddock Creek, all of which form sections of Smith Mountain Lake. There are boat lifts for their two personal water craft and their tritoon. There's room for lounging and relaxing, and a wooden bar that is uniquely angled to maximize seating.
Neil and Kathy give back to the community. He is president of the SML Marine Volunteer Fire and Rescue squad and has put his SCUBA skills to work as part of their Emergency Response Dive Team. He also responds with Saunders Volunteer Fire Company, and he is a member of the Smith Mountain Lake Association's Water Safety Council. Kathy, also community minded, volunteers at Lake Christian Ministries.

Although the Harringtons were accustomed to boating on oceans and the Chesapeake Bay, they now enjoy keeping their boat in their own backyard. "Lake boating is so much more relaxing. And here you can boat year round," says Kathy, referring to their 26-foot outboard-powered tritoon with full cockpit enclosure. "We're making the most of it." ✦