There's nothing like a swing to transport you back to childhood. Do you remember racing for the best one on the playground, then careening through the air, pumping your legs, face toward the sun? You can recapture that carefree feeling with a swing to suit kids and kids-atheart, which will enliven your property and amplify your enjoyment of sunny days at the lake. There are options to suit the thrill seeker and those that are made for a quiet read or a Sunday snooze. Read on to find the perfect swing for your needs.
Fly me to the moon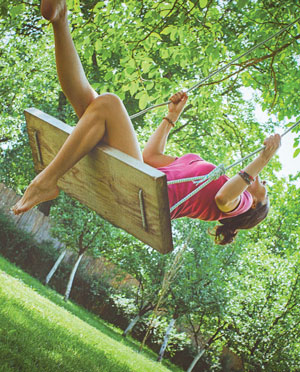 Tree swing. Sometimes simple is better, and an old-fashioned tree swing with a wooden seat or tire swing could be just what you're looking for to add fun to your yard. The best trees for the job are well-established hardwoods, like oaks, maples and sycamores. A strong branch with a relatively flat spot beneath it is ideal. You'll want to place the rope far enough away from the trunk so the swing doesn't hit the trunk and damage it (or injure the rider). Test a branch's strength by throwing a rope over the spot where you plan to install the swing and pull down gradually, adding the full weight of your body to be sure the branch responds well. A braided polyester rope is your best bet, as it holds up well to the elements and has little give, and rubber tubing along the spot where the tree and rope meet will save your tree from friction damage that could compromise it. A long rope from a high branch will give you a brisk ride, and a shorter rope and lower branch a correspondingly lesser flight, so consider the ages of your riders. Tutorials on YouTube will show you how to tie the knot and slide it up to the tree limb without leaving the ground, or contact a tree company to leave the install to the experts.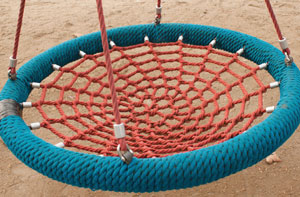 Spider web swing. A spider web swing looks like it sounds—a connected web of durable ropes creating a flat surface that more than one person can ride on at a time, upping the fun factor. These swings are trendy, so be sure to research your purchase, as quality levels vary widely. One option is the Play Platoon spider web swing, which is highly rated on Amazon; it has a 40-inch diameter, which can hold two adults or up to four children. The $90 swing has a 600-lb capacity, and its durable material allows for it to be left outside during the off season.
Zipline. While not a swing, a zipline is another option for flying through the air, especially for the daredevils in your family. If you have two trees on your property on a direct path toward each other, a zipline can provide hours of fun for kids and adults. The trees should have trunks at least 12 inches in diameter, have stable roots and be disease-free. Measure the distance between the trees to determine your needed length, as zipline kits vary from 50 to 500 feet. In addition to stable trunks, you'll need a clearance of seven feet around the entire zipline area, so cut back branches and move large rocks and obstacles. To determine your zipline's cable tension, braking system, sag and height, use the calculator at Ziplinestop.com. A zipline install is a two-person job, but can be set up in a few hours.

Rock me to sleep
Porch or dock swing. If you have a covered porch or dock area and want a spot to read, watch the sunset or take a nap, a porch swing could be your best bet. While a traditional-sized porch swing can fit into a smaller area, bed swings have become a popular choice. Larger than a traditional porch swing, they come in twin and double-bed size, accommodating a mattress covered in outdoor-friendly fabric. Bed swings can be custom made by Magnolia Porch Swings, via Etsy, or various furniture retailers. Expect to spend $500 and up, depending on size and options. For a traditional two-seater porch swing, expect to spend about half that cost for a budget model. For those with advanced DIY skills, plans are available on the internet, and could save big bucks. If the swing bed is on a screened porch, expect that it would become the favorite sleeping spot for someone in your family. Before you commit to a swing, ensure your ceiling or deck is sturdy enough to support it. Only a joist can safely hold the weight of a swing with people on it, and if you question your set up, have a contractor evaluate it. For a bed swing, follow the manufacturer's instructions exactly, and if purchasing your own chains, ropes or connectors (like S hooks), be sure they are rated for outdoor use and have a capacity of 500 pounds or more.
Tree pod. It goes by many names, but the tree pod, HugglePod or tree hammock is like a teepee suspended from a tree above the ground. It's not meant for vigorous swinging, but does provide that lulling, rocking motion for its occupants, either to camp out or to find a quiet spot away from it all. If your property doesn't have the right tree, stands are also sold to hold the pod in place off of the ground. Find a tree pod from HearthSong or Wayfair in many sizes, from one that holds a single person to an entire family.

Hammock. A hammock is the ultimate in relaxation, and conjures images of long afternoons spent rocking in the shade. Many of today's hammocks are made of synthetic, long-lasting rope and outdoor fabrics that stand the test of time. L.L. Bean and Nags Head Hammocks are two popular hammock sellers that have a loyal following, and you can expect to spend north of $150 for a quality model. A hammock stand in metal or wood ensures that a hammock can go anywhere you'd like—no trees required.
Swings are pure enjoyment, and we could all use more recreational possibilities, especially those outside our own back door. If you find yourself pining for a swing but are overwhelmed by the installation, talk to a contractor. Many don't advertise the service but would be willing to hang a swing for a fee, especially if they are doing a larger renovation job on the property. ✦