Photography by Gordon Gregory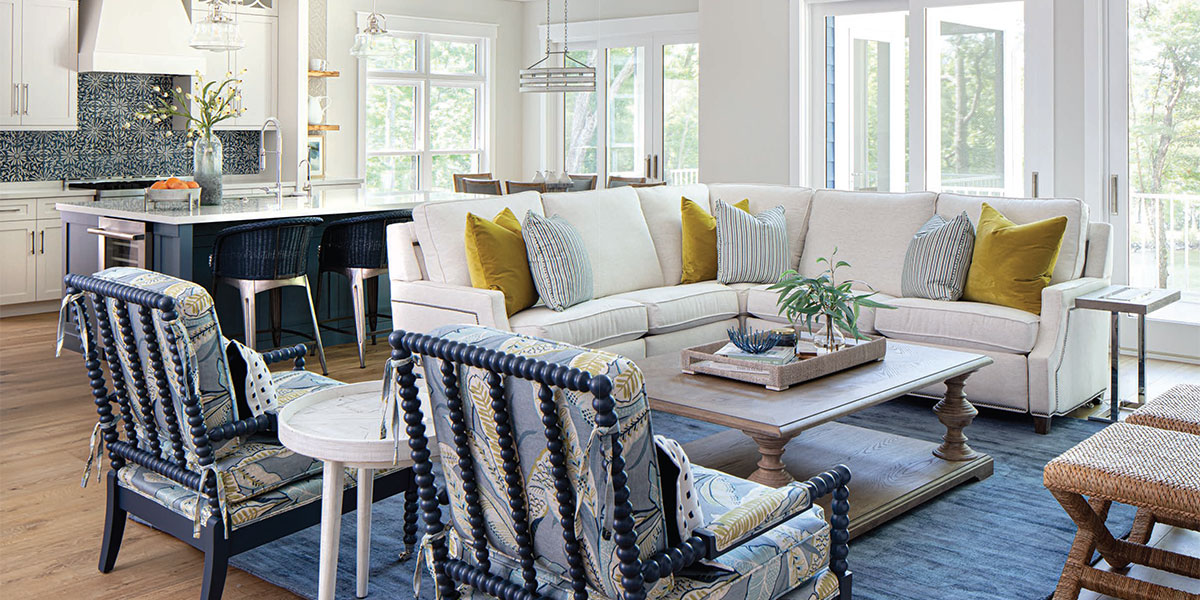 The COVID-19 pandemic redefined how we work, shop, eat and socialize—and, in many instances, even where we live. The cost of materials significantly impacted the housing market, and the industry's boom was further burdened by supply chain disruptions and the threat of a limited work force.
So Mitch and Lisa Elmer consider themselves lucky. The Texas couple had lived in Virginia before and wanted to build a second home. They broke ground on a 1.3-acre piece of property on the Bedford County side of Smith Mountain Lake just two weeks before the pandemic began to shut down the world around them.
By that point, they had already purchased the lumber for their 3,900-square-foot home. The kitchen tile and appliances were in hand, and they ordered all of their window and door packages up front. They secured pre-pandemic prices for a pandemic-era project. And everything they needed was tucked into storage in Roanoke for builder Dennis Cooper and his crew to use when needed.
"One of the wonderful things about this building process was that their interior designer from Texas had thought everything through," Cooper says of designer Rainey Richardson, who is married to Lisa's brother. "Most everything for the home was purchased before the home was started. And because most all of the items were stored at a warehouse in Roanoke, we did not have a problem with items being unavailable or hard to get because of the pandemic."
The foresight shown in approaching this home project largely carried through to its finish, helping to create a beautifully laid-out home with tall ceilings on every level, a gracefully flowing floor plan, and bright colors and decorative furniture that make you feel like you're on vacation every day of the year.
"I just wanted it to be light and bright, and airy," Lisa says.
Making the move
The reason for building the lake home couldn't be simpler: "As we've gotten older, we don't really like the Texas summers anymore," says Mitch, who is retired from food distribution company Sysco Corp.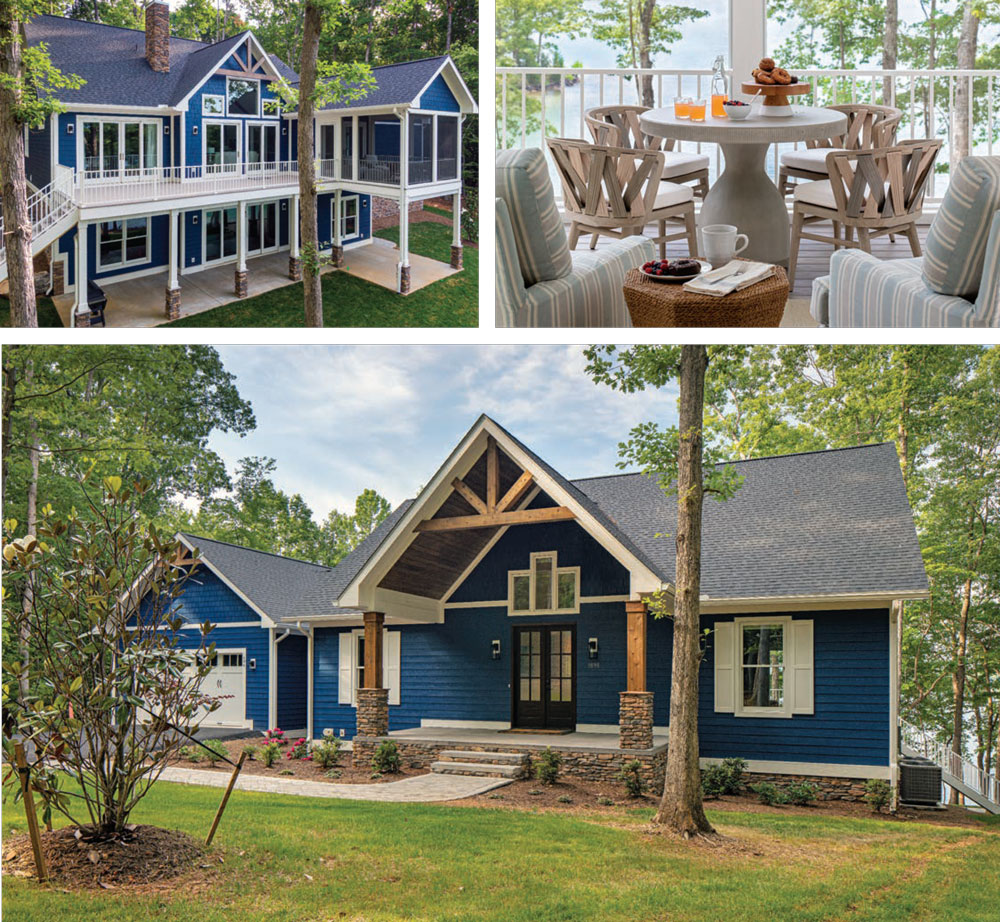 While visiting friends who live at Smith Mountain Lake, the Elmers began to go out by boat to look at houses for sale. They then hired Realtor Jeanette Childress, who showed them the house across the street from where they now live in Huddleston. Childress also mentioned that there were two adjacent empty lots that had come on the market only a few days prior.
The couple had visited a few houses, but everything they looked at required remodeling.
"Finally, after looking at a half-dozen of them, we said, 'Why don't we just build what we want?'" Mitch explains.
They purchased those two lots, had the land with its 355 feet of shoreline surveyed, and began making plans for the perfect home. Lisa says they started with a basic overall floor plan, but in working with architect Eric Buck to get several changes implemented, it didn't look much like it did initially.
"There was so much that I wanted to add to it or take away from it that it really was almost starting from scratch," she says.
The Elmers envisioned a house that would be as low-maintenance as possible. Things like Hardieplank siding and a foam and fiberglass insulation blend called flash and batt (which creates a tight envelope around the home to protect it from the elements) helped to further these goals.
Luckily, the Elmers also had Richardson to guide them through the process and ask many of the right questions to allow them to understand what they wanted.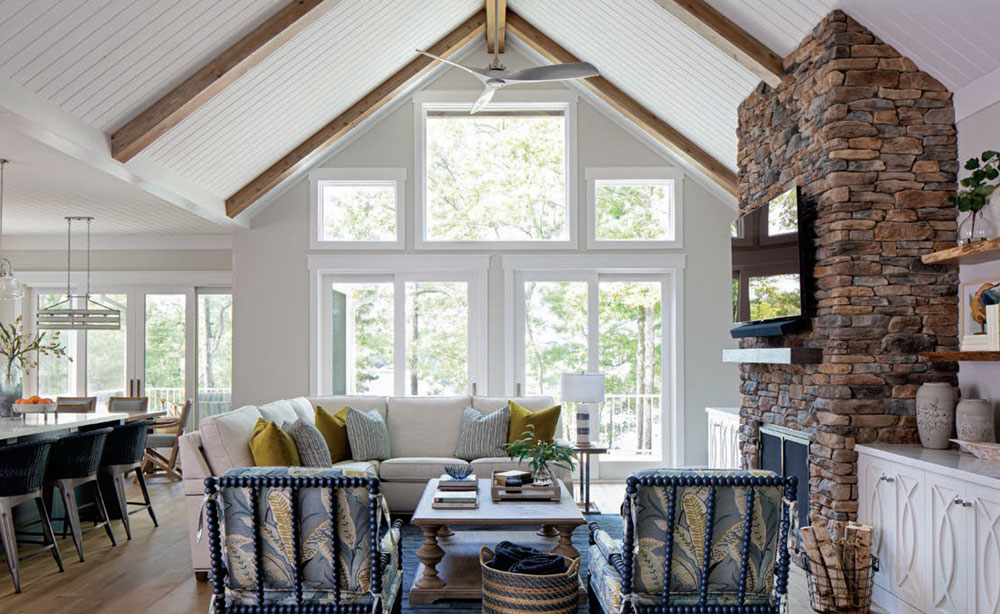 Richardson had done the interior design on the Elmers' home in Texas, so she knew what kinds of brands they liked and what their tastes were. She also had Lisa create a Pinterest board to help home in on the nuances of the Elmers' style and to tailor a more cohesive vision for the house.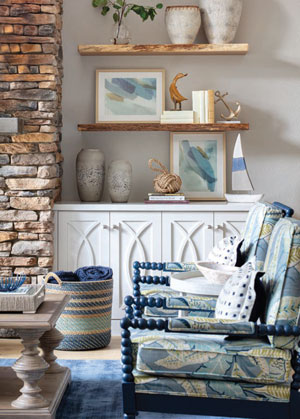 Richardson was able to work with the architect and contractors to move the project forward—think construction manager in addition to being an interior designer. "I could not have put this together without her," Lisa says.
"I understood that they wanted a lakeside vacation home that was beautiful, but also incredibly comfortable and easy to maintain," Richardson explains. "This aligns with my design philosophy—make things functional and then make them beautiful."
Roughly two years later, which included a summer staying at Mariner's Landing, the house was completed in July 2021.
The beautiful (and fun) details
An oversized front porch styled with a timber-home flair greets visitors to the Elmer home. Once inside, a more modern aesthetic takes over. Light wood floors—a wonderfully natural look that has a hint of a gray wash on them to tone down some of the yellow in the grains—lead into a living room that peaks 18.5 feet up and is accented by exposed beams and a ceiling fan that draws upon a propeller design. The roof system, Cooper notes, is entirely "stick built," a trade that's not common anymore for that part of a house.
"Everything we chose was intentional to maximizing that initial impact," Richardson says.
At the far end of the living room is a large bank of windows, a feature that repeats itself often throughout the home; it is a lake house after all, so it needs to be open, welcoming and bright.
"If you look out from these windows, with some of the leaves still on the trees, it almost feels like you're in a tree house," Mitch says. "You're almost three stories in the air when you're looking down at the water."
The cascading daytime light highlights some of the more intricate features of the wood furniture, while also helping to make the multicolored stone fireplace pop against the cleanliness of the simple white walls.
Lisa sought to tease out blues and greens throughout the decor, and Richardson delivered, knowing her sister-in-law's particular fondness for certain shades of green.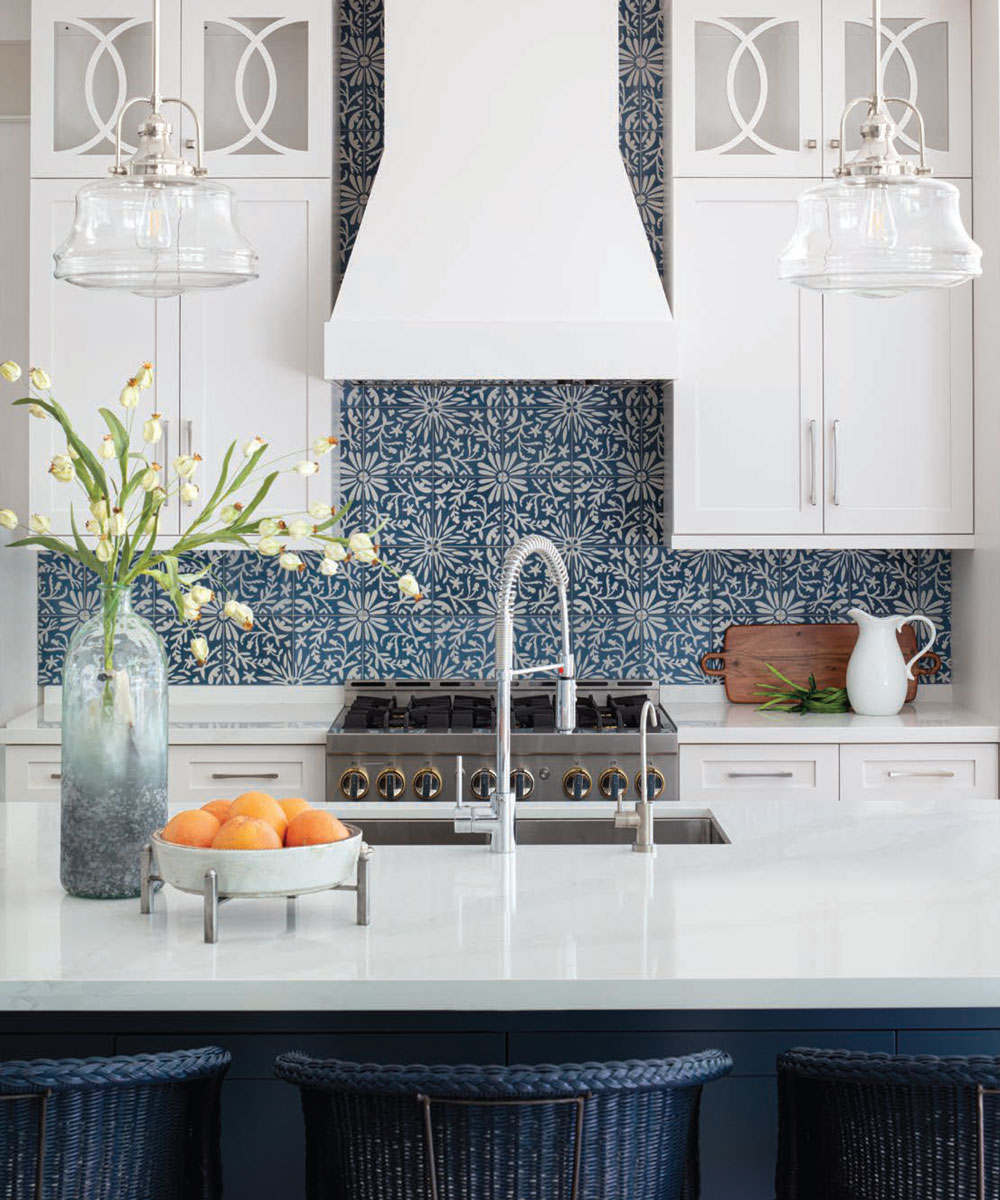 The blues are immediately recognizable in the kitchen, where the floral-patterned tile—something that Lisa posted a lot about on her Pinterest board—is a mix of white and blue.
The cabinets are white with stainless steel hardware. Pullout drawers are a fully custom feature in the cabinets, and floor lighting is nestled underneath, adding a clever and functional way to see at night. (All of the guest bathrooms in the home have sensor lights—another way the Elmers have found to make the house work smarter.)
Next to the main kitchen area is a coffee bar, which adopts a backsplash design apart from the kitchen to designate it as a special nook, and that area spills into the dining room with its six-person table. Beyond that are sliding doors leading to a screened porch, a cozy spot to cuddle up with a cup of joe on a cool morning or a relaxing place to gaze out over the water on a summer evening.
Just off the living room is the primary bedroom, one of four bedrooms in the home, which also has five and a half baths. Eye-catching are the colorful wood strips that adorn the wall behind the headboard. Rustic lights hang on each side of the four-post bed that can be wheeled up and down as the needs for reading or ambient light change. High above is one of the home's two "fandeliers": a chandelier that uniquely combines a fan and lighting into one unit.
"The vaulted ceiling created the perfect space to use weathered wood as a feature behind the bed and contrasted perfectly with the glamorous sconces that flank the bed," Richardson says. Out the windows, "The view adds to the beauty and comfort of the finished space," she says.
The primary bathroom has his and hers sinks surrounded by chocolate-colored cabinets, while the other side of the room features a spacious glassed-in shower and separate bathtub.
Elsewhere on the main floor, which is set up for one-level living, there is a laundry room with ample space to fold and hang laundry, along with a particularly deep two-car garage.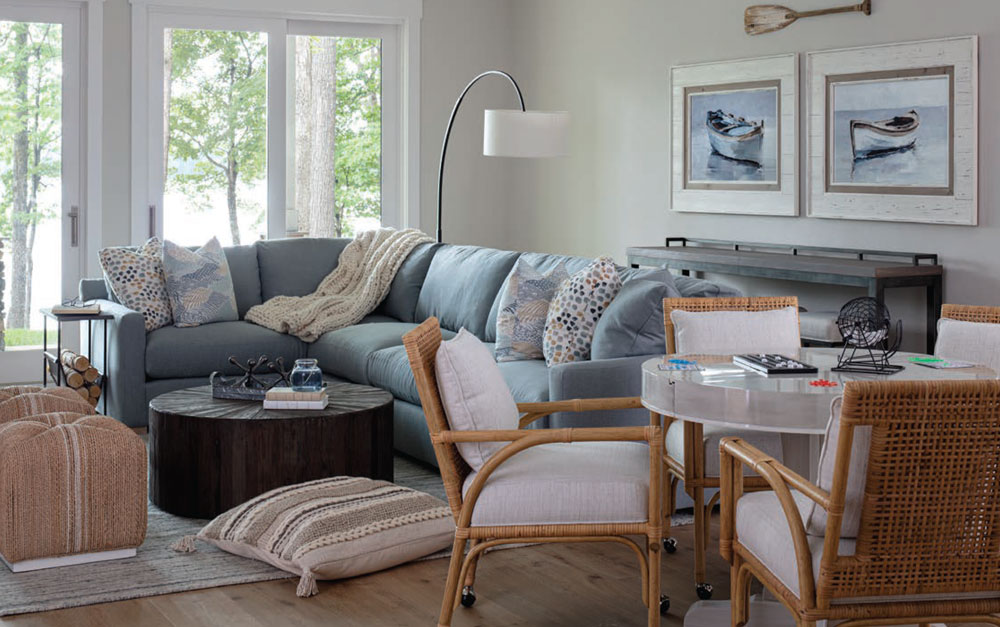 The lower level
Descending the steps to the lower level, it's prudent to look down and around: Blue tile again makes an appearance on the risers of each step.
Entering the basement, it feels peculiarly unlike almost any other basement one would visit. The Elmers always wanted a house with a lot of volume in it. High ceilings to add volume are normal for a main level or a great room, but Mitch worked with Cooper to add taller ceilings to even the basement level—10-foot ceilings to be exact, as opposed to more typical 8-foot ones.
It was the kind of adaptation to the plan that Cooper excels at. "He's an excellent builder," Mitch says. "The quality of his work is really high, he's honest, and if you want to make changes, he can accommodate you. I told Dennis that if I had to build the house 100 times, I'd have him do it 100 times."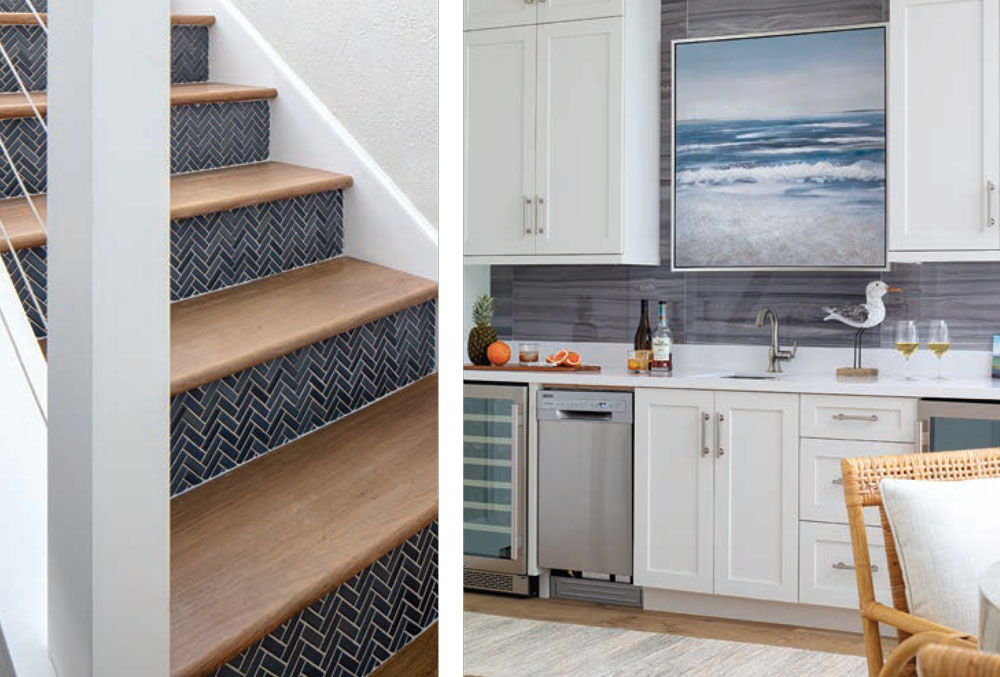 The lower level has its own kitchen space, laundry room, living room, fold-out game table and even a "secret" room with charging ports under the stairs for any Harry Potter-loving little ones. (They've found their grandson asleep in there a few times.)
The downstairs bedrooms capture many of the same colors and design elements of the main level, including a wall with batten panels, natural and clean lines, and marvelous views of the water. This is where the couple's three sons and two grandkids stay when they visit.
One room in particular channels the kids' imaginations and personality like none other. The Elmers created a bedroom that has two full-size beds and one room-length suspended bunk bed, held with a brace anchored in the ceiling. "The bunk system took a village to complete," says Lisa, who designed it with help from niece Ragan Richardson (who also works with her mother's design firm), Cooper and his team, and cabinetmaker Calvin Montgomery. "It was definitely a collaboration," she says of the unique finished product.
But the fun couldn't stop with the creation of the bedroom. "If you have a fun bunk room, you have to have a fun bathroom to go with it," Lisa says.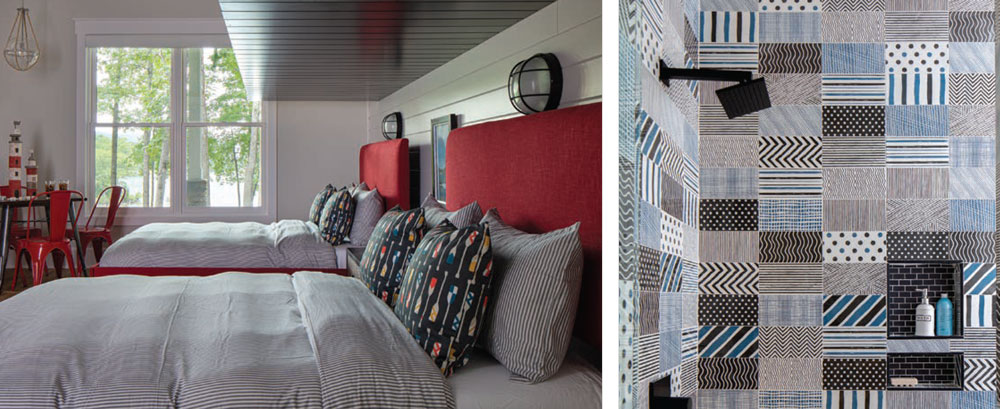 The accompanying bathroom was the brainchild of Richardson, who pitched an idea of black-tiled floors and wildly patterned tile in the shower. Lisa admits she balked at first, but, "They put the first tile in, and I was like, 'Gosh, she was right!'"
The patterned tiles are a mix of white, black and blue lines going in different directions depending on which tile you zero in on. Some patterns squiggle, some zig, some zag, while others are straight or polka-dotted. It's a bathroom fit for a kid—or at least the zany kid inside every one of us.
"Lisa and Mitch have a grandson and granddaughter, so we wanted to be certain that that bathroom was fun, but neither feminine nor masculine," Richardson says. "The mixed-print tiles in blue, one of Lisa's favorite colors, and black made the space fun and elevated at the same time.
"She trusted us, and we love the result, too," the designer says.
The lower level of the house also offers easy access to the lake and to the dock, which was built by Plyler Homes and Docks. It is 2,300 square feet (including the floating dock), with water going as deep as 20 feet off the far end. Several chairs help make it a perfect place to take in a sunset, and some pillars have tables built around them to encourage using the dock as a meal-time destination and social setting for family members.
After a day of swimming, the lower level also has a wet bathroom just off the mudroom where everyone can get cleaned up without sullying the main part of the house.
With the couple's goal of living at the house full time through summer and fall, it's easy to predict that this area—along with the rest of the house—will get lots of use and enjoyment. ✦