Photography by Craig Shaffer
Almost 20 years ago, Sheryl and Ed McNally first drove through the neighborhood where they eventually purchased their vacation home. They noted the prime location: lakefront, mountain views, deep water, on a quiet cul-de-sac. They heard about a home that would soon go on the market and jumped on the opportunity to see it. Even with a cumbersome 1980's design and unwelcoming facade, they knew it would be the perfect place for their family to spend long summer days at the lake.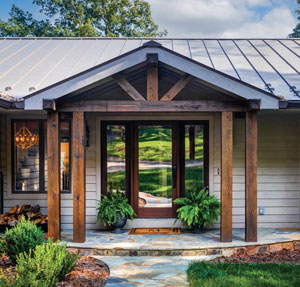 Despite the dated touches, this Mountain View Shores house quickly became a favorite destination for Sheryl, Ed and their three children. For 15 years, the family took every opportunity they could to drive to Huddleston from their Roanoke home to spend weekends and summers, enjoying the house exactly as it was, shag carpet and all.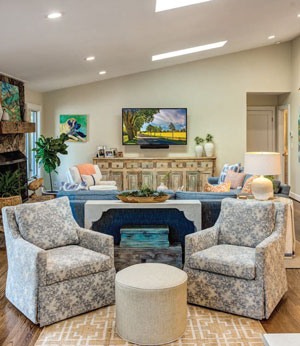 "It was very 1980s," says Sheryl with a laugh. "The walls were mauve and teal with wallpaper borders and lots of gold-tone fixtures. Carpet everywhere. It felt heavy and dark." The upside to those intervening years gave Sheryl and Ed a lot of time to think about how they would make the inside of their lake home as beautiful as the views they could see outside their windows. Sheryl's friend Cameron Harris of Cameron Harris Interiors helped the couple refine their vision to create a design that felt contemporary and flowed organically through the modern ranch-style home.
In the fall of 2019, the couple engaged Matt Prescott of Prescott Construction to undertake a complete renovation of the home. The timing of the project, finishing at the start of a global pandemic, was challenging and so was the scope: removal of walls, installing new windows, remodeling baths, replacing the roof, and stabilizing decks. "Matt and his team pretty much had to do everything," says Sheryl. "It was a big job, and they were so great to work with, so professional. And despite all the issues related to COVID they still had the project finished on time." From start to finish, the renovation took about eight months, and during that time the home was transformed into a breezy, open plan that makes the most of the home's spectacular lake and mountain views.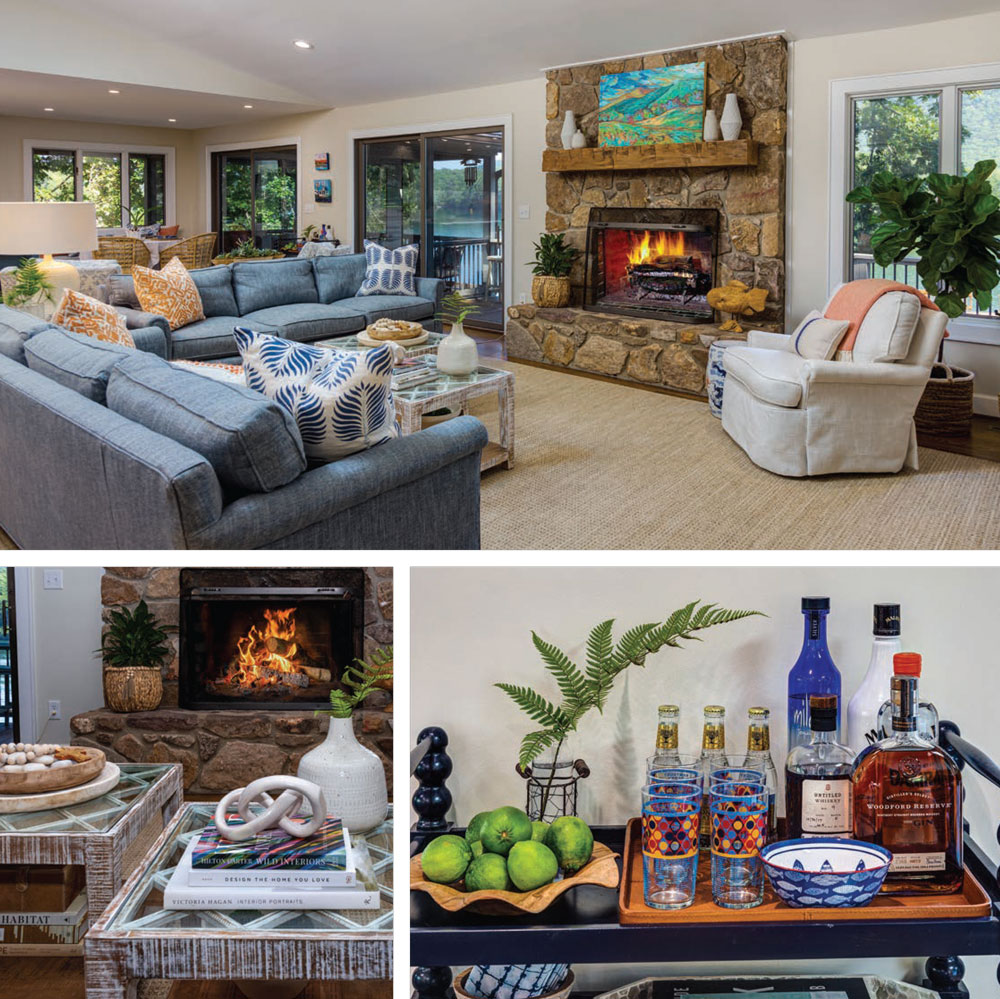 The new glass front door with sidelights illuminates the McNallys' entry. Over an antique chest hangs a large mirror flanked by two oils by artist Emyo which were purchased at Magnolia in Roanoke. Beautiful new hardwood flooring flows into the rest of the house while the walls are covered in a family-friendly, navy faux seagrass wallpaper that Sheryl was especially attracted to not only for the look but its washability—key for a family with three kids and a sweet (but drooly) Old English mastiff named Lily. "Between the kids, their friends, and the dog, we really gravitate to textiles and finishes that are washable and can stand up to wet feet," says Sheryl. "We did not want this to be a place where we had to worry about people touching or damaging things. We wanted it to be a place where everyone could feel welcome to just enjoy themselves."
Matt Prescott and his team removed several walls to create the wide-open feeling of the McNallys' great room/kitchen. On either side of the floor-to-ceiling stone fireplace, large new windows open to the views outside. Walls, area rugs, even the furniture have been kept neutral so that all eyes will be drawn outward. Over the rustic wood mantel hangs a colorful pastoral painting by Lori Leist of Bedford. On opposite sides of the fireplace hang two additional oils, one of Lily and the other, one of Ed's favorite Lynchburg landmarks, The Texas Inn, painted by Lynchburg artist Karen Lupton.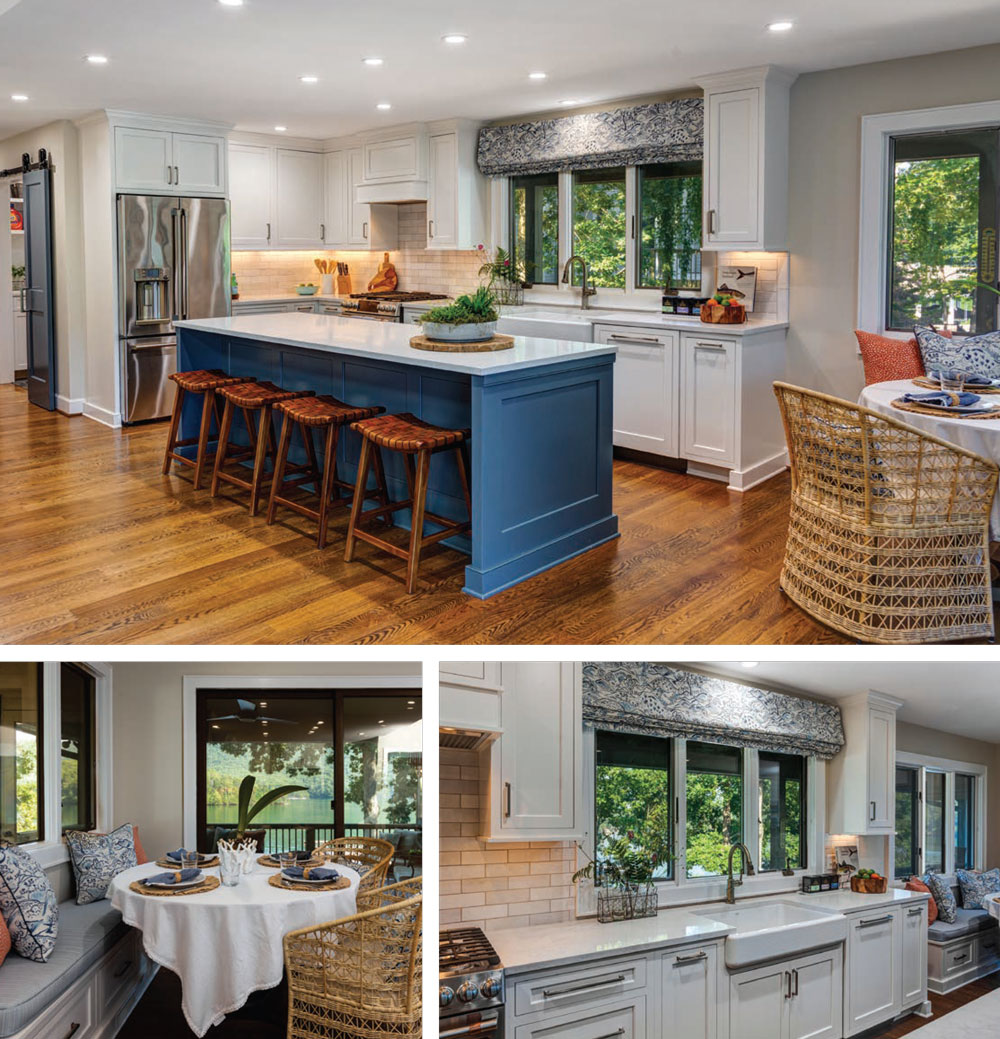 The kitchen has been completely reconfigured from a dark, narrow L-shape to an open-concept kitchen featuring a large central island with blue cabinetry and white quartz countertops. The white subway-tiled backsplash and white perimeter cabinets give the entire area an updated but classic look. Moving the sink under the window and building banquette seating makes a huge difference in how the kitchen feels and flows.
One of Sheryl's favorite improvements is the large pantry, carved out of what was once a small laundry room and half bath off the hallway to the garage. "It is quite a hike to and from a grocery store out here, so I really wanted a large pantry," says Sheryl. "Nothing fancy. Just plenty of storage for food and dog gear, with doors that could be closed to hide it all." The pantry with its built-in shelving offers generous storage with plenty of room for laundry too. The clever sliding "barn doors," painted the same blue as the island cabinetry, are an ingenious way to close off the area when guests arrive.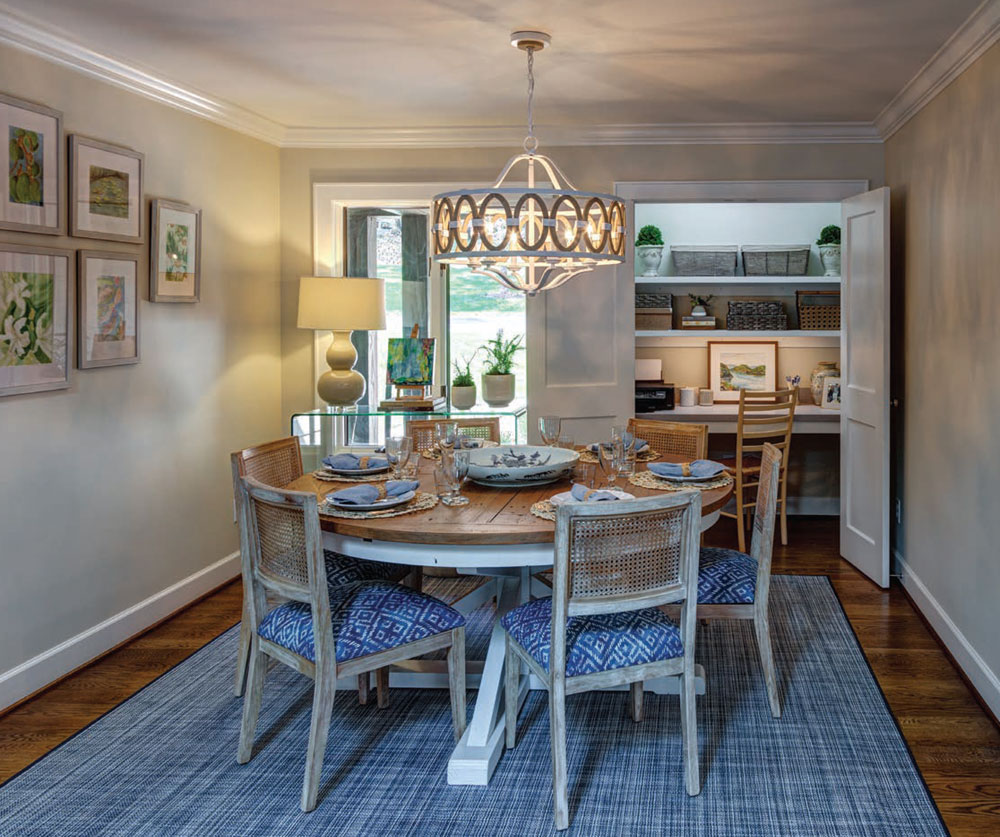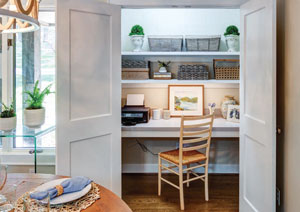 The dining room has a casual, open feel, thanks to Prescott and his team who removed a wall to open the space to the great room and kitchen. A round farm-style pedestal table and matching cane-back chairs sit on a navy and white woven carpet. A series of framed botanical watercolors, painted by Sheryl's mother, hangs on the walls. In the corner, where there was once a recessed bar area, Sheryl and Ed have created a home office. "We didn't have a room to devote to a home office, but we can have … an office closet!" laughs Sheryl, demonstrating the pair of doors that close off the nook from the dining room. "Ed often finds that he needs to work when we are out here, and this way we have a place to put all the office equipment and stray papers that we'd rather not see when the 'office' isn't in use."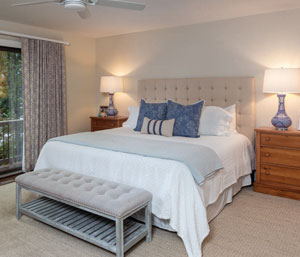 The primary bedroom is on the first floor, a feature that Sheryl and Ed feel will come in handy as they approach retirement. Neutral colors on bedding, floors and walls are accented with navy and gray accessories. Large sliding doors have floor-to-ceiling drapes with a muted gray geometric print, but they are thrown wide open to enjoy the view. "The nicest thing about this room is that the bed faces east," says Sheryl. "I get to wake up to beautiful sunrises." A bright white dressing area opens off the bedroom, an area that has been completely transformed. "Imagine a long dark hallway that felt like a cattle chute with dark closets opening off either side and a bathroom at the end. That's what we had," Sheryl says. The McNallys gave up one closet and instead opted for opening the hallway, building in drawers, installing a marble countertop, and employing mirrored walls to make the space feel airy and inviting.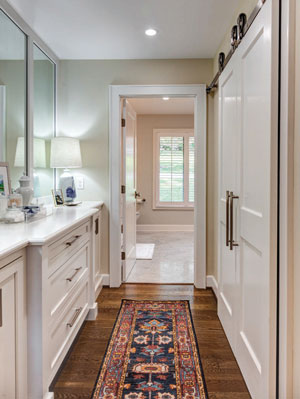 Sheryl gravitates to clean white finishes, and the primary bath reflects this taste, with marble tiles on the floor and in the shower, and white cabinets with marble countertops on his-and-her vanities. The generous bath has ample room, thanks to removing an old Jacuzzi tub. Without the tub, there is plenty of room for a large shower, complete with an open, low-threshold entry in case either of them experiences mobility issues in the future.

The home's lower level has four bedrooms and another large gathering area beneath the great room above. This casual space has room for the kids and their friends to watch a game on TV, play foosball, or just watch the activity on the dock from an indoor vantage point. The adjoining kitchenette/bar area features new custom cabinetry with "Absolute Black" granite countertops, a second fridge, and a dishwasher dedicated to dishes coming back from the dock. "The second kitchen area has actually made a huge difference," Sheryl says. "With this space, there's food and drink available close to the dock, and someone can cook upstairs without needing to step on toes." The cocktail-themed artwork was found at the George Dickel Distillery outside of Nashville, and on the floating shelves, Sheryl displays her collection of Kentucky Derby glasses from her home state.
Also of note on this level, Harris and Prescott reconfigured an awkward space to allow access to a bunk room previously reached through one of the bathrooms. Now the bunk room has its own entrance, and the revised bath incorporates a trough sink with two taps in an area that could not accommodate separate sinks. The shower space was enlarged and now provides a convenient changing area for those coming in from the lake.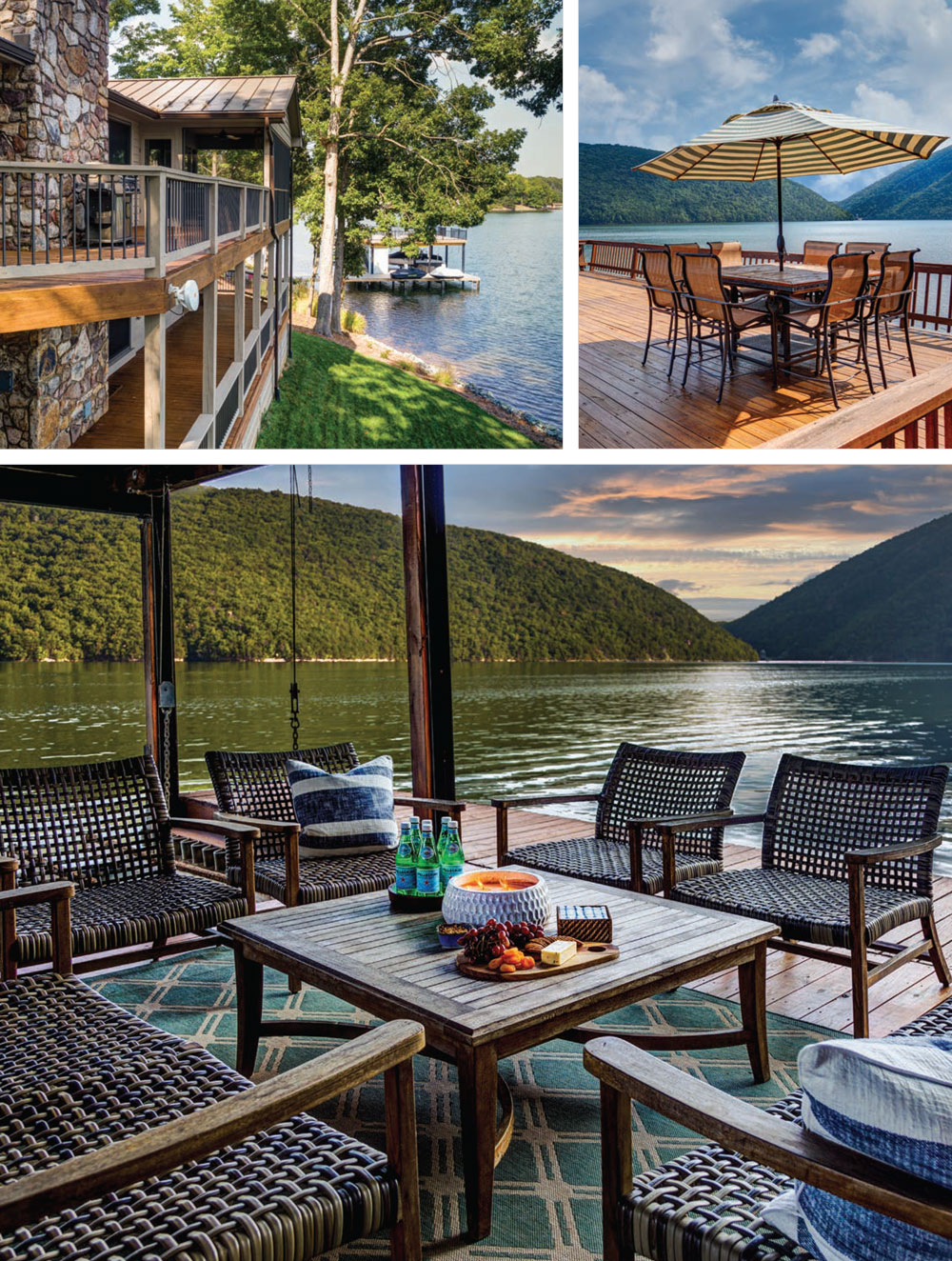 Outside, a path winds down to the family's dock area. While "dock" may conjure ideas of a simple board structure whose purpose is to tie up a boat, the McNallys' multilevel dock serves multiple functions. There is a boat house, and a floating/sun dock available for kayaks and other water toys, as well as two separate gathering areas. On the lower level, comfortable seating keeps visitors out of the sun's glare, while the upper level features bar seating at a counter-height table, ample room for corn hole boards, and even a place for daredevils to dive into the lake. "We really do sit out here all the time," Sheryl says. "It's like having extra rooms. Often, we have adults enjoying the shade on the lower level while the younger generation plays up top. It's such a great view from wherever you sit."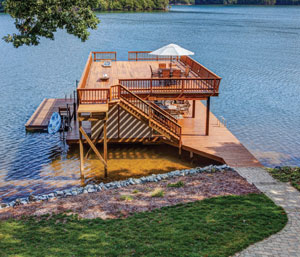 Visiting on a weekday, the lake is serene. Hardly a ripple mars its glassy surface, as it reflects the surrounding mountains, but it is a different story on the weekends as the lake comes to life with splashing children and dogs, the hum of boats, and the buzz of fishing lines. The location is ideal and its close proximity is convenient for Ed's family from Lynchburg to enjoy. It has been, according to Sheryl, a perfect place for their children to gather. "Every square foot here has a purpose," she says. "Nothing is wasted, but at the same time, it looks and functions so much better. I love the way this renovation turned out. We waited a long time to get it right, but it was worth it." ✦