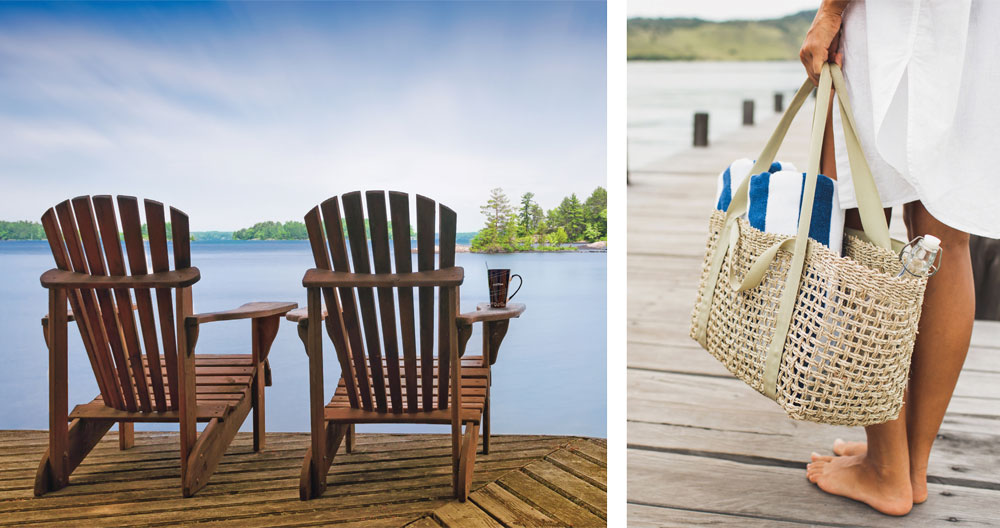 Heading to a vacation house for weekend getaways or months-long trips provides a chance to live a more relaxed lifestyle that offers entertainment right outside the door; boating, water sports, fishing, hiking and outdoor dining all come easy. After a week of work and busy schedules, the prospect of this change of pace entices everyone to get in the car. Being prepared allows the down time to start sooner and alleviates the dreary feeling that you are schlepping things from one house to another all the time.
"Let's Get Organized" is a favorite family saying in our household, and when you have two houses to keep, it is a necessity. When we bought our lake house, we quickly realized that organization is essential. Attention to a few routines and specifics ahead of time means more relaxing with a good book and fewer last-minute trips to the grocery because you thought you had ketchup. Try these tips and tricks to make easing in and out of a second-home visit a simple routine.
Be prepared
My husband devised a clever solution when we first acquired our lake house. He designated a heavy canvas tote bag "THE LAKE CARRIER," and in it goes anything that needs to travel to the house on the next trip. You might personalize this bag by having the address or the nickname you use for your getaway place embroidered on the bag. This bag sits in a spot by the back door, and everything that is destined for the other house collects in it. New batteries for the smoke alarms, a kitchen gadget to replace the one that broke, the dishtowel that mistakenly ended up in someone's suitcase, and my book club book that arrived midweek all pile in that bag which gets loaded in the car before the luggage and groceries.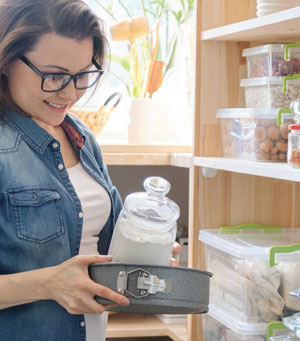 Stock the pantry and fridge
The best strategy for stocking the pantry and fridge is to find several effortless meals, snacks and appetizers each season that you can pull together in a flash. We call them "family medleys" since they are usually spiced up versions of common menu items. Keep the pantry ingredients for these recipes on hand along with canned goods like black beans and salsas as well as dried fruits and nuts for quick fixes. Pick up the perishable items for these meals when you shop for your stay. Bread stores well in the freezer; buy a few extra loaves so you have them when you need to make a simple lunch or round out a dinner.
Keep a list
Our grocery store list always has two columns and until everything on it is purchased, it goes back and forth with us in the lake bag. Every few weeks we make a new one. The right side says "Lake House Needs" and the left side says "Town House Needs." On it we list pantry items and basic cleaning products we should replenish. Meals are planned on the bottom third of the list, and to the side of each meal, we list the ingredients we should buy. Since we shop at farmers markets when they are in season, and often decide part of the meal when we see what is available, meal planning is more of a wide-open suggestion list. Find a system that works for you.
Don't drown in the laundry
Unless the washer or dryer isn't working, it is much easier to do the laundry before you leave each house. Most of the time, the last day at the lake is a good morning to start. Ask family members and guests to pile all their dirty towels and sheets in the laundry room. Hauling it back and forth is a heavy chore and just puts off what must be done. Start with the towels. Finish your coffee and throw in a load. Starting with the towels is motivating because they are easy to wash and dry, and when you begin folding and putting them back in the baths, the house seems to gain some immediate order. While the towels run, clean the kitchen and bath sinks and wipe down all the countertops. Load the dishwasher and get that running. If there are a few towels from the last guest or your spouse's shower, leave those hanging out to dry and you can get to them next time.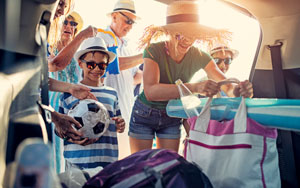 The arrival
Open the doors and windows for some air, and if it is warm enough, leave them open to let the breeze inside. Check the thermostat to see if you need to adjust it for the weather. Carry in all the bags from the car and put them directly in the rooms where they belong. Place your "lake bag" in the kitchen, unload all the items you have collected for this house, and put them where they belong. Wipe out the fridge if you didn't get to that when you last left, and as you unload the cooler, take the time to organize the food into the fridge by types—produce, deli meats and cheeses, fish and poultry—so you can see where everything is for easy meal prep later. This gives you a chance to notice anything you might have forgotten. Add it to the list. Situate the pantry dry goods and walk around the house to tidy any scattered items that were not put in their proper place before you packed and left. Water those thirsty plants. Succulents do great with long bouts of no water.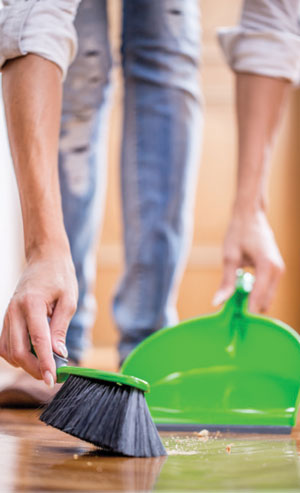 Keep it handy
Kitchens and baths take a toll from active lifestyles. In the kitchen, stashing a light broom and dustpan close by makes a mid-day or late evening sweeping quick. The floor gets crunchy from all those snacks people grab after exercising, and meal prep always leaves a few tidbits scattered on the floor. Keep a clean sponge in a holder on the side of the sink to wipe down cabinet doors and counters. In the baths, disposable cleaning wipes in the cabinet make the sink, faucet and counters sparkle quickly when you pop in to check on them.
The departure
To get the house ready so you can head home, first organize any dirty laundry that is left. Fold the clean sheets and store them in the closet of the bedrooms. Sometimes the sheets stay on the beds, so those should be made. Just wash them or swap for clean sheets when you come back if new guests will be using them. If the kids are coming back to the same rooms, those can be used for another weekend. Next, pack any clothing and toiletries to go on the road with you. Lastly, head to the kitchen. Leftovers go well in glass jars and storage containers; they make an easy supper when you arrive at your home base exhausted. Box good cheeses, vegetables, fruits and meats in the cooler with the leftovers. Store any food you leave behind in glass jars in the cabinets or in the fridge or freezer to discourage pests.
Leaving for a month or two
If you are not returning for several weeks or more, you need to make sure the house can safely stay alone. Leaving for long stretches of time requires some thought. What temperature should the house be? In winter, it is best to leave it at least 55 degrees and turn off the water at the house cut off in case of a leak. Make sure all storm windows and doors are secure and all outside gear like canoes, kayaks and bikes are stored in a basement, garage or shed. Boats should be covered, and winterized when the temperatures drop below freezing. Even in summer months, storms can cause debris from flying damage, so make sure everything outside is secure.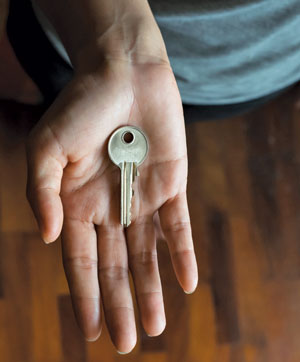 Lake house instructions
When letting friends or family use your vacation home, a list of instructions and house rules keeps problems at bay. Keep one laminated copy at the house, and mail or email another to them in advance of their visit, along with directions to the house and where to find the keys. On the instructions, welcome them to your home, provide your cell phone numbers for questions or emergencies, then review the basics of the house systems. Guests need to know things like where to find the breaker box, how to use appliances and grills, where you store firewood for the firepit, and how to use the thermostat. If your home has a hot tub or pool, those need to be covered in detail. Remember to include where keys can be found to boats, garages and any items you lock to the dock such as kayaks. Suggest that they bring their own towels and sheets so they don't have to do laundry on their last day of vacation. Let them know where to take the trash and recycle. Finally, offer suggestions for restaurants, fishing spots, good hikes, miniature golf and movie theaters.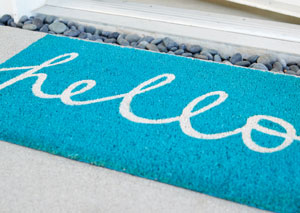 For many of us, owning two homes has many advantages. It is not just a change of scenery; two different lifestyles and two groups of friends provides a nice balance even if it means sacrificing some travel far and wide due to cost. The appeal of changing your surroundings is what makes the planning of packing up and traveling to another home pleasurable. The biggest benefit by far is the neighbors and friends you meet, connections not possible in a vacation week. We enjoy meeting up via boat parties or outside for drinks. In getting to know other families, you can also learn things—such as these secondhome hacks. So next time you are sipping a beer on the dock with friends, ask them to share their secrets for comfortable, efficient second-home living. ✦