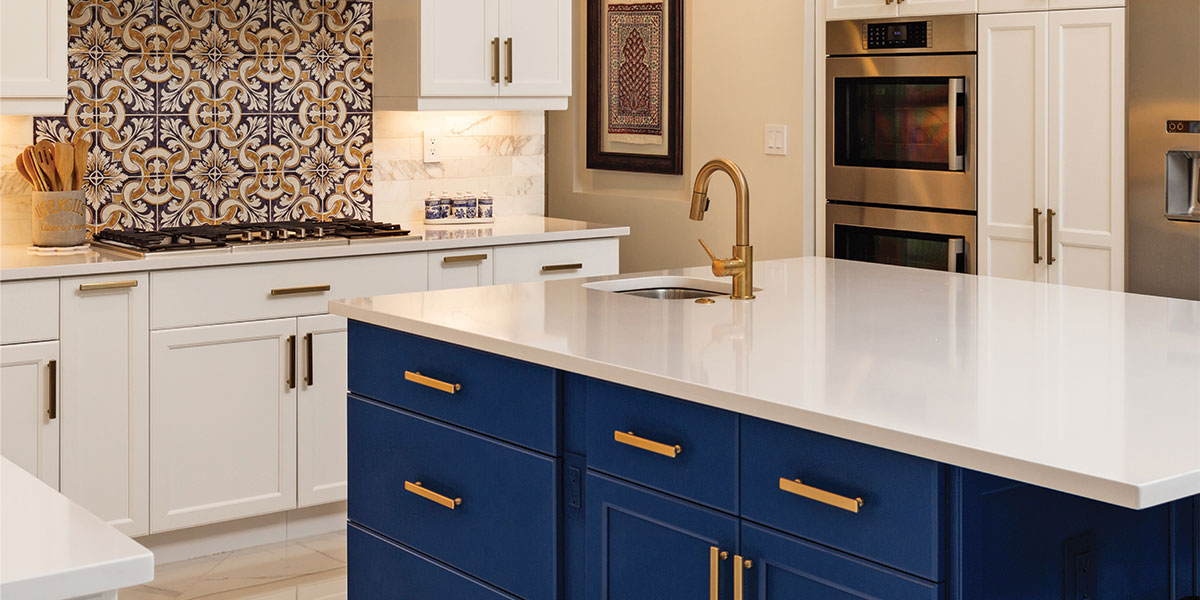 Over the past year we have seen that people are spending more time at home, and now more than ever, the kitchen is certainly the heart of the home. Whether you live in a tiny home or a sprawling mansion, when you host a gathering, your guests will likely end up socializing in the kitchen. The kitchen is also the hub for spending time with your loved ones—chatting while cooking dinner, homework sessions, snacking while catching the big game, or serving as an impromptu office. Having a beautiful and well-designed space is crucial.
When considering kitchen design, some elements are timeless. You want the space to be functional and beautiful, and to feature classic surfaces that won't require frequent remodeling or replacing. Along with those constants, however, every year brings a new mix of kitchen trends to make your space stylish. Whether you are making plans for new construction, remodeling an existing kitchen or simply looking for some design ideas for a little refresh, we've rounded up trends here for inspiration. You will see that many of these design trends lend themselves to a global move toward minimalist design, an open multifunctional living concept, and integrative technology within the kitchen.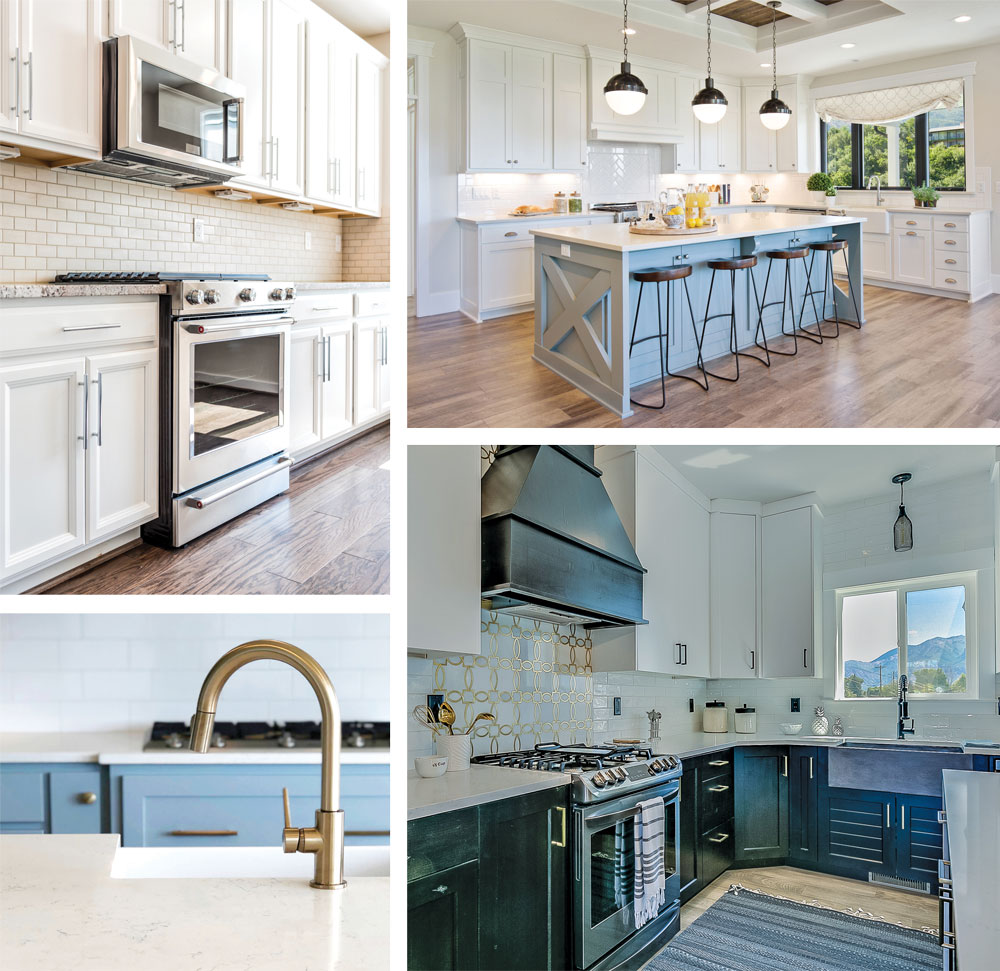 Cabinetry, color and more
Miranda Dudley, owner and interior designer of Designer Solutions in Moneta, offers some advice for 2021 color trends. "Things are warming up a bit in the kitchen from flooring, to cabinetry, paint colors and lighting," she says. "You will likely still see your fair share of classic bright white and neutral gray in kitchens, but also will see colors begin to trend toward wood tones and a warmer palette." This warmer palette often comes into play with painted cabinetry in shades of blue, teal, emerald, black, plum and navy.
Jessica Byrd, owner and interior designer of By Design Interiors in Hardy, adds to this color advice. "Many of my clients are still choosing color schemes that trend gray, but more of a warmer tone, leaning more towards taupe, to be able to incorporate both warm and cool finishes of cabinetry, flooring and furniture," she says.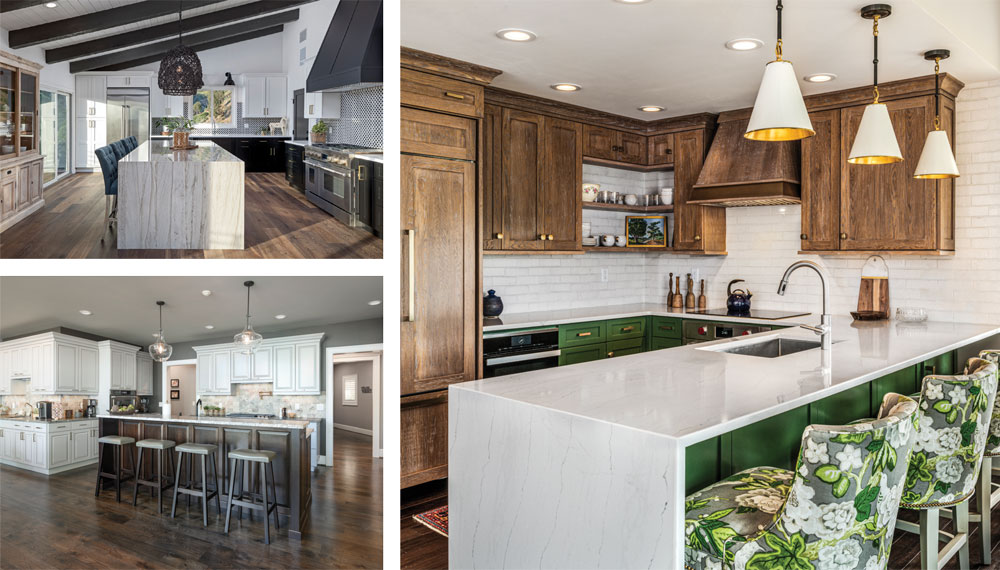 Stained wood cabinetry is also experiencing a bit of a revival after being out of fashion for a while. Do these jewel-toned colors and wood accents sound a bit like the 1960s and 1970s? Yes, but with a modern twist. Rest assured; avocado appliances aren't making a comeback just yet! You will most often see this color infusion with painted or stained cabinetry, a colored appliance, or statement tiled areas. If you're feeling a bit hesitant with bold color, however, you can dip your toe into this trend by installing removable wallpaper from the myriad of options out there, or through artwork and accessories.
For those who are bolder in their choices, all-black-matte kitchens with black gloss accents are rising in trend. In Europe, particularly, "all black is the new all white" indicates this move toward this classic and stylish choice. You could even consider creating an all-black island in contrast to cabinets in a different color as a modification of this trend. Whether part of an all-black kitchen or not, black matte appliances are rising in popularity over stainless steel which has been the primary choice for the past few decades.
Dan DeNeal, president of DeNeal's Cabinets in Moneta, says, "Homeowners are pairing neutral tones of cabinetry with pops of color on islands and complementing with warm flooring. Many are also choosing to install statement walls of tile backsplash featuring a blast of texture and color." Flooring choices for his clients are often medium- to dark-wood floors or wood-look tile floors for the kitchen space. Dudley adds that luxury vinyl planks and tile flooring continue to be popular choices.
Byrd says that white Shaker cabinets are still the top request, noting that clients will often incorporate a darker paint or wood stain in the range hood and island. Convenience is still important, too. "A lot of clients are choosing to include an appliance garage to hide their everyday small appliances, such as toasters and coffee makers, while incorporating a microwave drawer in the island. This makes it nice to be able to leave more room in the perimeter cabinetry for ovens and hoods, and also makes it easy for children to be able to reach the microwave and heat up their own food without bothering their parents," she says.
Modern advances, eco-choices
As consumers continue to become more eco-conscious, you will see an increase of recycled or sustainable materials in spaces, whether that be reclaimed wood or masonry materials, ecofriendly products, low-emission appliances, or industrial elements being repurposed. In addition to repurposing local raw materials, you will also see a continuing trend toward supporting locally owned businesses, designers and industries. While previously, a source of pride may have been your countertop imported from Italy, now that satisfaction lies in supporting your local neighbor.
Technology has entered the kitchen space to offer conveniences and to increase safety. From smart, eco-positive or programmable appliances, smartphone-controlled lighting, Bluetooth audio systems, motion-detecting faucets, and home devices such as Amazon Alexa or Google Home to give you measuring advice or recipes, there are abundant integrated technology features to assist the modern family. Smart appliances are also moving toward a more convenient and environmentally friendly purpose. For example, there are now smart convection ovens that bake faster and more evenly for a reduction in electricity use, featuring triple athermic glass to conserve heat within the oven space during use. These appliances also offer features that allow the owner to access controls from their smartphone or offer repair diagnostics through an app.
Features and finishes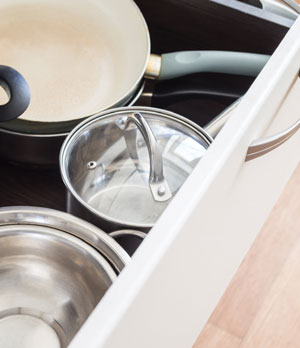 Open shelving has been popular through much of the 21st century; however, having those shelves in your kitchen requires artful arrangements of dishes and accessories that match for a pleasing aesthetic. While convenient for access, potential storage space is lost with an open shelving design as open shelves tend to offer less surface space for storing items. The move now is toward a return to increased cabinet space, and in many cases, floorto- ceiling cabinetry, to maximize storage and maintain clutterfree counters. Additionally, cabinets are trending toward clean lines and minimalist design, many cabinets having push-release features to create a sleek look rather than featuring traditional knob or handle hardware. Hidden and well-located storage will also be a key to increasing organization and function while maintaining a minimalist look.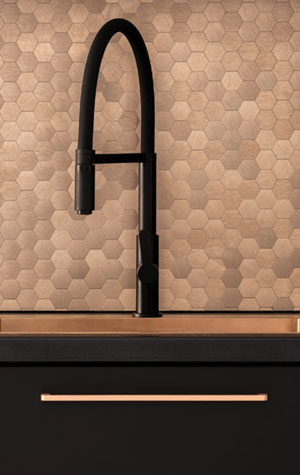 Mixed textures and material colors are the current trend. When tastefully done, mixed metals offer personality over a uniform color collection and allow for statement pieces like an artful faucet or gorgeous cabinet hardware without the worry of matching your appliances. Brass fixtures and hardware in particular remain popular, particularly with their ability to complement the rising use of jewel-toned colors. Both Byrd and Dudley state that matte black hardware has also been a popular choice among their clients.
While granite and marble countertops will likely continue to be a classic design choice, their surfaces are sometimes fussy, requiring specific care, sealing and cleaning. According to Byrd, DeNeal and Dudley, to attain the overall look of marble in a more durable surface, quartz countertops are a popular choice among homebuilders and renovators, paired with an apron-front farmhouse-style sink. DeNeal says, "Cabinets with minimalist Shaker-style doors with a clean, white finish paired with calacatta quartz countertops are still my most popular requests among consumers. Quartz offers an upscale and contemporary look while also offering durability and ease-of-care. Quartz countertops also require no sealing and maintain their beautiful, gleaming looks for years." Byrd adds that leathered or matte finishes are great choices to add texture.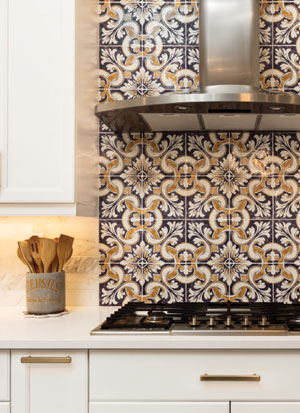 Backsplashes
It's not likely that subway tiles or mosaics for backsplash options are going anywhere; however, one-piece solid-slab backsplashes in stainless steel, quartz or marble are gaining in popularity. Another trend for backsplashes is to have beautifully patterned, artistic tiles in your backsplash design to make a statement in an otherwise neutral space.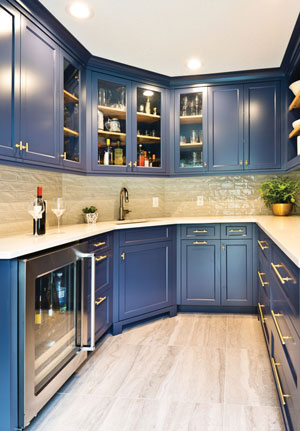 If classic tiles are your choice, Byrd offers ideas to take them to the next level. "Backsplashes are trending on some variation of white subway tile, whether it be a larger size like a 4×12, or a textured or wavy tile. A medium to dark grout is also a nice contrast to really accentuate the darker hardware and fixtures in the room," she says. She also notes that matte gray subway tile is another great way to add color against white cabinets. For those who are a little more adventurous, she says a glass mosaic featuring a mix of colors is a "great way to liven up an otherwise simple, neutral color palette."
Lighting
Lighting can be relatively inexpensive, easy to replace and makes a huge impact on the feel of a space. Lighting for 2021 is geared toward statement pieces, using more tactile materials like wood and rattan and other woven-style options that offer a contemporary, natural vibe to the room. Another trend is swapping out multiple pendant lights for a single hanging bar fixture over islands, eliminating the need for multiple wiring locations in the ceiling. DeNeal says that LED lighting is the primary choice for not only cost savings but is also eco-friendly. Custom lighting options above cabinets, under cabinets and at the toe kick area are popular as a way to create a beautiful aesthetic as well as offer functional lighting for food prep and to increase safety.
Islands
With a move toward open design spaces and larger kitchens, both DeNeal and Dudley agree that a large, functional island is what homeowners are looking for in new kitchen design. As Americans continue to embrace an increasingly casual lifestyle, dining and cooking spaces will no longer be separated, and the eat-in kitchen will be experiencing a revival. Many of these islands feature multilevel spaces for cooking and eating, or perpendicular dining spaces extending from the island area.

Since cooking and living spaces are now merging, you will also see an increase in furniture in a traditional "living room style" featured in the kitchen, such as stools with comfy tufted cushions and sturdy wood legs, as well as decor and art pieces traditionally found in spaces for relaxation. DeNeal offers this advice. "Eat-in kitchens are definitely the rising trend; don't fight it, that's where the action is. Hang out with the cook and eat right in the kitchen on that huge island," he says. He also notes that the island is a great place to make an artistic statement by switching up the design materials or colors for a bit of personality. Byrd adds, "Almost every island we design has seating included on one or two sides. The kitchen is a gathering place and family and guests alike want to be in on the action while the food is being prepared. I get a lot of clients that also forego a formal dining room for a cozier nook that can fit a variety of table shapes and seating styles."
If you are embarking on a new kitchen project or building a new home, you owe it to yourself to become knowledgeable on current trends that will impact your home's value and desirability, as well as consider which investments get the best return on value for the longterm. Minimalist, multifunctional and open spaces that integrate technology are great investments that will not only increase your quality of life, but also improve both aesthetics and resale value of your home for the future. Goodbye all-white kitchens, and hello to warmth and jewel tones in a beautifully organized modern living space! ✦