At the lake we seem have more overnight guests than the average person, and who could blame us (or our friends) for not wanting to leave? Yet the hassles of hospitality can sometimes impair an otherwise perfect weekend; there is more to worry about when the guest rooms are full, most notably next week's laundry day when we will be washing all the bedding we own. However, strategically dressing the beds for both style and ease can relieve our minds and our washing machines.

Most designers adhere to the five layers of bedding: mattress covers, sheets, pillows, covers and embellishments. In both the master bedroom and our guest bedrooms, working within this system ensures the bed will be clean, beautiful and, of course, comfortable.
The mattress cover is a frequently overlooked but very necessary base layer for any bedding. Mattresses should be replaced every seven years according to some experts, but using a high-quality mattress cover can extend the life of your mattress for years beyond its prescribed expiration. Mattress covers also cut down on allergens and, as an added bonus, can help keep our sheets on the bed with their added grip.
Sheets are the most important layer of bedding; we spend a third of our lives wrapped in our sheets, so investing in a high-quality set is worth it. Most of us associate a high thread count with high quality; however, more important than thread count is thread quality. The best starting point is choosing any natural, non-chemically treated fiber, but most experts agree that cotton is the easiest to care for, the longest-lasting, and the best-feeling option. Specifically, the best thread comes from "long-staple" cotton, which simply means the raw cotton has longer fibers. The long fibers help the alternating threads stay smooth and flat. Popular long-staple cottons include pima, supima and Egyptian cotton.
Next is deciding which weave you prefer: percale or sateen? Percale sheets use a plain weave; the vertical and horizontal threads alternate over each other one to one. If you need versatile, everyday sheets and prefer light, crisp fabric, percale sheets are probably best. Additionally, most patterned sheets are percale because the simpler weave helps the printed pattern last longer, so if you're looking to coordinate a pretty paisley or playful plaid to fold over the comforter, percale sheets are likely your best bet. Sateen sheets use a satin weave: Instead of the threads overlapping in a 1:1 ratio, the horizontal threads "float" over multiple vertical threads (usually three or four) at a time. The satin weave creates a smoother-feeling fabric, so if you're looking for more dense, sleek sheets, then sateen is probably preferable.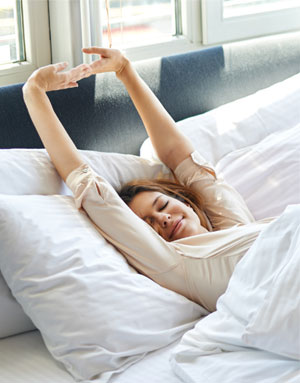 This is where thread count comes in. Thread count simply refers to the number of horizontal and vertical threads woven into one square inch of fabric, basically the fabric's density. Percale sheets naturally use less thread per square inch than a sateen sheet, which requires more densely packed threads per square inch because of the "floats" in the satin weave. Accordingly, percale sheets, because they have less thread, are cooler and more breathable, and sateen sheets are heavier and cozier. The ideal thread count is about 400 for percale and about 600 for sateen, which are both much lower than the 1500 we often see advertised. The cost of buying percale or sateen sheets is primarily the same; it all comes down to personal preference for look, feel and temperature. Many people use percale sheets in the summer and sateen in the winter because of the difference in weight and breathability.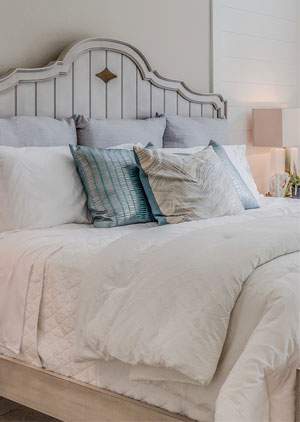 Now comes the fun part: the "outside" layers. Pillows, covers and decorative pillows are where we get to bring our own personality into bedding. In the master bedroom, we have much more freedom to attend to our specific preferences, since it is such a private space. When designing your master bedroom, the only real rule is to be true to your personal style. If that means mixing fun prints and using bold colors, do it! The simplest way to mix in patterns and colors is through throw pillows. There's no need to go overboard (unless you want to!), but adding a variety of pillow shapes and sizes not only adds interest, it also gives you options for what will be the most functional and comfortable. On a typical queen bed, most people would agree that having two standard pillows for sleeping is preferable, but adding Euro pillows in the front allows an extra cushion to sit up and read a book, watch a video on your phone, or type a quick "out-of-office" email on your laptop. Adding a boudoir pillow or a bolster to adorn the front gives you extra support or even a place to prop the book in your lap.
---

SHEETS ARE THE MOST IMPORTANT LAYER OF BEDDING; WE SPEND A THIRD OF OUR LIVES WRAPPED IN OUR SHEETS, SO INVESTING IN A HIGH-QUALITY SET IS WORTH IT.
---
In guest rooms, experts advise thinking like a hotelier: what will be the most comfortable for the most people? The easiest way to accomplish this is through layers and variety. Providing guests with a coverlet and a duvet allows them some flexibility in temperature, and gives you even more opportunity to play with patterns and textures. A matelassé coverlet with a scalloped edge or a lightweight quilt paired with a soft solid comforter folded at the foot of the bed is classic and versatile. Just be sure to fold the comforter so guests can easily reach and pull the comforter up and over themselves. Alternatively, using a basketweave blanket hidden beneath a comforter with patterned duvet offers the same versatility while still showing off your duvet. Also, providing two layers of pillows for sleeping—one softer, one firmer—provides flexibility in comfort, but keeping extra pillows and blankets in the guest room closet isn't a bad idea.
Experts also advise having the same sheets for all of your guest beds. This way, when one guest leaves and strips the sheets, there's another set ready without needing to do laundry right away. Lastly, even though it sounds scary, sticking with all white bedding makes laundry day simple and straight-forward: The ability to simply bleach everything is highly underrated.
The best way to dress the beds at your lake house is going to be unique to you and your space, but strategizing to procure the easiest, simplest, and comfiest bedding will help you and your guests relax and enjoy the lake to the fullest. ✦