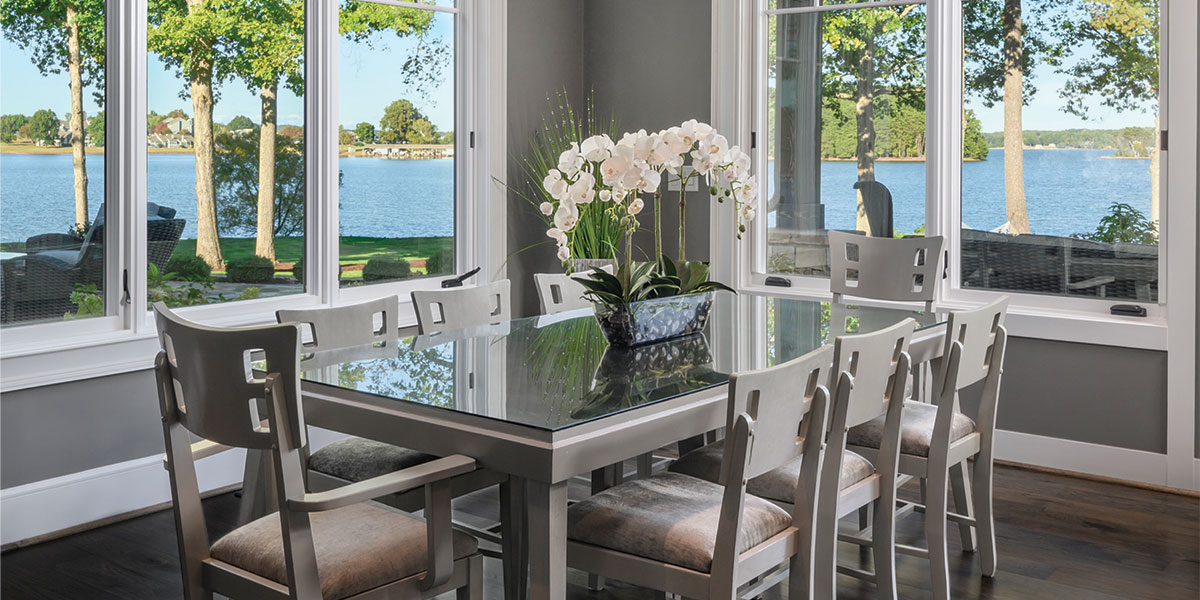 Come in, stay awhile and gather at the table. Share your hopes, dreams, fears and passions. Eat, drink, and be merry as we bask in each other's company. This is what lake culture represents; to gather around a table is a gesture of warmth and inclusion. We invite guests into our inner worlds and honor this connection of friendship and neighborly company. This makes a dining table a pretty meaningful piece of furniture.
---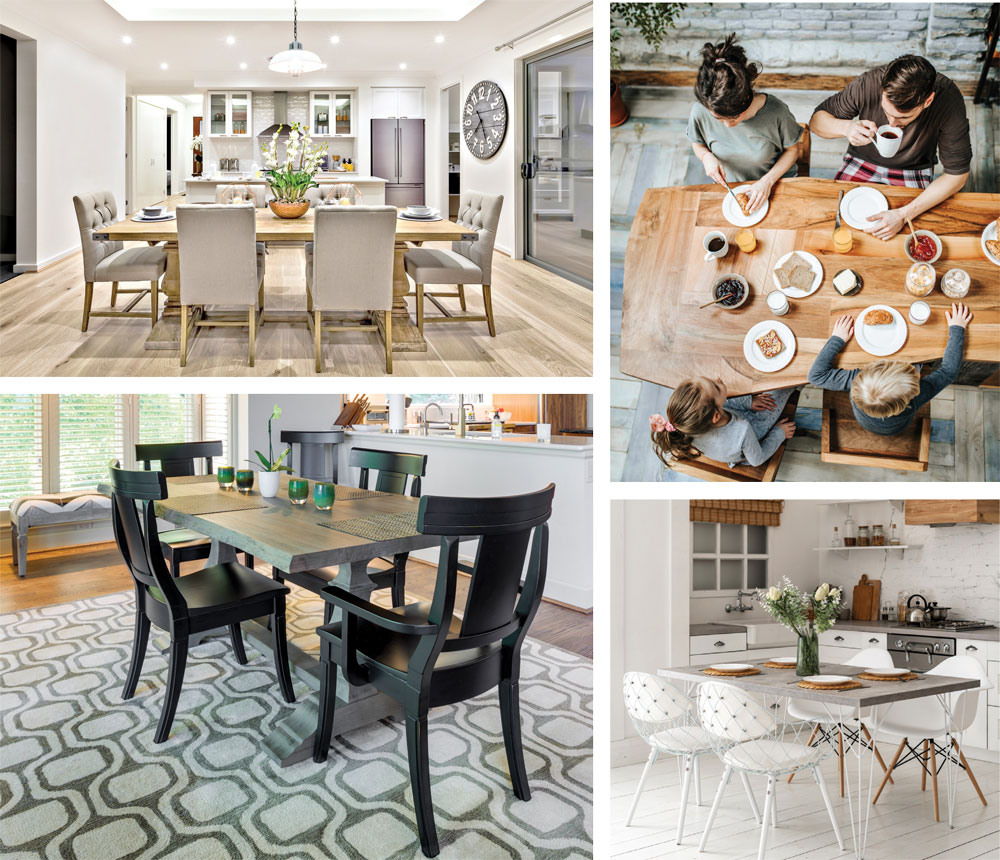 WHATEVER YOU CHOOSE, MAY YOUR TABLE BE AN EXTENSION OF YOUR SOUL, AN INVITATION FOR BOTH PHYSICAL AND EMOTIONAL NOURISHMENT, AND A MEETING PLACE FOR KINDRED SPIRITS.
---
Choosing a dining table can be daunting with the vast array of available options. Even so, there are a few things to consider before you begin your search. How many people do you anticipate hosting? Along with room size, this will determine the shape and length of the table. Perfect squares are ideal for small families and may work well for a smallish dining room. In terms of length, a 48-inch table will seat four comfortably, a 60-inch table will seat six, and a 72-inch long table will seat eight. This calculation also translates to a round table's diameter and the number of people it will comfortably accommodate, but round or oval tables tend to be the most versatile. Without corners, you can squeeze in a few more guests. If you anticipate needing to adapt your table to the size of your gathering, whether you opt for four-sided or round, choose a table with an insert, which will quickly change the size of the table to suit the intimacy or festivity of the occasion.
Once you determine size needs, it's time to move on to the fun part. This style overview runs the gamut from classic to unique, and although this rundown isn't exhaustive, we hope these ideas can serve as inspiration. You might just see some of yourself in one or more of the style categories below. Which description best fits you?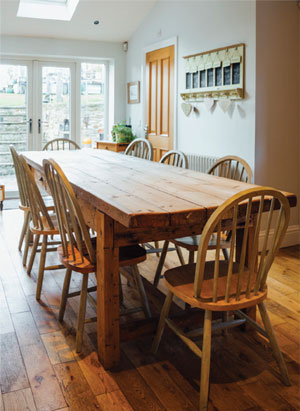 The traditionalist
You love holidays, family meals and all the trappings. You have an appreciation for creature comforts, Mother Nature, and the craftsmanship that goes into woodwork, and you want a dining arrangement that can stand the test of time in both style and function. In a rustic spirit, you could choose a pine, hickory or thick cedar table, possibly even made from reclaimed wood. This type of table works best paired with chairs and other pieces that match in color and style, or maybe with metal accents to prevent a pairing that is too monochromatic.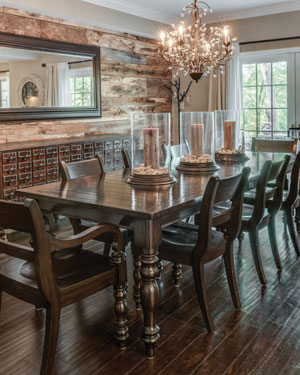 Farmhouse is another cozy and classic style to consider. Understated and inviting, it won't compete with other objects in the room. For a creative touch, consider color contrasts with some paint. Painting only the legs or only the top of the accompanying chair is an interesting way to pull in other hues in the room. Farmhouse can work for a modern American aesthetic, as well as French country, and boasts a simple beauty when paired with florals and antiques. For a natural wood look that is a bit more sleek and formal, opt for an American Colonial tavern top. Popular hues are walnut, cherry and tiger maple. If you like the simplicity of American Colonial, but wish to give it a bit of oomph, get creative with the seating by adding a bold and modern upholstery print to a chair seat. Parsons chairs are another great way to play with upholstery patterns or add an extra element of padded comfort without being too matchymatch with the wood.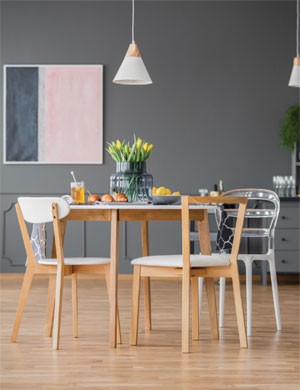 Go minimal
If you're the type of person who prefers to open spaces clear of clutter—reason being, it allows for more time and energy for what truly matters to you—then you may desire no-frills functionality in your dining table. Consider the simple shapes, clean lines and skinny legs of the minimalist style. Such tables and chairs have no ornamentation or extra doodads—just unembellished surfaces and straight legs supporting the structure. If you want a look that's not quite so stripped down to the bare minimum of contemporary minimalism, you could give Scandinavian a try. After all, Scandinavian countries report happy people and lots of leisure time, so they must be doing something right! With clean lines and light stains, Scandinavian dining tables are modest in appearance, yet offer a bit more heft and shape variation. Designed for small dwellings, these pieces can often be altered in size, easily expanding or folding for portability. Whether you have a humble abode or simply wish for a table that doesn't take up much space, going for a minimal look will likely offer the freedom you crave.
Embrace the eclectic
You may crave the aesthetics of the traditionalist, while you yearn for the freedom of the minimalist. Yet rather than being understated, the eclectic look is all about being noticed! This style is about mixing it up; this look is about being untamed and unique. For the ultimate mix-and-match strategy, shabby chic is an excellent choice. This style plays up the charm in flaws. This type of dining table can be a DIY project, in which wood is intentionally distressed. The wood can be painted (chalk paint recommended) and then sanded down to match or accent an existing color palette. This can complement a variety of vibes, including Bohemian or antique farmhouse ambiance. Another style that is timeless but undeniably cool is a pedestal table. With a round top and one supporting central leg, a pedestal table can suit a variety of dining room styles. Pair it with Chinese Chippendale chairs for a transitional, flexible feel, or sleek modern saddleback dining chairs with metallic legs for a more industrial look. Another suggestion is a trestle dining table, a throwback to the Middle Ages with a modern take. Perfect for large gatherings, you can pair it with stripes or buffalo checks for a casual vibe, complete with benches on either side, or pair it with wicker chairs and an oceanhued color palette for a waterfront feel.
Whatever you choose, may your table be an extension of your soul, an invitation for both physical and emotional nourishment, and a meeting place for kindred spirits. Now let the feast begin! ✦