Photography by Michael Patch
During the pandemic, many were content to stay secluded in their homes dreaming of a remodel. But for homeowner Deb Beran, the dream alone wasn't cutting it. "I have lived at Smith Mountain Lake for more than 30 years and been a REALTOR for 25 plus years, so I've seen a LOT of kitchens, including many dreamy ones in luxury homes," says Deb. "That experience and insight definitely helped me realize our space could be vastly improved with upgrades that made sense, and products and finishes that would bring value to the house."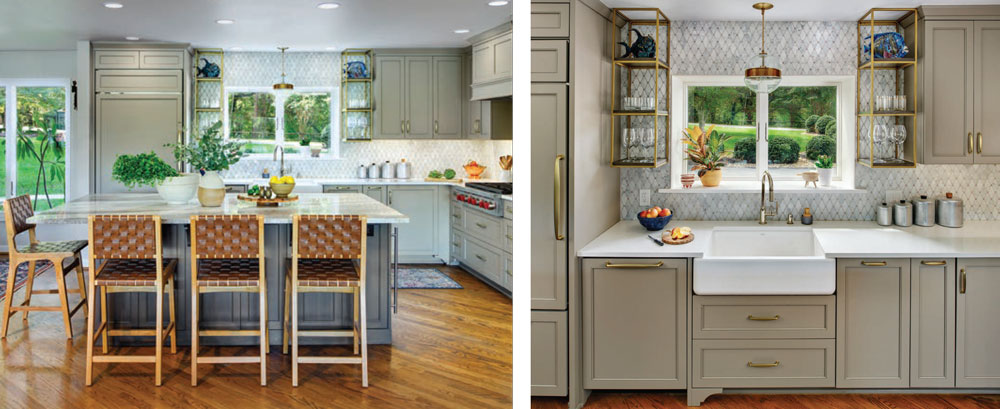 Deb is no stranger to remodeling; she and her husband purchased their home in 1988 and have been through several renovations—including a massive project in 2007 that included new windows, doors, exterior siding and a new roof. Knowing she wanted to keep the same footprint of the kitchen, but bring a fresh perspective, she reached out to Robin Schwadron, lead designer and owner of R Titus Designs, whose work she had seen at a mutual friend's home.
"I love her design style," says Deb, "so I just let her work her magic, and she did. I love it."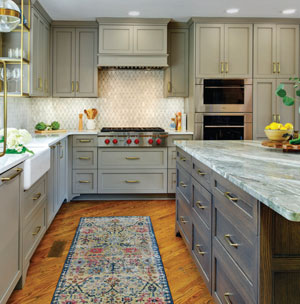 Although Schwadron's firm is in Chicago, both women say collaboration was not difficult, thanks to Zoom and emails. The first step in a successful remodel, says Schwadron, is figuring out her clients' relationship with their kitchen: do they love cooking and baking or is it more of an entertaining space; what items must be within easy reach, and which items do they prefer to be out of sight? When working with a designer, says Schwadron, "You want someone who really appreciates the importance of functionality and how that plays a key role in everyone's day-to-day." She notes that kitchens, because they are the workhorses of the home, should be more than beautiful finishes, textures and surfaces.
For the Beran project, Schwadron suggested removing a dated, angled island, and repositioning the range to allow for upgrading to a gas range and convection oven. New cabinets were also part of the plan.
"Because we were going to have to reconfigure the kitchen to accommodate the new appliances, it really didn't make financial sense to try and retrofit the existing cabinets, even though they were in great shape," Deb says. "So those cabinets found new life with a young couple renovating an older home. They were custom built by Montgomery Cabinetry in Wirtz, which is the same company we used for the new cabinets."
Once the larger items were placed, "We got to really focus on the details like the dog food drawer, coffee pods storage and an island large enough for the entertainers that the Berans are," Schwadron says. Some of the more clever updates: a "secret" corner cabinet, a cookie pan organizer, a coffee pod storage drawer, and a light that comes on automatically when the pantry door opens. Also handy is a dog feeding station that's hidden when not in use.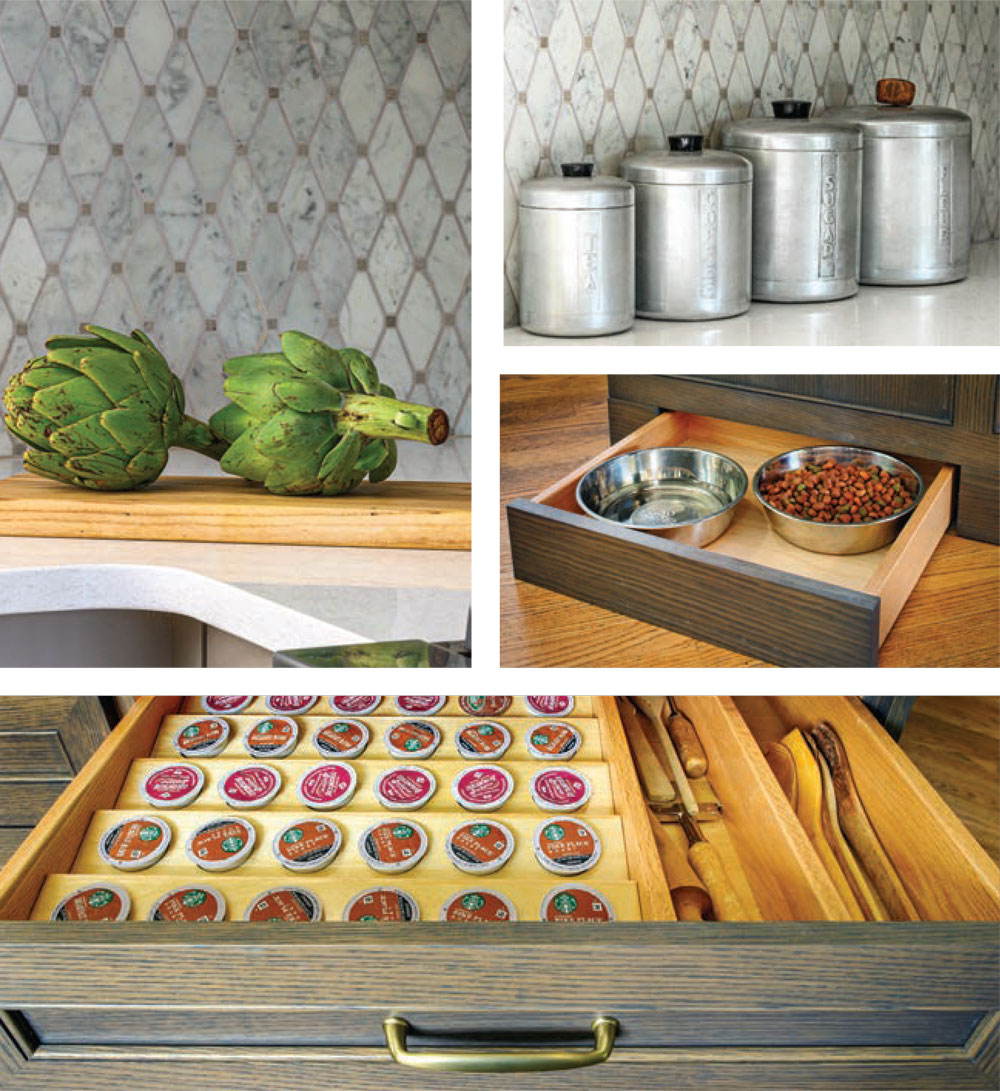 Aesthetically, Schwadron aims to balance colors, patterns and textures. The marble on the island is pretty busy, she says, so the other countertops are calm; some cabinets were left natural wood while others were painted.
The whole process only took a few months; the project was underway before the existing supply chain issues. The pandemic has certainly made remodeling more difficult. "Inventory is bad, shipping times are bad, prices are up because of the first two and contractors are booked until 2030," says Schwadron. "My number-one rule in a kitchen or bathroom remodel where the homeowners are still living is do not start the project until everything is in that you need to order. Even down to the cabinet pulls. Most clients understand this but it takes patience."
One piece of advice Schwadron offers for those contemplating a kitchen makeover: Hire an interior designer or a design/build firm. "Kitchens are expensive; there is no way around that. But it is the best investment in your property you can make. So take the time with it. Plan, plan, plan, then implement. It can't be an overnight surprise makeover like on TV and it be a great kitchen." ✦