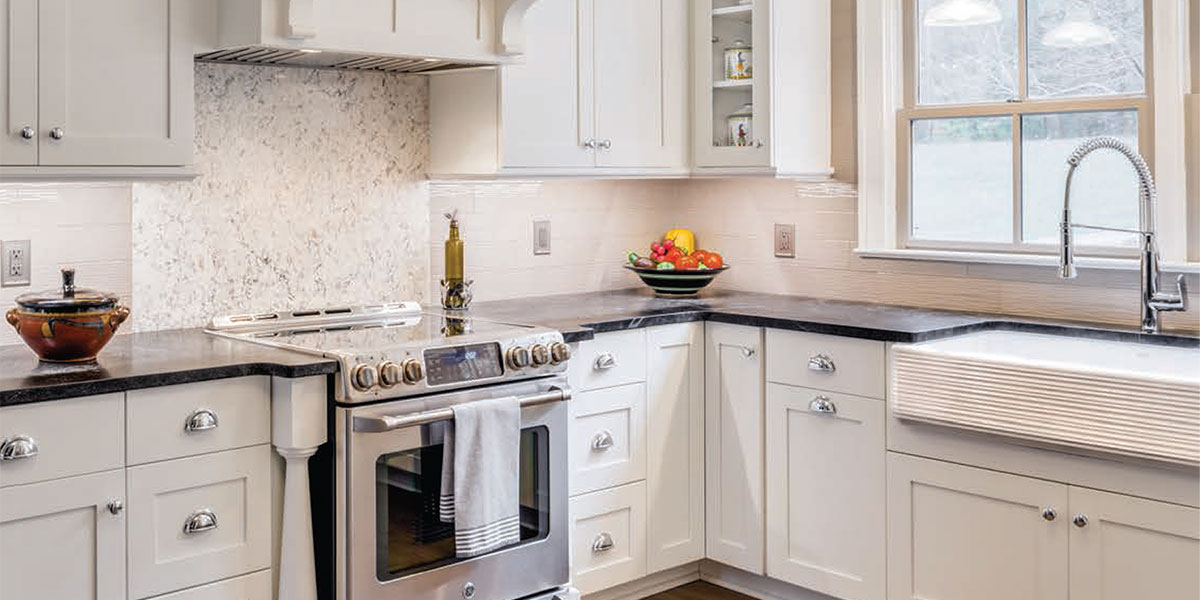 Sometimes the old and familiar is comforting and nostalgic. But sometimes the old is just … old. If your home has begun to feel outdated, and you've put off large-scale renovations due to time or budget concerns, there are still some easy, affordable ways to give it a facelift.
Paint
Everyone knows that painting walls is one of the most practical ways to transform a room. And don't we all love projects with almost immediate results?
But too often we start and stop with the walls when there's so much more you can do with paint. What about the trim? While the go-to white can make darker walls pop and create a crisp border for lighter colors, try painting the baseboards, crown molding or window and door frames in the same color as the walls to make smaller rooms seem larger and have a more cohesive look. Even black trim can form a fashionable border for any color of wall.
Be adventurous and choose a different color paint for your interior doors, stairs or banisters, bathroom vanity, cabinets, shelves or fireplace. Sometimes just repainting a few pieces of furniture can achieve the new look you're going for — an entryway bench, barstools, bookcase or dining room chairs.
Whatever you're painting, if you decide to do it yourself, here's some quick tips. For better blending, do your cut-in on one wall, then roll the paint on the same wall before the cut-in sections dry. Cover your paint bucket or tray with a damp towel when going back and forth between the brush and the roller or taking a quick break so they won't dry out.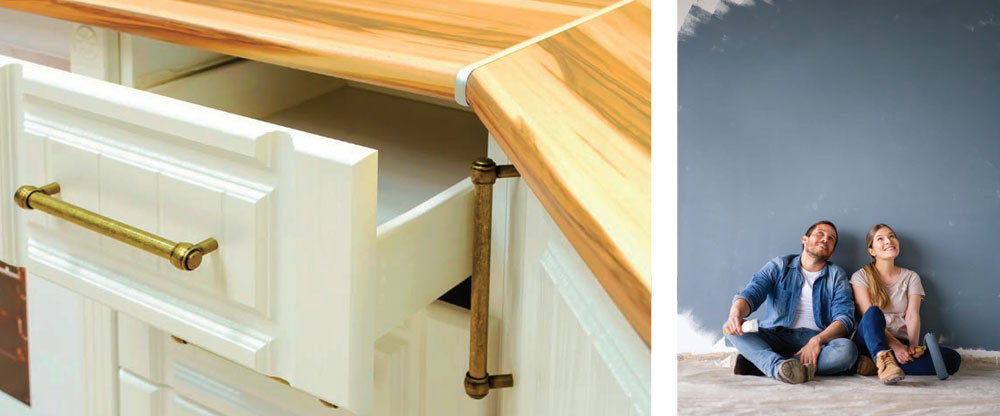 Hardware
One inexpensive way to bring your home design into this century is to replace the hardware: doorknobs, hinges, drawer pulls, switchplates and wallplates. Some of us still have the old gold doorknobs and plain white plastic switchplates but don't think much about updating them. There are more options than ever before, and you can make a big difference in a short time with nothing more than a screwdriver. Brushed nickel and bronze are popular options for doorknobs. Search online and you'll find wallplates in a multitude of creative designs and materials. Copper, stainless steel and stone have come into play, with decorative covers ranging from hundreds of solid hues to vintage floral carvings and natural marble. If you love subtle touches that can go a long way, shopping for new drawer pulls and cabinet handles can be exciting. You can start off small, with a single piece of furniture, or go big by updating the hardware in an entire kitchen.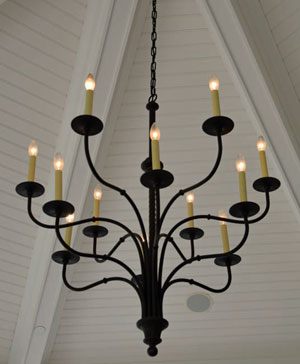 Lighting
It's becoming harder to find plain, standard light fixtures in stores. And that's a good thing. Designers have dug their heels in on stylish fixtures that will, literally and figuratively, light up a room. Consider switching out your old chandeliers, pendants, sconces, ceiling fans, floor lamps and desk lamps for a whole new look. Purchase a few new lamps to provide that pop of color or design note that a drab room has been begging for. Also consider new lighting to accent wall art or even to create a mini spotlight effect for houseplants.
If you don't want to replace your old fixtures, just replace the globes or covers for your pendants and chandeliers (clear glass covers can create a contemporary feel). Even new lampshades will do wonders.
If you're a DIYer who loves to paint, you may not have to toss out that old brass chandelier that's been hanging around for decades. Try using black metallic paint to create a farmhouse or industrial-style look for that real centerpiece of your dining room. (A practical tip from designers for best effect: Choose a chandelier with the diameter in inches that equals the length plus the width of the room in feet. And keep the bottom of the chandelier about 30 inches from your tabletop.)
Don't forget about the light source itself. Experiment with different wattage or fixtures that call for different bulbs. Brighter bulbs that allow for more light to expand further into the room can cause it to feel larger and more open. Installing dimmer switches is another simple enhancement.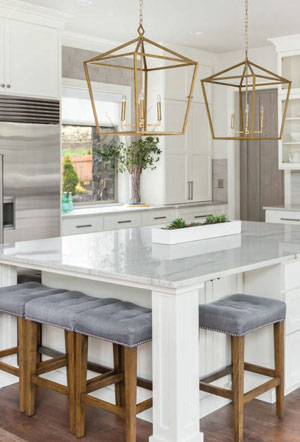 Countertops
If you've had the same counters in your kitchen, bathroom and laundry room for decades, they probably look like they have taken a real beating. Because countertops are often the first feature to be noticed and because they're essential to everyday functions, switching them out can be one of the best home improvement decisions you can make.
Choosing the right material may be the hardest part of the job; you want style and affordability, but you also want durability, especially if you're hosting multiple guests over a long period of time. Quartz has long been the top seller, mainly for its resistance to stains and scratches. Granite comes in a close second. Marble is also near the top, always offering unique patterns that add a sense of elegance. While beautiful, because it is more porous, marble doesn't have much defense against scratches and stains and is best used where you can be mindful of what foods you're preparing on it and how best to clean it.
While the most cost-effective and quickest route may be laminate, it can melt and scratch easily and send you back to square one looking for a better replacement.
Tip: Hire a professional for this job. Making sure you have the right measurements and installing them correctly so they'll withstand all the pressure for years to come is important.
Plumbing fixtures
The best thing about today's faucets, showerheads, and other plumbing fixtures is that you don't have to be or call a plumber to install them. With a wrench and instructions in hand (or YouTube videos), you can replace your own.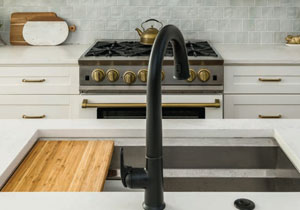 Kitchen faucets are one of the most oft-used features in all of our homes, and manufacturers have come a long way in improving the designs. Many feature a pull-down sprayer, no doubt a handy tool when washing dishes and cleaning out the sink. Most also feature a single handle. There are even "smart" models that feature a motion sensor, touchless design with a color-changing LED water temperature indicator, and touch-activated water flow. The finishes for faucets are also plentiful. People are moving away from the shiny chrome look and choosing a special finish that won't show fingerprints or water spots, like stainless steel, brushed nickel, or oil-rubbed bronze products. Look for faucets featuring PVD (physical vapor deposition), which have been bonded by a strong finish built to resist tarnish, scratches and corrosion for a more durable, longer-lasting product.
Choose faucets that complement the shape and material of the sink, the countertops, lighting fixtures, and cabinet hardware. In a bathroom, keep in mind how the faucet will look with the mirror above it.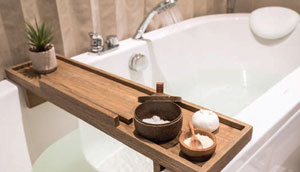 Also consider switching out other bathroom fixtures, even if you need a plumber's assistance. A new sink, toilet or bathtub could help you say goodbye to the dingiest areas, bring some sparkle back to your personal spa, and make a vacation home more of a relaxing retreat.
Easy, quick, affordable. That's the name of the game when it comes to home improvement that doesn't involve a large chunk of your savings and weeks or even months of waiting on the completion of a major renovation. You will be amazed at how some simple touches can make your home more inviting for guests and more enjoyable for you and yours. ✦