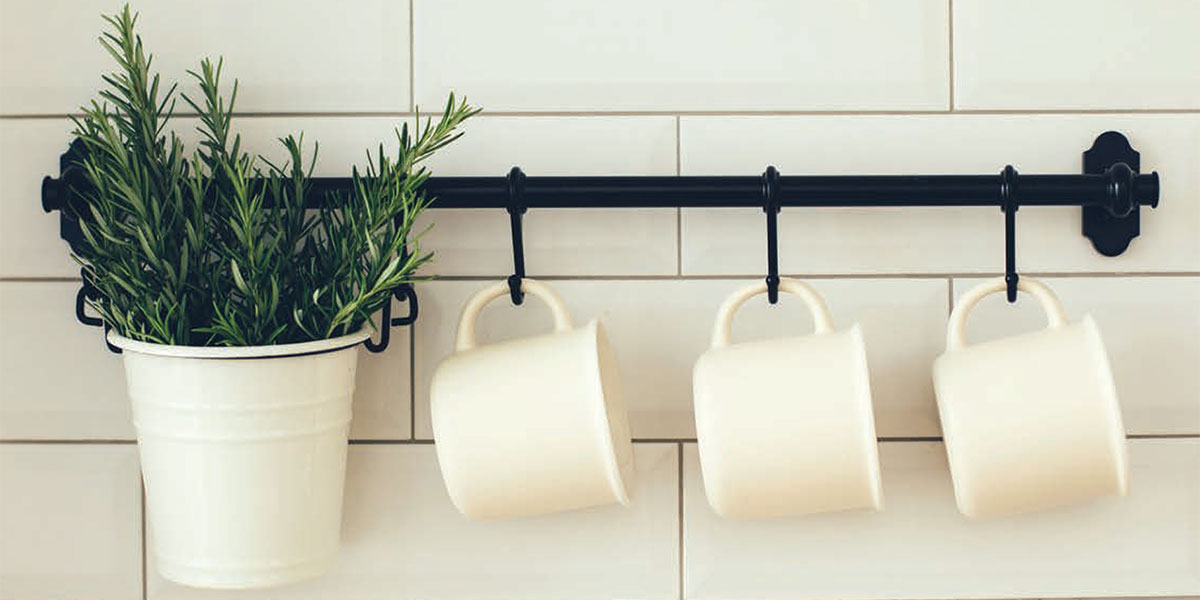 The road to minimalism is paved brick by brick. Want to know one of the secrets to its strong foundation? It all comes down to maximizing storage. For those of us who have fought the war against clutter, there comes a point at which you realize, some things you simply can't get rid of. While more isn't always better, there's a happy medium. To make life run smoothly, we need a certain amount of stuff.
To maximize joy, utility and convenience while minimizing hassle, strategic storage is a must. Before you think that this is the fast track to hoarding, understand that by embracing creative solutions, things are put away, but easily visible and accessible.
Storage as utility
Utility and ambiance occasionally come together in rooms that serve a specific purpose. A garage adorned with pegboards and shelves filled with tools might not be aesthetically beautiful, but a space like this can still offer a certain charm by leaning into the room's intention with a rustic or industrial vibe.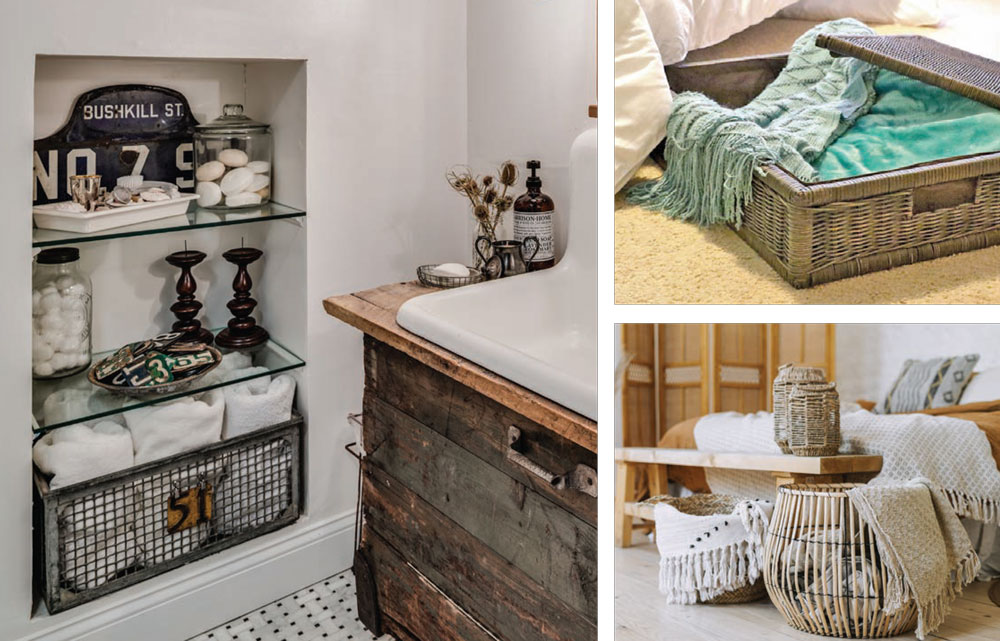 In certain areas of the home, however, workhorse storage can be hidden. When you were a kid, you might have "cleaned your room" by shoving everything under the bed. It's still not too shabby of an idea. To keep things contained, however, use low plastic bins that slide in and out. Under-bed storage drawers come in plastic or laminate or even upholstered with fabric. Some even have wheels. If the space is cramped or low to the ground, try foldable ziplocked bags designed for this purpose. Out-of-season clothes, holiday decor and giftwrap, and photos and keepsakes are ideal to store under the bed—out of sight, but close to mind.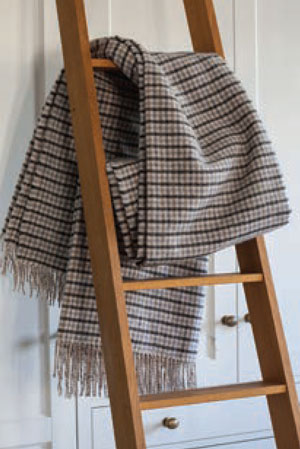 Another storage hack is in making the most of vertical real-estate in pantries, closets, or anywhere with cabinetry. Backs of doors and hanging rods, for example, are terrific for sectioned shoe racks or modular organizers. You can use them for shoes, or assign them the task of holding other small, lightweight accessories like scarves, mittens, sunglasses or hygiene items. Cabinet doors are another easy-to-overlook storage opportunity. Back-of-cabinet storage racks made of plastic or wood are great for cooking utensils, boxes of plastic bags or foil, and cleaning products (assuming they are out of reach of small children and animals). Wooden boards nailed across the cabinet interior with attached hooks can be perfect for hanging lightweight measuring cups.
In the bathroom, PVC pipes attached to the cabinet door can work well to hold heat-based styling irons and tools. A repurposed cake stand or lazy Susan, similarly, can hold small container items like makeup, skincare products and perfumes while taking up minimal counter or cabinet space. The advantage with vertical storage is that you see all categories in front of you with the naked eye, rather than stacking, burying and digging.
Closets, attics and garages can become a hoarder's paradise to the novice packrat. Yet these parts of the house, when used effectively, can become storage treasure troves. Attaching shelving up and down the walls can be a solid strategy for ground-to-ceiling storage without taking up floor space.
Storage as ambiance
Sneaky storage that doubles as decor can enhance the look of a room while concealing objects inside. Many containers double so well as furniture and accessories that you wouldn't even guess their hidden talent for storage.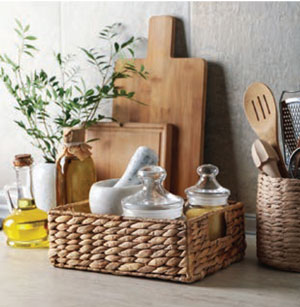 Baskets can weave the visual theme of the room together while serving as a drop zone near the entryway for mail and other important papers. Wicker can pose seamlessly as a kitchen island centerpiece or stow away under a bench for comfort items like blankets, throws and pillows. Baskets are a classic and flexible choice that fit a variety of decorative styles, from boho to farmhouse to granny chic.
An ottoman in the living room that opens and closes can serve a similar purpose of hiding away comfort items when they're not in use. On that same note, the cuteness of a kid's room is only enhanced by colorful fabric foldable cubes or wooden boxes with textured rope. These lend practicality for quick clean ups of toys, clothes and books.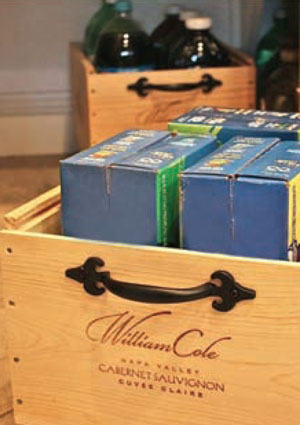 For bibliophiles and magazine connoisseurs, bookshelves are just the start. Consider draping magazines and books over the rungs of an upcycled wooden ladder. If you're in a vintage DIY kind of mood, snag an old wooden crate and attach wheels to the bottom for a portable magazine rack. If you'd rather not fuss with DIY, enlist a decorative magazine file made of brass or wood, or beautified with a custom finish. Rest it on top of a desk or bookshelf, or squeeze it between your bed and nightstand for easy access to bedtime reading. A slim profile makes the magazine file a versatile choice.
Storage can also be simple and straightforward. Sometimes a box is a box. Stackable storage bins and clear canisters pressed with pretty labels have grown increasingly popular, thanks to the HGTV era, Pinterest, and shows like "The Home Edit." These containers are perfect for cereal, dry fruit, nuts, rice, flour, sugar, and the like, as well as craft and stationery items. The decorative flair can really warm up an otherwise plain pantry or storage nook.
Brightly hued decorative boxes on bookshelves or dressers allow you to infuse the room with all kinds of accent colors and emotional undertones. Such boxes, purchased inexpensively at craft stores, conceal small miscellaneous items and doodads that have no other home, but are used often enough to remain within arm's reach.
Storing doesn't have to be boring! Give it your own creative oomph and enjoy the clutter-free life in which more storage means less mess. ✦