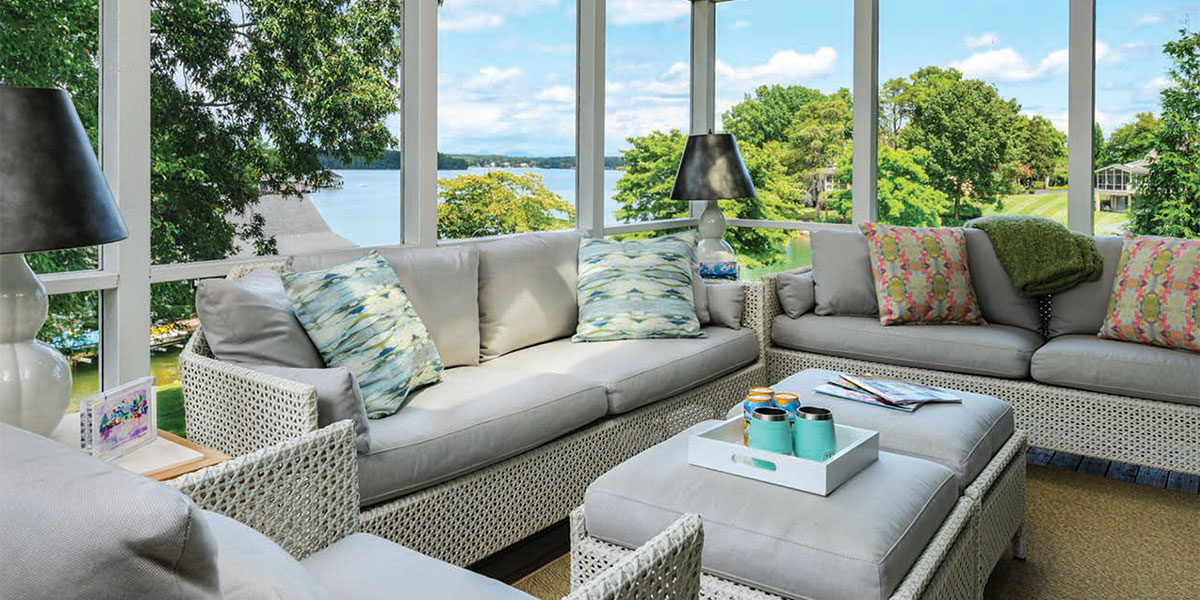 You return to your relaxing retreat at the lake, only to be met with pollen, bugs, and that hot, unrelenting sun. You refuse to spend another day or night inside, but you're not sure what to do. The answer to those pesky problems is a screened porch or other outdoor area. Screens provide shade, keep out pests, and shield you from rain, all while allowing sunlight and soft breezes to filter through. Imagine watching the sunset, enjoying the sounds of the evening, or having a meal outside, all while protected from the elements. Your outdoor furniture will also be protected, and pets can stay cool on hot days without the worry of them running off.
Another benefit is the value added to your home. According to HomeAdvisor.com, the average cost to screen a 200-square foot porch is between $2,000 and $2,800. Experts say you should expect as much as an 84 percent return on your investment.
Details and designs
There are several options for porch screening, all of which come in a standard mesh size of 18×14 (referring to the number of strands per square inch), which keeps out most bugs. You'll have to upgrade to a 20×20 mesh if you want to ensure zero bugs.
The most popular choice for screening material today is fiberglass, due to its affordability. Fiberglass is the least expensive choice; it's easy to work with because of its flexibility and it won't crease like other materials. It comes in a variety of colors and is very effective at reducing glare, thus providing great visibility. However, it can stretch and tear easily, and may not be suited for high-traffic areas.
A more durable option is aluminum. It offers good visibility, but glare can be a problem unless you choose a dark color like black or charcoal. Aluminum will hold up well against UV rays and resist corrosion. It's more expensive than fiberglass but also more rigid, which makes it last longer. However, the rigidity makes it harder to install and more prone to dents and creases.
Vinyl-coated polyester screens are a great choice if your porch is going to get a lot of use, especially from small children and pets. Increased strength and durability allows it to outlast both fiberglass and aluminum. It's known for sun control which makes it a favored choice for hot climates. It also comes in a variety of colors, but is the most expensive choice of the three screens.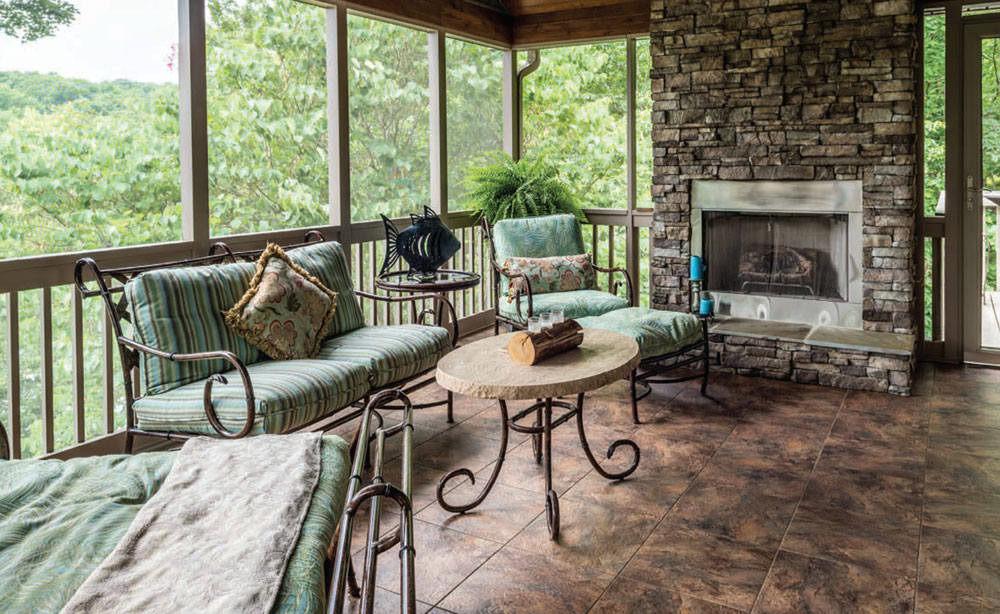 Once you have picked out the type of screen that will best meet your needs, the fun begins. There are many designs to choose from when framing out your porch, from a simple configuration that won't obstruct your view, to detailed designs that can dress up the lower half of the porch screens. From classic straight balusters and spindles to Chippendale, Southern cross or cathedral patterns, there is a look that will match any style of home and porch.
Hire a professional
A professional contractor will be able to assist you with your screened porch project, but there are a few things to keep in mind before hiring someone. Always make sure they are licensed and insured, and ask for photographs of recent work. A new porch should blend well with the house and not look like an obvious addition. Hire a contractor who knows how to join the new porch roof with your existing roof. This can be a complicated part of the project and difficult if the contractor is not experienced. Ask for and follow up with any references they provide. Permits are a must when adding on to your home. Verify that all permits are in order before work begins. Make sure your contractor works from a detailed plan, and get an estimate for everything, including electrical work. A qualified electrician should either be on staff or hired for the project. Lastly, sign a contract for the work that will be done and the final cost.
Do it yourself
If you aren't ready to undergo a major construction project, there are other options. The garage is a place that can easily be converted into a man cave, a ladies' retreat, a place to host parties, a theater, or a hangout room for the whole family with the addition of screens. There are four main types that will allow you to do this. The most economical way is to install a roll-up screen. A roll-up screen attaches to the header of your garage door and hangs down to cover the opening. It's weighted at the bottom and has a magnetic closure in the middle. It is easily rolled up when not in use.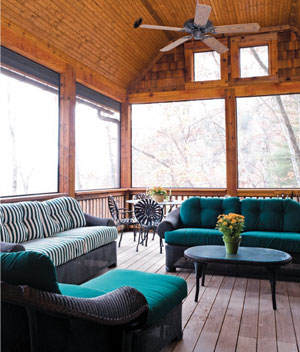 The next two options are similar in that they are both retractable—one is motorized and one is manual. The screen is installed at the top of the garage door frame with a track on both sides to guide the screen up and down. The manual screen has a chain which allows you to lower and lift the screen, while a motorized screen has a remote that controls the screen. A motorized retractable screen is beneficial for larger garage doors due to the size and weight of the screen needed to cover the opening. Both of these screen types, both roll-up and retractable, are not limited to the garage. They are also available for many different doors and porch sizes.
The last option is a sliding screen for your garage doors. The sliding screens are attached to tracks on the header of the garage doors and on the floor of the garage. They slide from side to side in order to open and close. This is extremely beneficial if you have a lot of traffic in and out of the garage.
Whether you are adding a screened-in porch or enclosing your garage, the end goal is the same. You'll create additional space, add value to your home and enjoy more outdoor time with friends and family. ✦