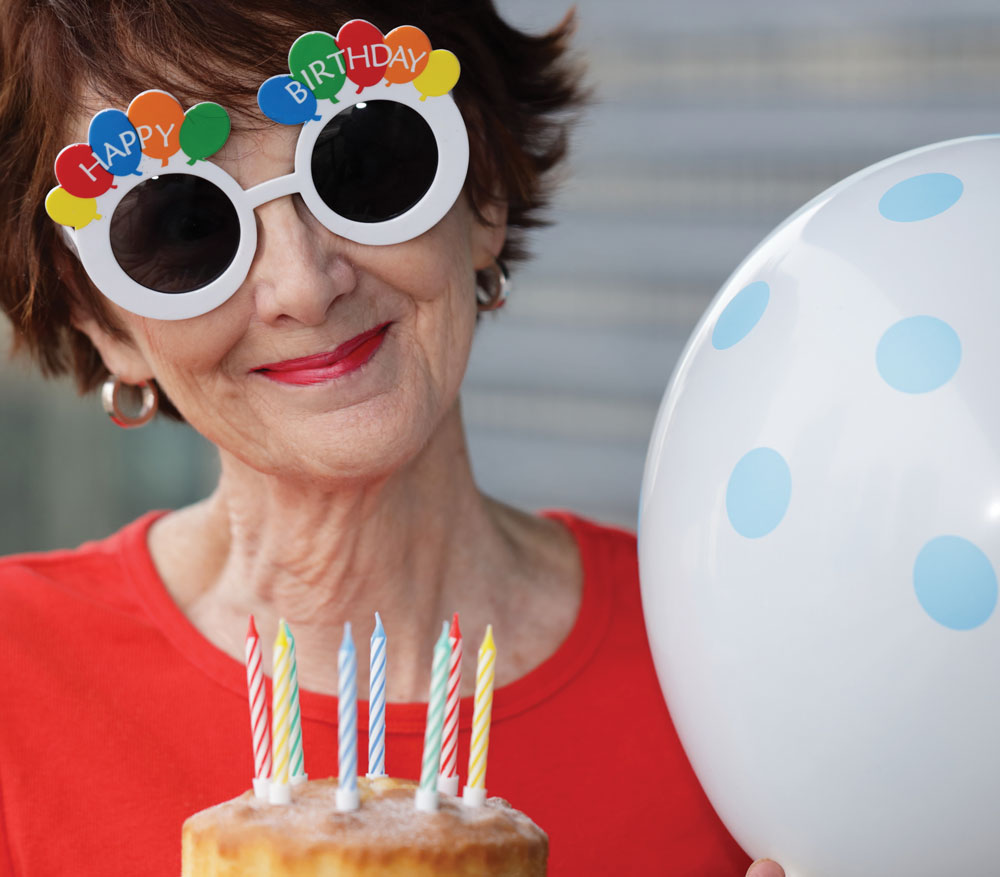 While every birthday should be celebrated, it's the big milestones—one, 16, 21 and basically any birthday with a zero at the end—that we hope to make especially memorable. Whether you're planning a celebration for yourself or someone else, we've put together some ideas that are sure to make it one to remember for years to come.
Personalize the party
A house on the lake is the perfect location to throw an epic shindig. The beautiful views alone provide natural decor, which means you may not have to go crazy with a lot of party decorations. However, balloons feel like a must for any party. If using helium balloons, stake them to the ground with golf tees, lining the driveway or throughout your yard. Make your own balloon garland or arch using balloon strip tape (found at most party supply stores and on Amazon), removable adhesive hooks and latex balloons. A balloon wall can be another, easier option and can also serve as a great backdrop for photos; just place a removeable glue dot on the side of each balloon and arrange however you like. The jumbo number balloons displaying the honoree's age are always a hit as well. Other simple decor ideas include flowers, streamers, natural garland and framed or enlarged photos of the guest of honor.
Speaking of the guest of honor, consider ways to really personalize the party. Organize pictures of the honoree and construct them into the numeric shape of the age they are turning. Imagine walking into a room and seeing 50 years' worth of your favorite moments displayed on a wall as a focal point for your celebration. Photos can also be strung with clothespins on twine or string lights, hung from the ceiling with ribbon, or even made into confetti that can be sprinkled atop tables and countertops. A current trend among parents is to create a personalized "favorite things" chalkboard for baby's first birthday, highlighting things such as favorite food, word, toys and the like—but why not create one for any age? It's probably more interesting to learn about an 80-year-old's likes, hobbies and favorite pastimes. You could even create a large poster mimicking the front page of a newspaper featuring a photo of the honoree and items like interesting facts about the year they were born, what the top headlines were, who the president was, and prices of various items such as gas, milk, movie tickets or a car. Rather than say "80 years old," opt for "80 years young." The honoree could then take this home as a cherished keepsake.

If turning 30, 40 or even 50, reminisce back to those younger years. What were some of your favorite things to do with your best friends? Recreate the magic you felt then and take a group of friends ice skating, roller blading or bowling. Dress in styles from the 60s, 70s or 80s to really go back in time. Or, stay in and have a good old-fashioned slumber party complete with manis, pedis and movies from earlier decades.
At-home spreads
A crowd pleaser for any age (21 or older, of course) is an at-home wine or whiskey tasting. Rather than a gift, ask guests to bring a bottle of their favorite wine or spirit to share. Be sure to provide food as well! Again, the simplest things can be the best. Is the birthday honoree a pizza lover? Find a good, clear photo of their face, make copies, cut out their face, order pizzas, and place their face on the front of the box: simple, yet hilarious. You could even go so far as to have guests wear white, chef hats and faux mustaches. Maybe the birthday queen or king is obsessed with tacos. Setting up a taco bar is both easy and inexpensive, and can feed many people. Or, dedicate an entire table to a huge spread of nachos for guests to nibble on. Start with covering the table with foil. Next, add tortilla chips, meat of choice, cheese, and any other toppings you want. You could also leave the fixings separated in bowls and scatter the chips, meat, and cheese around that so guests can add as many or as little toppings as they prefer.
And don't forget about cake: One is never too old, or young, to indulge in cake on their birthday. Be sure to find out what the honoree's favorite flavor of cake is and add a fun, festive topper. Etsy has some incredibly cute and unique cake toppers featuring mini balloons, glittery digits, and sayings such as "Made in 1971" or "Thirty Fine." Also on trend: Rather than cutting a cake into slices, give each guest a glass, and have them scoop a piece of cake using the glass and eating directly out of it—no knife or plates needed!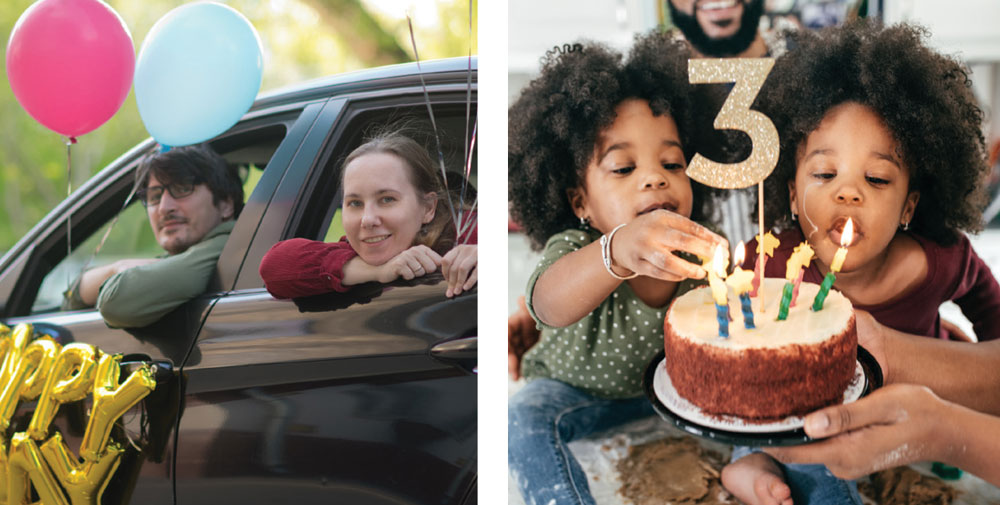 Celebrating at a distance
Don't miss out on a milestone if you are practicing social distancing. Throwing a birthday parade is a great way to have an epic celebration if gatherings still make you uncomfortable. Send invites to friends and family members letting them know of a day and timeframe to drive by and honk, send well wishes or even drop a gift. Create a larger-than-life personalized yard sign for the honoree that lets the whole world know there's a milestone birthday to celebrate. There are even companies in the area that make these and will come set them up for you. (Check out Card My Yard Lynchburg or Sign Gypsies Roanoke for some fun inspiration.) Set up a canopy tent in your driveway and put out some tables filled with treats and to-go bags that your drive-by guests can easily take with them. Put together a video tribute from those who are unable to attend. Ask friends and family members to send a short clip of themselves wishing the celebrant a happy birthday and put the videos together using a free app on your phone or one of several online websites, such as Tribute, that make it super easy. A sweet collection of personal messages from one's family and friends is the ultimate gift that will last a lifetime.
No matter the age, there are many simple yet memorable ways to have a birthday celebration that will be talked about for years to come. ✦