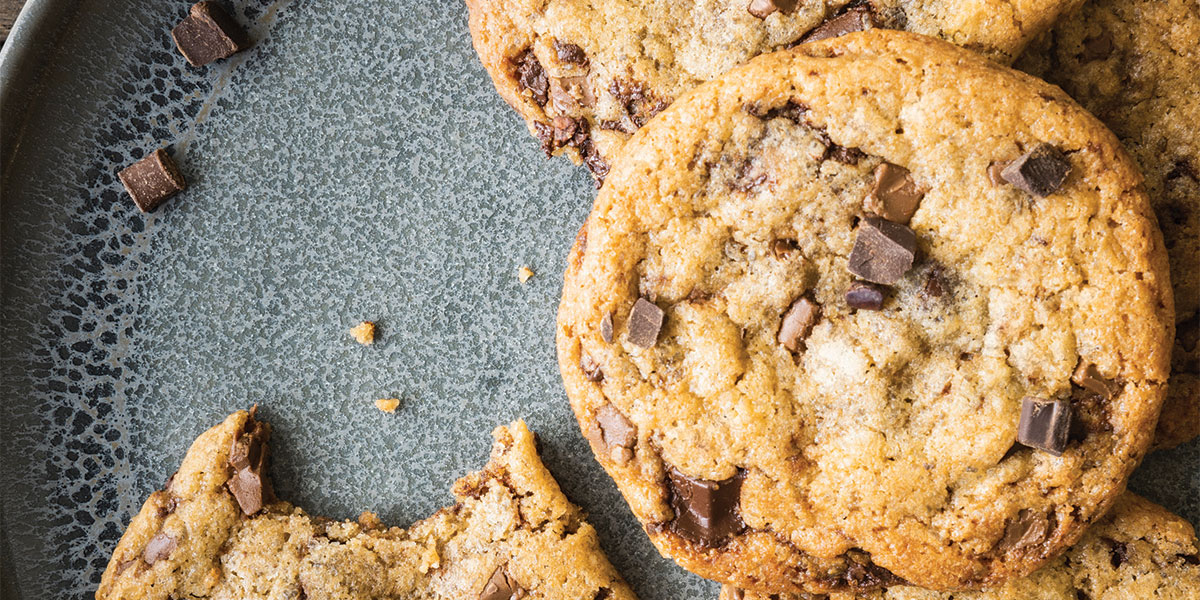 When you have a lake house, it seems you always have a crowd waiting to be fed! These recipes are not only crowd pleasers, but are easy to make ahead and clean up is a breeze. Serve for lunch or even a casual supper, leaving you free to enjoy beautiful days at the lake with friends and family.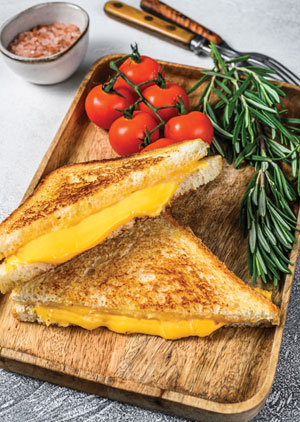 SHEET PAN GRILLED CHEESE
(Serves 4, easily doubled or tripled)
Two baking sheets and a hot oven create a giant panini press, which makes grilled cheese for a crowd super easy and quick. If you are doubling or tripling the recipe, you need two baking sheets per batch of sandwiches. You can use two or three racks in one oven, and preheat two baking sheets stacked on one oven rack.
The type of bread and cheese you use is entirely up to you. You can make basic white bread and American cheese sandwiches for young children. Add gourmet touches by providing ingredients like fancy cheeses and meats, roasted vegetables or thinly sliced apples, pears or peaches, layered in when you add the cheese. Spreads also add a unique touch. I especially like to add hot and sweet mustard or orange marmalade. Set out all the ingredients and allow your guests to make their own. When the baking sheet is full, pop it in the oven and let the magic happen!
1/2 cup butter
1/3 cup shredded Parmesan cheese
8 (3/4 ounce) slices American cheese
1 cup (4 ounces) shredded mild cheddar cheese
1/4 cup garlic and herb cheese spread
8 slices bakery sandwich bread (sourdough is my favorite)
Position two 15 x 10 x 1-inch baking sheets on a rack in the middle of the oven and preheat to 450 degrees.
Combine butter and Parmesan in a small bowl. Spread one side of each slice of bread evenly with about 1 tablespoon butter mixture.
Once oven and pans are up to temperature, using oven mitts, carefully remove a preheated baking sheet from the oven and place 4 slices of bread, butter-side down, onto the hot baking pan (the bread should sizzle!). Top each with 2 slices American cheese and 1/4 cup shredded cheddar.
Spread the non-buttered side of the remaining slices of bread with 1 tablespoon garlic and herb cheese spread. Place bread on top of the cheese, cheese spread-side down. Remove the other hot pan from the oven and place it on top of the sandwiches. Using oven mitts and holding both baking sheets together, return to oven. Bake until bread is browned and cheese is melted, about 15 minutes.
Carefully remove baking sheets from the oven and transfer sandwiches to a cutting board. Cut into pieces and serve.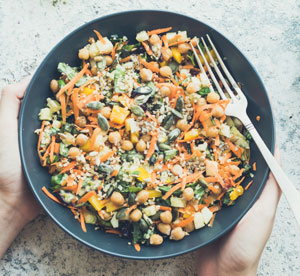 WHOLE FOODS COPY-CAT LAYERED SALAD WITH OIL-FREE ORANGE GINGER DRESSING
(Serves 4, easily doubled or tripled)
This salad made the rounds on Pinterest several years ago since it mimics a popular salad sold by Whole Foods. The colors are beautiful and the ingredients are uber-healthy. It is also perfect for entertaining or serving a crowd because you can prepare it in advance and the flavors improve with time. Add grilled chicken or shrimp for a one-dish meal. It keeps in the refrigerator for 5-6 days.
FOR THE SALAD
1 cup uncooked quinoa
1 cup uncooked rice (I prefer basmati, but any rice will do)
1/2 cup finely chopped fresh parsley
1 1/2 cup diced green pepper (1 large)
1 cup shelled edamame
1 cup diced carrots (about 2)
1 1/2 cups diced red pepper (1 large)
FOR THE DRESSING
1/4 teaspoon salt
1 tablespoon fresh lime juice
1 tablespoon fresh minced ginger
1 tablespoon apple cider vinegar
1/3 cup apple juice
2/3 cup pure orange juice (fresh squeezed is recommended)
In a medium-sized pot, add quinoa and 1 1/2 cups water. Bring to a boil, reduce heat to low, cover, and simmer until fluffy, about 15 to 20 minutes, watching closely so it doesn't burn. Do the same for the rice, but follow the directions on the package for the amount of water and cook time, as different kinds of rice have different cooking directions.
While the grains cook, chop the vegetables and parsley. In a bowl or jar, whisk together the dressing ingredients and set aside. When all the ingredients are prepared, you can assemble individual layered salads, or layer it in a big glass bowl, or just mix them all in a large bowl along with the dressing.
If you are making individual layered salads in plastic cups or mason jars, add in this order: 1/2 cup rice, 1/4 cup green pepper, 1/4 cup red pepper, 1/2 cup quinoa, 1/4 cup carrots, 2 tablespoons parsley, and 1/4 cup edamame per individual container. Pour 1/4 cup salad dressing on top. Screw a lid onto each jar, or cover cups with cling wrap or foil, and store in the refrigerator until ready to serve.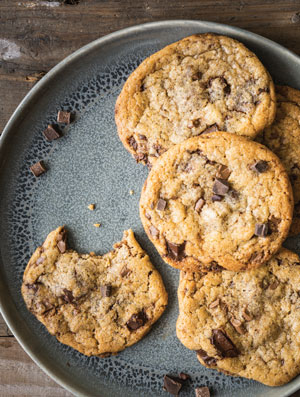 BAKERY-STYLE CHOCOLATE CHIP COOKIES
(Makes 2 dozen)
Being a chocolate chip cookie fanatic, I have tried dozens of different recipes. These are by far my favorite! Thick and chewy but with a little crunch on the top and bottom, they are reminiscent of the best bakery cookies I've ever had. Cookies make a great dessert on the dock because all you need is a napkin—no dessert dishes to wash.
1 cup cold butter, cut into small cubes
1 cup packed brown sugar
1/2 cup granulated sugar
2 eggs
1 tablespoon pure vanilla
1 1/2 cups cake flour
1 1/2 cups flour
3/4 teaspoon salt
3/4 teaspoon baking soda
1 teaspoon cornstarch
2 cups chopped pecans (or walnuts or macadamia nuts)
2 cups chocolate chips (I use 1 cup milk chocolate and 1 cup bittersweet chocolate)
Preheat oven to 410 degrees.
Chop pecans, place on a baking sheet, and toast in the oven for about five minutes. Watch carefully as nuts burn easily. You can tell they are toasted when they smell nutty and look golden brown. Set aside to cool.
In a large mixing bowl, cream together the cold cubed butter, brown sugar and granulated sugar for at least four minutes. Stop mixer after two minutes and scrape down the sides of the bowl. Continue mixing for two more minutes. The mixture should be very fluffy. Add eggs, one at a time, mixing well after each one. Add vanilla and mix well. Stir in flours, cornstarch, baking soda and salt. Mix until just combined to avoid overmixing. Stir in chocolate chips and toasted pecans.
Scoop dough into a 1/4 cup measuring cup. (It helps to spray the measuring cup with a little vegetable oil spray, such as Pam.) Place mounds of dough on the baking sheet a few inches apart. Do not flatten. You should be able to scoop out about 24 cookies.
Bake for 5 minutes. Rotate baking sheet front to back and bake for 5 more minutes. Remove from oven and allow them to rest for at least 10 minutes to set. Cool completely on a cooling rack. Store in an air-tight container.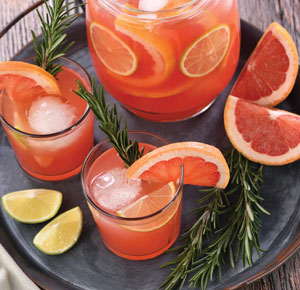 BIG BATCH PALOMA COCKTAILS
(Serves 16)
This is a refreshing drink for a warm day or evening on the dock. Making a batch ahead of time means guests can serve themselves.
4 cups Blanco tequila
4 cups grapefruit juice
1 cup freshly squeezed lime juice
1/2 cup simple syrup
Club soda
Coarse kosher salt
2 grapefruits
In a large pitcher (at least a gallon) combine the tequila, grapefruit juice, lime juice and simple syrup. Stir to combine, then place the pitcher in the fridge overnight to chill. When you're ready to serve, add a few handfuls of ice and top with 3 to 4 cups club soda, or set club soda to the side for guests to top off their drinks themselves.
You can also rim glasses with salt before you fill them. This is not necessary, but highly recommended! Pour some coarse salt in a saucer. Slice grapefruits in half and then slice the halves into ½-inch slices. Run a slice of grapefruit around the rim and then dip the glass in the saucer of salt. Garnish drinks with a slice of fresh grapefruit. ✦