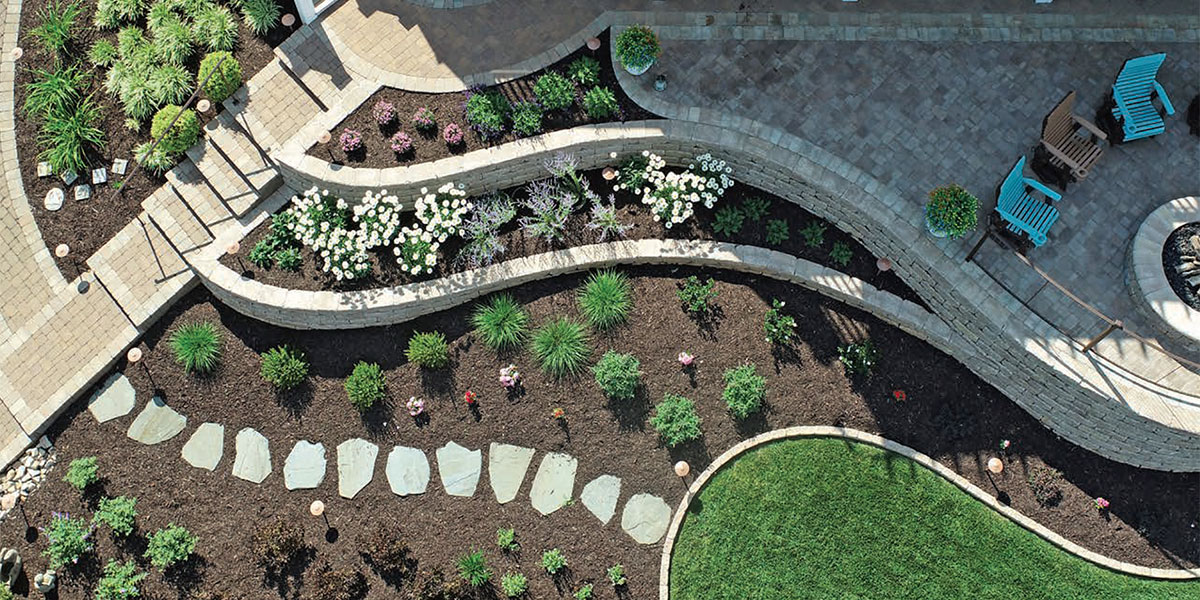 Smith Mountain Lake is known for its stunning vistas, calm waters, beautiful sunsets—and what can in places be a steep lakefront terrain. A slope to the water can make it seem impossible to enjoy the land between your home and the water's edge, but with the addition of a landscaping plan utilizing hardscapes, the land can be transformed into something beautiful, and usable.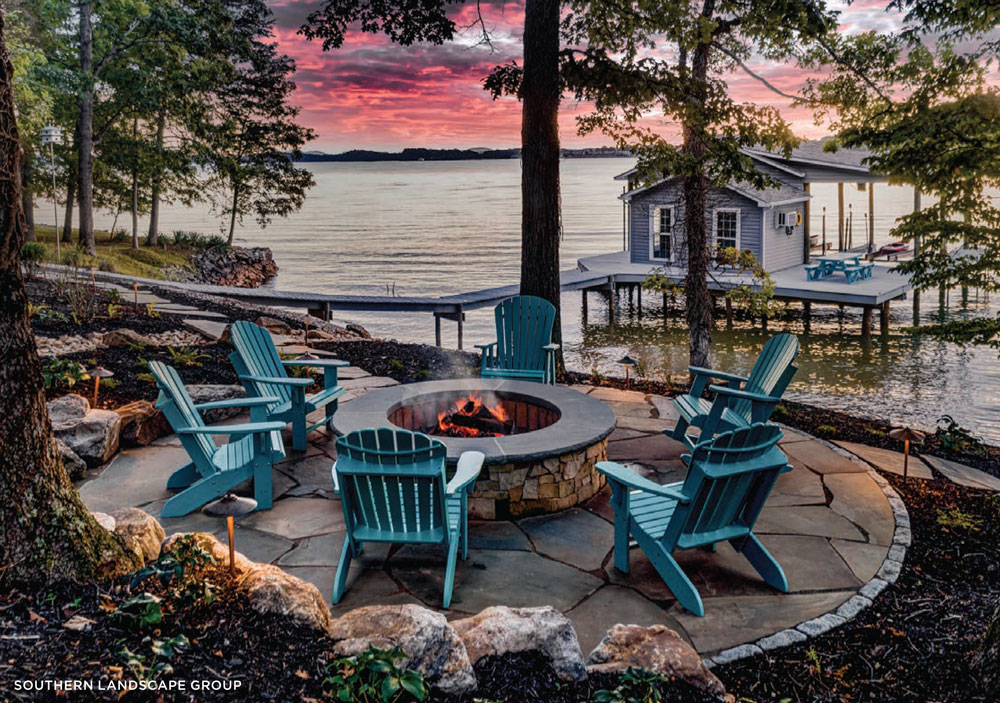 Lake homes here have been built on gently sloping lots, steep and rocky lots, and everything in between. Gently sloping lots may present less challenges to creating recreational spaces between the house and lake, while homes perched on the steepest lots make use of retaining walls necessary to carve out plots of land for walkways and patios. Experts say that no matter what your lot looks like in its raw state, there are methods that can be employed to make it function well.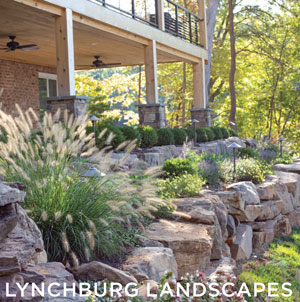 Scott MacLeod, owner of Lynchburg Landscapes, says that a combination of techniques can turn what many homeowners think of as unusable land into usable land. "A mixture of hardscaping and grading can dramatically change the usability of a significantly sloped property," he says. That hardscaping may include carving a flat spot into a hillside and securing it via a retaining wall, allowing a patio to be laid for grilling, outdoor eating or sun worshipping. Retaining walls and grading can be utilized for walkways as well, many of which can be wide enough to accommodate a golf cart for effortlessly shuttling essentials down to the dock.
Hardscaping includes any decorative or practical structure in a landscape, from patios to retaining walls, to fences and benches. Hardscape provides definition and purpose, while softscaping (plants and trees) blends the hardscaping into the surroundings and lends natural beauty.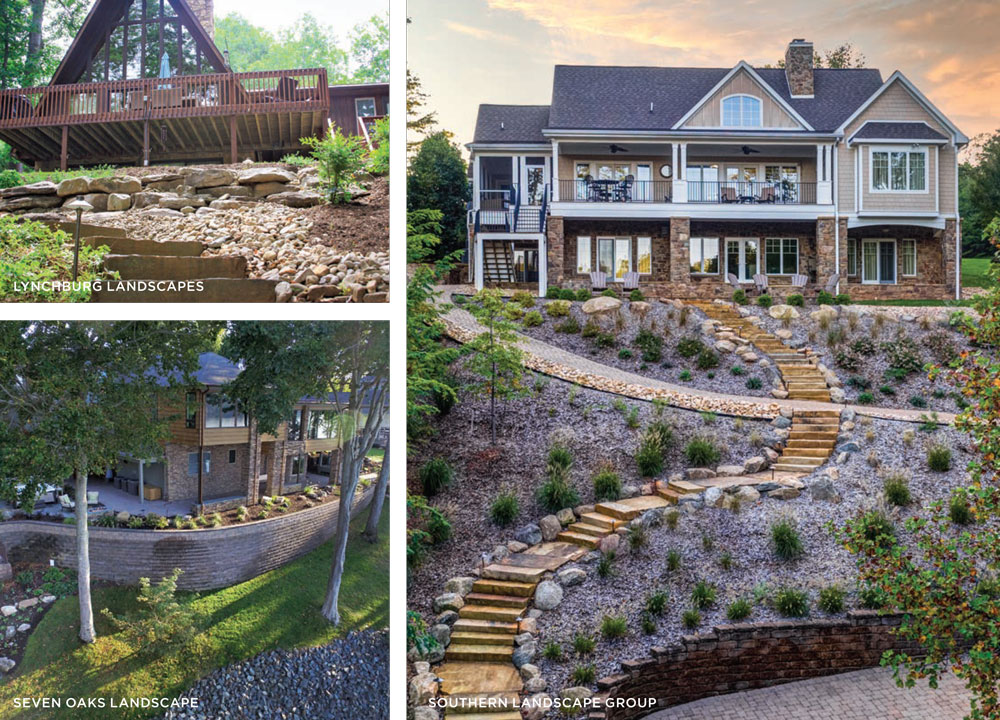 Inspiration and options
If you search for landscape projects on the internet, you'll find a plethora of photos with different options, materials and prices, but the wealth of choices can be overwhelming. First, grab a notebook or pull up a blank document on your computer and brainstorm. When you look out at your property, what would you like to see? What would you like to do? If you envision roasting marshmallows with your grandkids at the firepit after a day of tubing, make note of it. If you want to entertain a small family or a big crowd, make note of that, too. Brad Austin of Seven Oaks Landscape, who frequently installs hardscaping on Smith Mountain Lake properties, says that some forethought by the client increases the chance of being thrilled with the final result.
"If someone has us build a patio that can only fit six people, but the majority of entertaining they do is for a crowd, they won't be thrilled with the final result no matter how nicely it's done," Austin says. "Giving a lot of thought to how you use your property and entertain, or will in the future, is important."

When looking at sample photos of projects, figure out if you are attracted to a modern, natural or traditional look. A modern look might have large concrete squares with grass or pea gravel in between, forming a patio. A traditional look may use concrete pavers, and incorporate lots of curves in retaining walls. A natural look may use more boulders and natural stone in a muted palette that blends into nature, instead of contrasting with it.
While you think about the style of the hardscaping and landscaping you want, you should also consider the style of your home. A very modern outdoor treatment on a very traditional house can look jarring, and vice versa. As to what clients are looking for, MacLeod says, "Pavers are a standard request; however, we tend to have a growing number of requests for more natural stone solutions."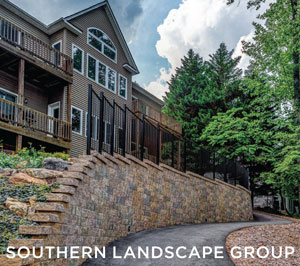 Pavers are often made of brick or concrete. They come in hundreds of different colors, styles, textures and shapes. For pavers to look good and perform well in a permanent installation setting, the ground/dirt floor must be excavated, leveled, and hard compacted; this is also true for natural stone. Pavers can also be used as the exterior material of a firepit, which Mark Maslow, president of Southern Landscape Group, says is a top request of homeowners at the lake. However, he cautions to keep fire pits out of "no man's land" in the middle of the yard. "We like to keep fire pit patios either closer to the lake or dock, or closer to the house," he says. "We try to avoid the middle of the yard which does not get used often." Consider this nugget of advice when you are brainstorming about your ideal yard set up.
Natural stone and boulders create a more organic look, and their increasing popularity dovetails nicely with the current challenges of pandemic-related supply chain issues in securing materials. "We still have been able to procure various types of natural stone from regional quarries, which has allowed work to continue without delay," notes Maslow. Some natural stone options are river rock, flagstone and fieldstone. For the environmentalist, utilizing natural stone that is quarried locally is also an eco-conscious choice, as the stone doesn't have to be shipped from overseas, saving the cost of fossil fuel.
If you can identify what you want to do outdoors, how many people you want to accommodate, and what your style is, you'll be well prepared for consultations with landscaping companies.
Permits and challenges
Hardscaping at the lake is not a DIY project, and the reason is that the steep hillsides create drainage issues that must be carefully planned out and addressed. Additionally, permits and codes must be strictly adhered to, or you risk having to tear out what doesn't meet code.
"In the three counties surrounding Smith Mountain Lake, most require permits for any wall over 4 feet tall, and detailed engineered plans for walls 6 feet tall and greater," says Maslow. He notes that his firm often uses meandering pathways to the shoreline and natural boulders to minimize the use of walls, when possible, as they can quickly drain the budget.
While retaining walls can sometimes look stark alone, they can be softened with softscaping (plants, trees and flowers) to blend in more naturally with the surroundings. A combination of hardscaping and complementary softscaping, says McLeod, helps stabilize erosion on hillsides and can make previously hard-to-mow land low maintenance.
As for water, you want to enjoy it in the lake, not have it ruin a newly installed patio. And it will, if drainage is not considered. "We look at where the water is running already on the property, and how a potential design is going to change that water flow," says Austin, who notes that erosion can be dealt with via pipes installed in the ground, and grading. "You can create some areas in the lawn where you direct the water, so it's away from a patio or walkway and you don't have mulch and debris washing on it every time it rains."

In addition to retaining walls, patios and walkways, many homeowners request stone steps to the lake, providing access for people and pets to get into the water without launching from a dock. These stone steps go through the riprap, which are large, irregular-shaped rocks fit into place, without mortar, to manage erosion at the shoreline. "This requires very specific planning and execution to work within AEP's (American Electric Power, who owns the shoreline) guidelines for riprap and shoreline stabilization," says Maslow.
Because of the challenges that lakefront terrain presents, you should interview landscaping companies and ask to talk to previous clients who've worked with them on similar projects as the one you're considering. An experienced company will guide you through the design process, ensuring your final result is a yard you will fully enjoy. ✦