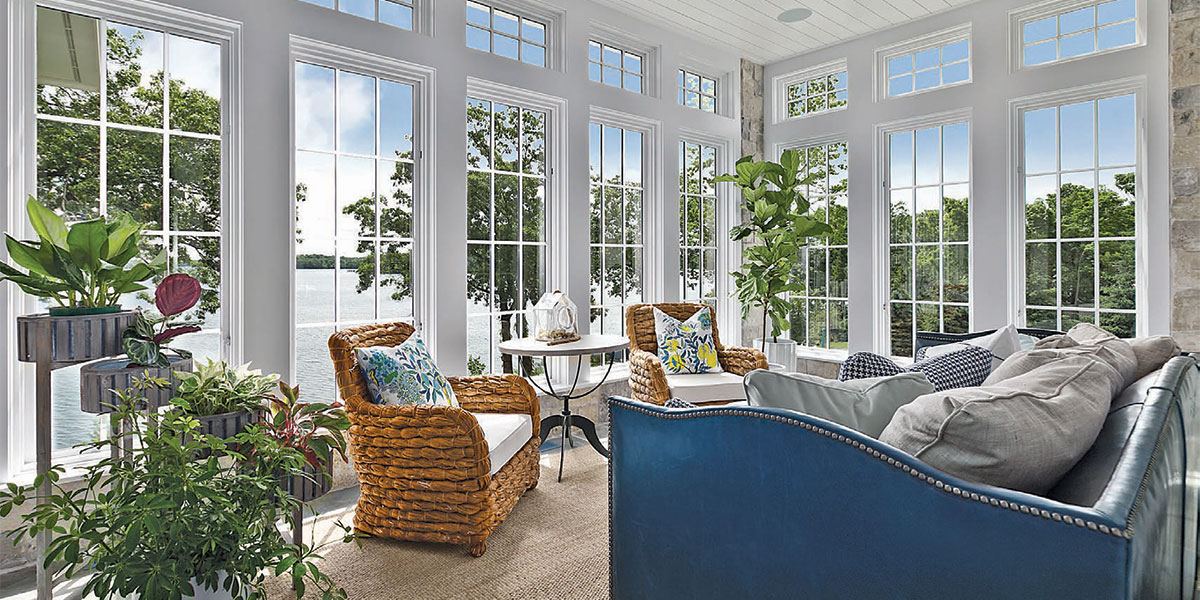 Smith Mountain Lake is a destination: 20,600 acres of sun, sports and shopping. Whether you're a permanent resident, own a vacation home, or you're earning a second income from a rental property, one thing is guaranteed: There will always be visitors.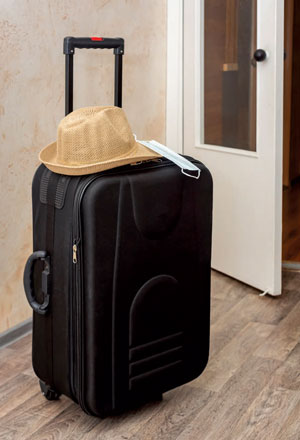 But how do you make sure your home is designed for bustling weekends with friends and family, while seamlessly accommodating quieter moments without company? Even the most seasoned of hosts can admit that such transitions can be a challenge to navigate.
However, there are time-tested tricks that homeowners keep up their sleeves to make hosting just a little bit easier—from choosing versatile furnishings to creating the ideal flow to foster comfort and conversation.
Go with the flow
A mantra for any host should always be "go with the flow." You never know when a spill might happen, more guests than planned show up, or you have to accommodate a food allergy you weren't aware of.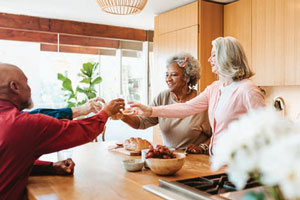 In addition to mentally going with the flow, however, consider how your home itself flows. Think about all of the places you naturally congregate when you're a guest in someone's home. The kitchen island, outdoor spaces, living rooms and fireplaces are all natural gathering spots, which makes sense—they are where warmth, food and community can always be found.
Whether you're designing a new home from scratch or simply redesigning your current interior, pay special attention to these key focus points in your home. Consider the access points to each location. For example, are your kitchen and living room connected by a hallway? Warm and inviting lighting that guides your guests between rooms is beneficial. Is there visibility into the outdoor space so guests know they can congregate there? A simple door replacement to include a glass sliding door or a glass storm door would be helpful. Not only would it give guests a clear shot of your outdoor area, but it will bring in more natural light. Or, if a door opens to a screened porch, consider leaving it open when guests arrive so they know that it, too, is a place they can relax or congregate.
Give everyone a seat at the table
When considering places where groups tend to form, it's important to make sure there's plenty of room for everyone to sit, stand or lean comfortably.
Bar stools around a kitchen island are a quick and affordable upgrade. Not only will they give your guests a place to relax, but they extend your dining area as well. Consider your dining space too, whether it's in an open-concept kitchen or a separate dining area. The shape and layout of the room will inform whether a round or rectangular table is best. When it's just you and your immediate family, maybe you don't need a grand table that seats 12—but it always helps to have the flexibility to convert your table quickly to accommodate more guests. Shop for tables that have removable leaves or leaves that conveniently fold in and under the compacted table. Or, opt for a round table, which actually seats more guests per square foot than rectangular tables. One 60-inch round table will seat 6-8 guests and one 72-inch round table will seat 10-12 guests. Comparatively, a standard 8-foot rectangular table will only seat 8 guests. If you find that you need to seat more than 12 guests, however, and if the space allows, a large rectangular table with multiple leaves may be your best bet.
An outdoor sectional sofa is perfect for one or two who want to lounge, or for a handful of guests gathered around a coffee table full of delicious snacks. Typically, sectionals comfortably seat five to seven adults depending on the number of sections. So if you routinely host groups larger than five or have a mix of children and adults, consider adding additional chaise lounges, comfortable chairs, a cozy bench, or an outdoor dining set if your space allows. Plus, have a few stylish but weather-resistant foldable chairs tucked away should you need more seating.
The same mindset applies with your indoor living room as well. You want to create comfortable seating spaces for everyone in your group—whether they're huddled together during game night or broken off into smaller groups. A sectional sofa or a couch and loveseat can create ample seating for a large family. When you add in accent chairs, you create a foundation that encourages conversation and togetherness.
The key with seating is to give everyone a seat without filling the room with mountains of chairs. Seek out a stylish but functional ottoman or a few floor poufs that would be fun but comfortable for children or younger adults. Tuck cushioned or leather stools underneath a console for the moment someone needs a foot rest or an extra place to sit. Choose ottomans and benches that double as storage for the extra throw blankets and pillows that make your space feel even more cozy when guests arrive.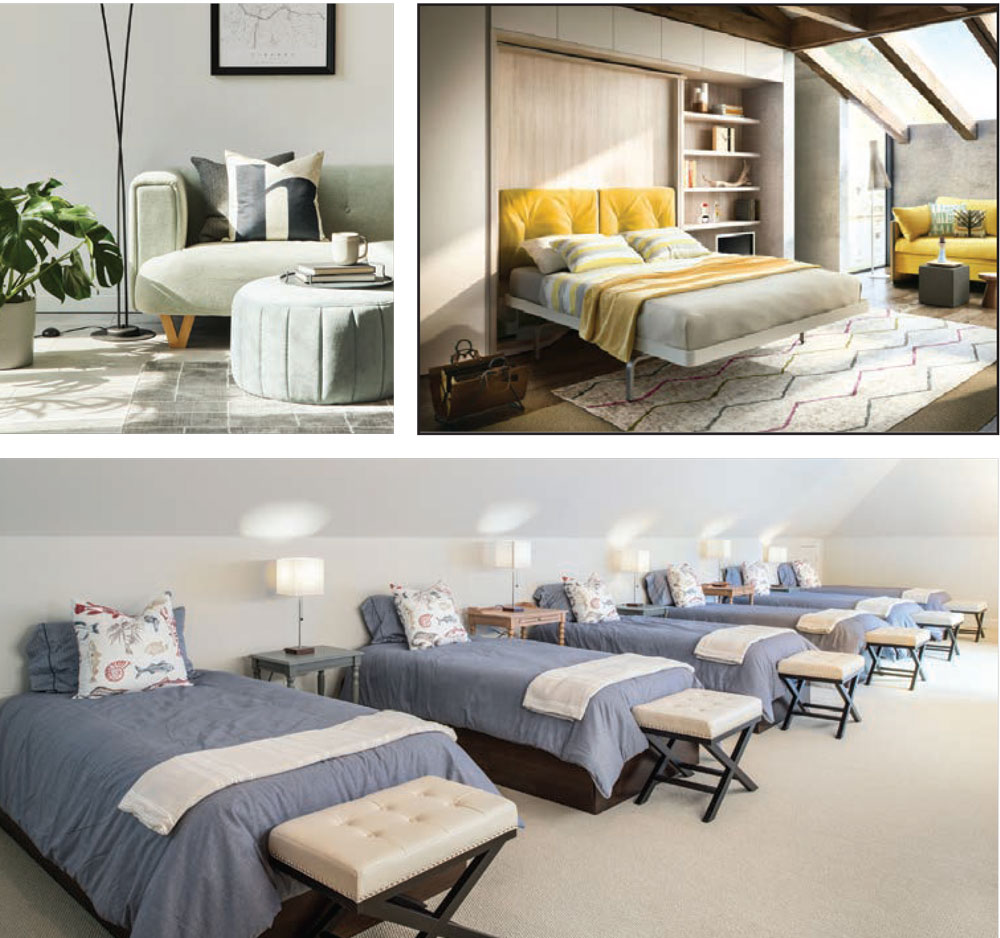 Get creative with sleeping arrangements
Do you ever marvel at a rental property listing that touts sleeping 12 comfortably—but there are only three bedrooms? While it may seem like a mathematical conundrum, it's actually a simple equation to solve.
Rather than think of one bedroom as space for one or two people, think about how it can be optimized. Do you have friends or family members with children? Reserve a room for a set or two of bunk beds and dub it the "kids room." Kids will have a blast congregating in one room (like a week-long slumber party!), and you will have effectively made sleeping arrangements for 4 people with just one room.

Think about optimizing your non-sleeping rooms as well. A basement game room can include a sleeper sofa that doubles as a day-time lounge and a night-time bed for one person or a couple. A day bed in your sunroom can become a luxurious oasis. Trundle beds can work like magic to create extra sleeping space for a family with a young child. A Murphy bed in an office can quickly accommodate one or two additional people.
Also get creative with how you stock your extra bedding. You may not want to have all of your guest bedrooms made-up year round, and you certainly won't have your sleeper sofas or Murphy beds dressed at all times. A wooden armoire can house your bulkier duvets and comforters within their double doors, as well as your sheets and shams within the drawers. Tuck away extra pillows and throws in storage benches or ottomans. Designate a hallway closet for extra linens and guest towels. If you're able, avoid stowing extra bedding in your attic as the temperatures will be a bit too warm and humid, and you'll risk ruining your bedding.
Create ageless entertaining
Make sure your home is ready for guests of all ages with just a few quick adjustments. If you envision having guests with babies or small toddlers, childproofing your home will create a more relaxing time for everyone.
The quickest way to childproof your home for guests with children is to cover all electrical outlets that aren't being used with plastic covers, and take inventory of fragile, heavy or breakable decor that is kept low to the ground. For example, if your glass vase is resting on the floor or a coffee table where curious hands could easily discover it, have a secondary location in mind where you can place it when your guests arrive. This way, you can still proudly display your decor while keeping little ones (and your items) safe. Similarly, if you have smaller trinkets expertly placed on top of consoles or on lower bookcase shelves, stash them in a drawer or move them out of arm's reach before your guests arrive to avoid any potential hazards.
More permanent adjustments include taking stock of any furniture that has sharp edges; consider making swaps for cushioned options. Transition your rectangular coffee table to a circular one, or opt for end tables that have more rounded edges.
As you welcome older children into your home, you can worry less about slips and spills and instead can focus on entertainment. Sure, your guests will visit with their phones and gaming consoles but it's always helpful to have a few age-appropriate board games stashed away for kids to play together, or as a whole-group activity. And, if you want to earn major points for being the coolest host ever, make sure the room they're staying in has spare charging stations for their electronics and maybe even a stash of snacks.
For adults, your WiFi password should be clearly noted in their room so they can browse data-free. Your guests may also appreciate a TV in their room that's hooked up to whatever streaming services you subscribe to just in case they want to spend an extra hour or two in the morning before joining the rest of the group.
For senior guests, consider designating a guest bedroom on the main floor and adding extra hallway lighting leading to and from the bedroom for worry-free mobility. Also be mindful of accent rugs that may create trip hazards or be too slippery for those with unsure footing.
And, for all guests regardless of age, keep spare toiletries tucked away in the bathroom cabinets just in case someone has forgotten something.

Always have a stash of snacks
If guests are visiting for the week or weekend, you've probably had time to prepare menus and snacks in advance. But, it's always helpful to have tried-and-true staples on hand at all times.
To avoid a mad dash to the grocery store, keep a few specialty treats and drinks in your pantry. Chips and salsa, specialty crackers, almonds or assorted nuts, olives, assorted spreads, and cured meats are all shelf-stable components that can come together as a snack tray in a snap.
And don't forget about beverages! Have a few cases of mineral water, flavored seltzer, or juice on hand, as well as the ingredients to make a simple cocktail or two. If you host larger groups often, invest in an extra refrigerator to store in the garage or mudroom that can be designated for beverages.
With a little bit of planning and a furniture swap or two, your home will be ready to entertain friends, family, a large group, or even just you and your loved one during a quiet evening at home. But don't forget the most important element: Having fun. Entertaining is all about community and creating an environment where memories can be made and laughs can be shared. As long as you feel comfortable and at ease, your guests will feel relaxed as well. ✦